PHOTO COURTESY OF SON VOLT
HIGH VOLTAGE: Venerable alt-country act Son Volt plays July 31 at SLO Brew.
It's a little shocking to believe that Son Volt will be playing in SLO Brew. After all, during their heyday, the band drew huge crowds, and their music is still wholly engaging.
The alt-country act formed by Jay Farrar in 1994 after the break-up of his band Uncle Tupelo found immediate success with the release of Trace in 1995, when it topped many critics' "best of" lists. Their 1997 release Straightaways and 1998's Wide Swing Tremolo continued to demonstrate the band's well of talent and Farrar's song crafting ability.
The group took a break after their 1999 tour, and Farrar released some solo work. They almost reformed in 2004, but then didn't, and Farrar formed a new lineup and released Okemah and the Melody of Riot in 2005, followed by 2007's The Search, and then 2009's American Central Dust. Their newest, Honky Tonk, came out this year in March. Like its predecessors, it's filled with keenly observed moments of America's wonders and tragedies.
"After all, few places are as quintessentially American as the honky tonks where neon beckons to lonely and discontented souls with the promise that sorrows can be drowned in whiskey, cigarettes, and a timeless music in which the clear hard truths of its lyrics mine the emotional complexities of life and love as fiddle and pedal steel sweetly commiserate," read the band's notes about the record. 

"Honky tonk music is about heartache, heartbreak, the road," Farrar adds. "I realized I also wanted these songs to sound more contemporary and modern. There was no strict adherence to methodology of the past. You never want to be a nostalgia act. The record is a continuation of what was happening with American Central Dust. Once again, I didn't play much if any electric guitar. I was always averse to using certain words in songs, including 'love' and 'heart.' But I started using them on [American Central Dust] and now I guess the floodgates have opened."


Son Volt plays SLO Brew on Wednesday, July 31 (doors at 8 p.m.; 21-and-older; $17 presale or $18 at the door).
And while we're on the SLO Brew topic, Paul Thorn returns on Thursday, July 25 (doors at 7 p.m.; 21-and-older; $17 presale or $18 at the door), with Eilen Jewel opening. Thorn's 2010 album Pimps and Preachers was terrific, and he followed it up with an album of covers called What The Hell Is Goin' On? "I wanted to take a break from myself," Thorn reveals in press materials, "do something different, and just have fun." Americana fans will recognize some of the writers (Buddy Miller, Ray Wylie Hubbard), and maybe some of the lesser knowns (Foy Vance, Wild Bill Emerson). "I would hear them in the tour van or I'd be at a festival and see someone perform them live," Thorn says, "and I'd say, 'That's a great song, I wish I had written it!' They don't just write songs in an effort to become popular or follow trends. At the risk of sounding corny, they write with their hearts. None of these songs are cookie-cutter tunes like you hear on the radio today. They all have real depth, which is very appealing to me." Thorn's got plenty of great originals of his own, so expect a mix of material from throughout his career.
On Friday, July 26, see Próxima Parada (doors at 7:30 p.m.; all ages; $8) with Red Willows and The Mother Corn Shuckers opening.
According to Próxima member Nick Larson, "Próxima Parada and Red Willows will be having their only SLO concert of July and August at none other than SLO Brew. This may be the last time these two acts play together, so don't miss this chance to soak in a little more aural sunshine and let your hair grow out. To bless the night, The Mother Corn Shuckers will get your ears growing with some down-home 'surf-a-billie beer-grass.' The night's harvest won't end there though. Red Willows will stand on stage and cast psychedelic funk onto the crowd, and you'll know that there's no other place you'd rather be. Próxima Parada will finish you off with some California Soul that'll answer all your heart's life-long questions, like 'Where do I go after this life?' 'Why do I yawn?' and 'If women ran the military, would missiles and submarines be shaped differently?' So if you're ready, take that $8 from underneath your mattress that you've been saving for something special, and get yourself to SLO Brew this Friday." Sounds like fun!
The end is near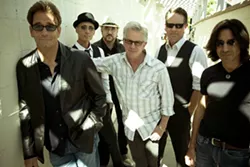 PHOTO COURTESY OF HUEY LEWIS & THE NEWS
HIT MAKERS: Huey Lewis & The News play the main stage of the California Mid-State Fair on July 26.
The California Mid-State Fair ends this week, so if you haven't got your swelter on yet, it's not too late. This Thursday, July 25 might be a good night to go since all the music is free, and there are three good acts to see. On the Main Stage, Brit Floyd (7:30 p.m.; free with paid fair admission) is billed as "the World's Greatest Pink Floyd Show, a stunning new three-hour show featuring note-for-note performances of five full album sides, including 'Wish You Were Here,' 'Animals,' 'The Wall,' 'The Division Bell,' and, in celebration of the 40th anniversary, Pink Floyd's classic defining album, The Dark Side of The Moon."
Also on Thursday at 6:30 and 8:30 p.m. on the Fort Frontier Stage, you can see Berlin with Terri Nunn, who was listed as Number 11 on VH1's list of the "100 Greatest Women in Rock." Hear hits like "The Metro" and "No More Words," not to mention "Take My Breath Away" from the movie Top Gun.
But wait, that's not all that's happening this Thursday. At 6:30 and 8:30 p.m. in the Mission Square, check out Jody Mulgrew & The Skeleton Crew!
On Friday, July 26 (7 p.m.; $40 to $60), check out hit maker Huey Lewis & The News with Zzah opening. This year is the 30th anniversary of the band's biggest album, Sports, which features one hit single after another: "The Heart of Rock & Roll," "Heart & Soul," "I Want a New Drug," "Walking on a Thin Line," and "If This Is It." They also had big hits with tracks like "Do You Believe in Love," "The Power of Love," "Hip to be Square," "Stuck with You," "Perfect World," "Jacob's Ladder," and more!
On Saturday, July 27 at 6:30 and 8:30 p.m. on the Fort Frontier Stage, Uncle Kracker plays for free. He's best known for his hit songs "Smile," "Follow Me," "Drift Away," and "Good to Be Me" featuring Kid Rock.
Feel free to stuff yourself with fair food, because you won't have another chance until next year.
More music…
PHOTO COURTESY OF WILLIAM JAMES NICHOLSON
ELEVEN STRINGS: American troubadour William James Nicholson plays Shell Café on July 25.
American troubadour William James Nicholson has a pretty weird-looking instrument, a sort of hybrid 11-string harp/guitar thing, and he describes his music as post-industrial folk songs, but he can play jazzy, rockin', or swingin'. "I have an agenda with this music: to move culture to a more conscious way of being for a healthier, better world," he says on his website. I've seen him perform live, and he's got a great voice, a potent emotional presence, and is a tremendous musician. He studied under Alex deGrassi, after all. See him on Thursday, July 25 in Shell Café (6:30 p.m.; all ages; free). Special guests for this songwriter showcase will include Brian Jeffrey, Al Medina, Jimmy Townsend, Nick Motil, and Nashville's Claudia Nygaard.
This Thursday, July 25, country rockers Occasional Mustache plays Luna Red from 10 p.m. to midnight, delivering "Americana that's specific to the places where the Valley meets the Coast," says the band. "Call it 'Californicana'— country-rock soaked in sun, surf, and bud. It's good party music that pays proper respect to Buck and Merle." On Saturday, Aug. 3, Occasional Mustache will share the Sweet Springs Saloon stage with The Mother Corn Shuckers starting at 9 p.m.
Alt-groove and progressive reggae act Bare Feet play the next free Concerts in the Plaza show this Friday, July 26 from 5:30 to 7:30 p.m. in front of the SLO Mission. There's good food, beer, and wine available for purchase, too!
Great Austin-based singer-songwriter Michael Fracasso returns to town with a show this Friday, July 26 at the Steynberg Gallery (7:30 p.m.; all ages; $10), with Bob & Wendy opening. For the uninitiated, Fracasso's high lonesome sound was an immediate hit when he moved from New York to Texas in 1990. He was promptly voted Best New Artist in Music City Texas Insiders' Poll and recorded his first CD, Love & Trust, which features a duet with Lucinda Williams. Producer-guitarist Charlie Sexton helped on his next two albums—World in a Drop of Water and Back to Oklahoma. His 2004 album Pocketful of Rain featured a duet with Grammy winner Patty Griffin. In short, he's a pretty big deal, and he's pals with Bob & Wendy, who will no doubt collaborate on a few tunes with him.
PHOTO COURTESY OF MRS. HENRY
ROCK ON: San Diego rockers Mrs. Henry will play Frog and Peach on July 27 and July 28.
Country rockers Traxx are launching their debut CD this Friday, July 26 when they play a 9 p.m. album release party at Cayucos Tavern. Featuring singer-guitarist and chief songwriter John Krause, singer and lead guitarist Bill Stapley, singer-bassist Carol Ann Fernandez, and singer-drummer Coy Copper, this quartet delivers both their originals as well as select "good times/get up and dance" covers like "Travelin' Band" by CCR, "Folsom Prison Blues" by Johnny Cash, and "When Will I Be Loved" by Linda Ronstadt. If you miss their album release party, you can also see them next Friday, Aug. 2 at Barrelhouse Brewing Co. (7 to 9 p.m.) or Saturday, Sept. 21 at Vina Robles Winery (1 to 4 p.m.).
The next free concert for the Annual Court Street Summer Jazz series features Choro de Ouro playing from noon to 3 p.m. on Saturday, July 27 at the Court Street Terrace, by Pottery Barn and Sephora in SLO.
San Diego rockers Mrs. Henry will play a couple of shows at Frog and Peach this week as part of their West Coast tour, on Saturday, July 27 and Sunday, July 28. "This will be our fourth time back to SLO, and we've had incredible shows each time we come to play," said band member Daniel Cervantes. "We play originals and covers, influenced by The Rolling Stones to The Band, Neil Young to Muddy Waters, and we always have the crowd on their feet dancing for three hours straight. We're touring behind two singles from our newest recording, 'Shake' and 'Not The Kind Of Girl,' being officially released July 24 with our EP released on August 17."
The Arroyo Grande Village Summer Concert Series welcomes New Orleans-style funk, soul, and blues act Burnin' James and the Funky Flames, who'll play a free 1 p.m. show at the Rotary Bandstand in the Village on Sunday, July 28.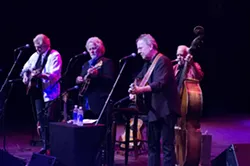 PHOTO BY JOE ATLAS PHOTOGRAPHY
SUPER GROUP!: Desert Rose Band (with Chris Hillman, Herb Pedersen, John Jorgenson, and Bill Bryson) plays Cal Poly's Spanos Theatre on July 28.
Also on Sunday, July 28, the Usual Suspects play from 3 to 6 p.m. in Ramona Garden Park for the next installment of the Annual Sizzlin' Summer Concert Series and Farmers Market. The band has an expansive repertoire, including rock, pop, funk, oldies, disco, new wave, fusion, rockabilly, metal, and Motown!
Think of the Desert Rose Band as a super group. The band features Chris Hillman, one of the original members of The Byrds (which also included Roger McGuinn, David Crosby, Gene Clark, and Michael Clarke), Herb Pedersen (who played with Jerry Garcia, The Dillards, Old and in the Way, David Grisman and David Nelson), John Jorgenson (The Hellecasters, Elton John), and Bill Bryson (The Bluegrass Cardinals, The Rice Brothers, The Laurel Canyon Ramblers, and Loafer's Glory), and they're playing a benefit for St. Andrew the Apostle Greek Orthodox Church at Cal Poly's Spanos Theatre this Sunday, July 28 at 7:30 p.m. Tickets are $40 (756-4846).
On Monday, July 29, check out Joseph Demaree when he plays Last Stage West. He compares his sound to that of Leonard Cohen, Brightblack Morning Light, Eddy Arnold, Willie Nelson, or the Violent Femmes, but I'd describe him as more of a cross between M.Ward and Vic Chesnutt, but with more dissonance.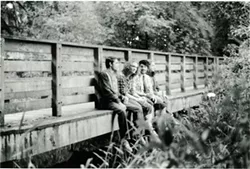 PHOTO COURTESY OF THE SINDICATE
SKA PUNK: On July 31 at Frog and Peach, check out The Sindicate, a Vancouver quartet that's touring to promote their forthcoming album release, Sasquatch.
On Wednesday, July 31 at Frog and Peach, check out The Sindicate, a Vancouver quartet that's touring to promote their forthcoming album release, Sasquatch. "They have a ska sound but hold firm roots in punk rock, which gives their music an aggressive edge and sets them apart from other bands in their genre," according to their publicist Anna Stodart of Golightly Media.
Keep up with Glen Starkey via twitter at twitter.com/glenstarkey, friend him at facebook.com/glenstarkey or myspace.com/glenstarkey, or contact him at gstarkey@newtimesslo.com.