The local wine industry is filled with an array of interesting people who represent all walks of life, but we all share a single trait: We're zealots about wine. Given a chance to taste an extraordinary Chardonnay, everyone from winemakers and salespeople to marketers and media will be right on time for the popping of the cork. Such was the scenario at Olde Port Inn on an early Monday evening when I was invited by a special friend (who preferred not being named) to taste wines selected from restaurateur Leonard Cohen's list of library wines.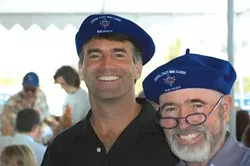 # The standout was an Oliver Leflaive (an often-praised Burgundian producer in France) 1993 Chassagne-Montrachet. It belied the 81-point score it rated from Wine Spectator, proving you shouldn't blindly accept every score given by critics who (gasp) are sometimes wrong. Cohen paired this light and elegant Chardonnay quite nicely with scallops in beurre blanc made with rice wine. At first the wine was tight and closed after aging 14 years, but it impressed us as it continually evolved in the glass, revealing a nicely-balanced wine still vibrantly alive.
And such tastings are the reason we all love the Central Coast Wine Classic (CCWC). During the four-day extravaganza, we're treated to the finest Central Coast wines, which we taste beside exemplary wines from Napa, Sonoma, and France. Not only do we get to taste these wines, we meet the people behind them who elucidate their winemaking process during educational symposia.
We feast on unforgettable dinners in fine restaurants, wineries (even one exclusive meal at the castle), and we can snag front row seats to watch world famous chefs prepare lunch. All the while, every seminar, tasting, and meal honors the arts and the Central Coast community. Amazingly, the classic has been this opulent since 1985 to the credit of its founder and chairman Archie McLaren.
Actually, the classic celebrates its 23rd year when it takes place for the first time at Dolphin Bay Resort in Shell Beach July 12 through 15. The first tasting was held in Avila Beach in 1984. It was only an afternoon affair, but the idealistic McLaren foresaw a bigger picture.
"By the second year, it was a full-on opulent event held over three days. I wanted it to be the most comprehensive charitable wine event on the Central Coast," McLaren remembered. "It grew to eight days beginning with a concert at the Performing Arts Center, but it was extremely challenging for the KCBX (the original benefactor) staff. Ultimately we consolidated things so it was more logistically viable. Now it's four days without making it less comprehensive."
McLaren says the highlight of each classic over the past 23 years is the amount of information that winemakers, chefs, and sommeliers provide participants during the symposia. He noted that one of the newest and most gratifying additions has been the "fund-a-need" lot conducted during the live auction, when auctioneers garner generous donations from the supportive audience. Last year, the lot raised $70,000 for Justin Vineyards Paso Robles Wellness Center, which provides free community programs for cancer survivors.
"There's a wonderful resonance to the wine classic when we can give to nonprofits in San Luis Obispo and Santa Barbara counties, whose mission is to sustain the healing, studio, and performing arts," McLaren said, reflecting on the classic's evolution. "I'm quite happy with the flow over the years and that we've been able to continue the theme we started with."
SIDEBAR: Head of the classic
Thursday-Sunday, July 12-15: The Central Coast Wine Classic events take place at the Dolphin Bay Resort in Shell Beach, focusing on exclusive wine tastings, wine symposia, winemakers' dinners, the cycling classic through Edna Valley, silent and live auctions, music, and the arts. Only the auction and winemakers' dinners take place at other venues in SLO County. Here are a few events for which you can still get tickets. Prices listed are per person, but visit the web site for details on other offerings taking place over the four-day event at www.wineclassic.org.
Thursday, July 12: Barrel Tasting: You'll get a future view of young wines still aging in winery cellars from 50 Central Coast producers. Hors d'oeuvres will be offered by chef Evan Treadwell and his team at Lido, 2-5 p.m., $40.
Friday, July 13: With these six amazing choices, it'll be difficult to choose one over another: Pinot Noirs from Santa Barbara County's historic vineyards, 9:30-10:45 a.m., $75 Bordeaux blends from California, Washington, and France (part one), 9:30-10:45 a.m., $95 (part two) 3-4:15 p.m., $95 and California Tempranillos from nearly a dozen wineries, 3-4:15 p.m., $75.
The cycling classic is a moderately paced 20-mile ride that starts at Dolphin Bay Resort and leads to three Edna Valley wineries with tasting, tours, and lunch provided. Transportation back to the hotel is available. 8:30 a.m.-1:30 p.m., $75.
Chef Cat Cora, a culinary philanthropist and the first woman to win Iron Chef on the Food Network, pairs wines in a cooking demonstration and luncheon, 11 a.m.-1:30 p.m., $125.
Saturday, July 14: The live and silent auctions are the main event, which takes place at Tolosa Winery. The auction begins at noon, but guests can arrive at 10 a.m. to preview lots and enjoy the delectable creations of this year's wine classic culinary honoree, Chef Rick Manson of Chef Rick's Ultimately Fine Foods in Santa Maria, $125.
Sunday, July 15: Single Vineyard Wine Symposium features sought-after wines like Melville in Santa Rita Hills and Nickel & Nickel in Napa Valley. Participants will taste Chardonnays, Pinot Noirs, and Cabernet Sauvignons from vineyards acclaimed for growing exemplary winegrapes, 10-11:15 a.m., $75.
Schramsberg Vineyards Methode Champenoise Symposium: Founded in 1967, Schramsberg is considered among California's greatest sparkling wine producers. Second generation co-owner and winemaker Hugh Davies will offer a tasting of the Chardonnays and Pinot Noirs that go into their bubblies and their flagship prestige cuvee J. Schram, 10-11:15 a.m., $75.
Reserve Wine Tasting at Dolphin Bay Resort brings more than 75 wineries to pour what they consider their two top-of-the line wines, and Dolphin Bay's chefs will offer eclectic cuisine chosen to match the various wines offered. As always, live music will keep the tasting lively, 1-4 p.m., $50.
I advise registering early, as most events sell out well in advance. For details, registration, and/or ticket purchases, call Archie McLaren at 544-1285 or visit www.wineclassic.org.
The classic will offer people employed in the industry a complimentary seat at symposia and wine tasting tickets based on space available. You must register in advance by calling McLaren or e-mailing archie@slonet.org.
---
You can reach New Times Cuisine columnist at Kathy@GrapevineRadio.net.