A store devoted entirely to socks has given downtown SLO a new dose of quirkiness.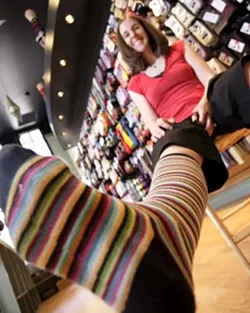 PHOTO BY STEVE E. MILLER
THE GAME IS A FOOT : Brooke English takes fashion to the lower extreme with her new sock store in San Luis Obispo.
# Talk about variety. At the new shop, you'll find butterflies, trolls, camouflage, toe socks, bamboo, lace, luxury socks, plaid, wool, organic socks, flames, tube socks, knee highs, baby socks, and even middle finger socks.
"They're a fun fashion statements," said owner Brooke English. "I'm not crazy passionate about socks, but I love the colors, textures, and patterns."
The Sock Drawer opened June 14, and, according to English, "It's been awesome. People are stoked. A lot of people have declared this their new favorite store."
English grew up in San Luis Obispo County and graduated from Arroyo Grande High School. While attending college in Santa Cruz, socks entered her life as a summer job.
"I worked at the Sock Shop in Santa Cruz for six years as a manager and buyer. I helped expand the shop from 1,200 to 7,000 square feet," she said. "It never felt rewarding enough. I had a hard time working for someone else when I knew I could do it for myself."
With the help of her husband and parents, English worked every weekend for five weeks to get her store ready.
"Part of my journey has been converting the Pacific Fish and Chippery into a retail space. That meant removing all of the kitchen equipment and fixtures, scrubbing grease for hours on end, replacing the floor, and repainting the inside and outside," English said. "I have great parents very supportive and helpful. My dad did a lot of the labor."
English is confident in her shop and clientele because San Luis Obispo is full of families, students, and tourists.
"Socks have a huge novelty appeal, and they make great gifts," English said. "There is a little something for everybody."
Her most frequent visitors so far are the roller derby girls.
"They're all over it and are some of my biggest supporters. I order great knee-highs just for them," English said.
To find her socks, English goes to trade and apparel shows. Also, representatives come to her, and some socks are only available through catalogs. The biggest sellers right now boast skulls or are striped knee-highs and sushi socks.
In addition to hundreds of socks, The Sock Drawer carries leather bags from Ellington and vinyl bags from Queen Bee.
"I love this Stupid Sock Creature Kit," English said.
The kit comes with everything you need to make sock creatures for $20. She also sells sock monkey kits.
English plans to get costume socks for Halloween and cashmere and angora offerings for the holidays.
"Socks are great for '80s parties or any themed parties!" she said.
"Right now the store is manageable by myself. It's just me, and I wouldn't have it any other way. I love it," English said. "I'm very excited to be the new, young kid on the block and to join the team of the great local stores downtown."
The Sock Drawer is located at 852 Higuera. Hours are Monday through Saturday, 10 a.m. to 6 p.m. (with extended hours on Thursdays until 9 p.m.) and Sundays from 11 a.m. to 5 p.m.