Director Guillermo del Toro set his fantasy film, Pan's Labyrinth, against the gruesome real-world backdrop of the routing out of the last of the rebel forces at the end of Spain's Civil War in 1944. The fantasy locales are frightening though never quite as terrifying as the real world in del Toro's painterly universe.
PHOTO COURTESY OF PICTUREHOUSE ENTERTAINMENT
EFFECTS UNDER ONE ROOF : Getting the chance to create characters is a special effects companys dream come true. "Any kind of character or creature of animation is very difficult to get awarded to an untried studio," Visual Effects Producer Ed Irastorza said. Pictured is Doug Jones as The Faun, with one of the fairies created by Cafe FX.
# After helping to create that universe, Cafe FX, the Central Coast's visual effects powerhouse, is now sharing in the numerous accolades the foreign-language film is garnering. After a lot of positive buzz at last year's Cannes Film Festival, Pan's was nominated for a Golden Globe for best foreign film (though Letters from Iwo Jima won), and the International Press Association (IPA) presented it with a best animation/mixed media award last month. It's getting some serious notice.
Now, the producers are awaiting the outcome of the Visual Effects Society awards on Feb. 11 also the date of the Orange British Academy Film Awards, for which Pan's Labyrinth garnered eight nominations, including achievement in special visual effects.
Finally, everyone's holding their breath for the granddaddy of them all, the Academy Awards on Feb. 25. The Academy's nominations will be announced on Jan. 23 in Hollywood, and speculations are high that Pan's will be in the running for the best foreign film.
Cafe FX co-owner Jeff Barnes said the IPA award actually caught them by surprise, considering the competition in the animation division, which included Ice Age, Happy Feet, Cars, and Flushed Away.
"It was the very first award they give. We thought Pixar was going to get it for Cars. They said Pan's Labyrinth, we we all jumped up and started hugging each other," Barnes recalled.
He's quick, however, not to take too much of the spotlight for his effects house, saying that the success is really all del Toro's doing.
"It's his story, his vision," Barnes said. "We just added support to his story."
The tale is primarily seen through the eyes of a 12-year-old girl, Ofelia (Ivana Baquero), who accompanies her pregnant mother to an outpost in Spain's countryside where her stepfather, Captain Vidal (Sergi Lopez), is fighting the rebels. As the real world's horrors grow, Ofelia discovers a hidden labyrinth under which she awakens The Faun (Doug Jones). Believing her to possibly be the long-lost princess of a fairyland, The Faun puts Ofelia through a series of tests, each more dangerous and frightening than the one before.
As the story unfolds, so do the remarkable effects applied with craft and care by Cafe FX's visual effects supervisor, Everett Burrell, and special effects producer Ed Irastorza under the watchful eye of del Toro.
The collaborative production took five months to shoot in Madrid, but the magic was created on computers in Santa Maria. An early scene focuses on a stick bug in the woods. Its movements mimic real-life stick bugs, but the motion was created entirely in the realm of computer graphics, or CG. Burrell said that they found a local entomologist who loaned them a couple of live bugs to observe. Later in the film, the bug morphs into a fairy whose flight is based on a combination of movements designed by observing a hummingbird, a dragonfly, and a Hancock College dancer.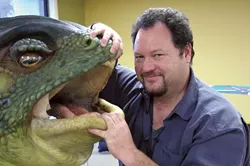 PHOTO BY CRAIG SHAFER
THIS FROG IS NO PRINCE : Visual Effects Supervisor Everett Burrell (pictured) spent five months in Spain working with director Guillermo del Toro balancing schedule, budget, and special effects. Some elements, such as the puppet frog, had to be totally replaced with computer graphics.
# "When the fairies try to tell Ofelia not to eat the grapes, it all comes from our reference dancer," Burrell said. "Reference is invaluable in this type of stuff. You always want to look to the real thing."
The metamorphosis itself was revolutionary for Cafe FX. Using a new in-house program, the effects team created what they call a "shrink wrap" effect by letting certain parts of the character on top slowly melt away to reveal the character inside. This time-consuming process takes up mere seconds on the screen.
Insects are just one of the common themes found in del Toro's movies. Burrell said that the director often uses clockworks and gears, children, and things from the underground world all of which Ofelia encounters on her journey.
As one of her tests, Ofelia must retrieve a golden key from a huge toad living underneath a sinister-looking tree. Originally intended to be a puppet, the foam version was quickly waterlogged by the muddy environment. It became too heavy for Ofelia to roll over, so Cafe FX re-created it completely with computers. It's one of the scenes that surprised Burrell the most, because he said it's easier to create CG from scratch than replace something that exists and because they had to do it in such a short time.
Cafe FX also replaced a puppet mandrake root that comes to life with CG. Burrell explained that after del Toro blocked the scene, they found it was impossible to hide the cables.
"He always makes things a lot more elaborate when you get on set," Burrell said.
Cafe FX also used its magic in some unexpected ways. At the time of the location shooting, a drought had plagued Madrid and forest fires were a concern, so all pyrotechnics were banned. Digital effects had to be added for every muzzle flash and shell ejection. The company even added the effect of dust expelled off trees and rocks as bullets hit them.
The process for Burrell was a once-in-a-lifetime movie-making experience. He said that the highlight for him was using visuals to help tell a story, as opposed to working on an effects-driven movie like Armageddon, full of explosions and spaceships.
"It was nice to be part of a story that mattered, an art film [that] I think will be around years after I'm dead," Burrell said. "People will still watch it and be amazed by it."
PHOTO COURTESY OF PICTUREHOUSE ENTERTAINMENT
REAL-LIFE STUDIES : Building stick bugs that transform into fairies required special effects designers to study the flight of hummingbirds and dragonflies, as well as the movement of a dancer.
# Visual effects producer Ed Irastorza agreed about the quality.
"I think it really is a beautiful film," he said. "Besides the digital effects, I really love the movie. It stands out for me. It's the kind of movie you rarely get to work on.
"I'm on a film now I'm not very proud of, and I don't think it'll do very well, but it's the kind of movie that's made more often than not." Irastorza continued. "Whereas Pan's comes around once, if you're lucky. And I don't think I'll get a chance to work on a film, that, for me, I can be this proud of. I really believe that because I've made too many big-budget, crappy movies."
Irastorza and Burrell are also like-minded when asked if they believe that del Toro is one of the brightest up-and-coming directors. They noted that, for del Toro, the story always comes before the box office. Irastorza said that effort has also kept del Toro working on lower budget films and at the mercy of the studios.
For Pan's, del Toro was given a budget of $17 million, $2 million of which were for visual effects. By contrast, Hollywood blockbusters today typically cost $100 million or more.
"He's turned down some big features that could have gotten him more notice, like one of the last Harry Potter films," Irastorza said.
Del Toro also had a chance to direct The Chronicles of Narnia, but turned it down. To del Toro's credit, he made Cronos, a low-budget film that won best film in Mexico's version of the Academy Awards. He followed that with Mimic, a Hollywood mainstream film. Unfortunately, when word got out that he was doing a $35 million picture, his father was kidnapped in Mexico in 1997.
"[The kidnappers] assumed he had the money himself. They didn't know and didn't care. So that pulled him out of the mainstream," Irastorza said.
Despite budget restraints on Pan's, the effects wizards dug deep into their bag of tricks to help tell the story. Of course, del Toro always wanted more. Burrell said he envisioned on a grander scale and had big-budget ideas.
"And when we got back to California, we had to give him the bad news," Burrell said. "Unfortunately, he'd gotten too big, so we had to streamline. But Guillermo's very smart. He'll cut 10 shots, but will add 20."
Still, Burrell believes that in the final product, the film doesn't appear to be lacking anything.
Irastorza said there was a certain amount of give and take on the set, but credits del Toro for being a director who understands the potential of visual effects as well as their limitations.
"There's always going to be the time we're going to say, 'Please don't move the camera for this because it makes the shot more difficult.' And he's going to say, 'I have to, because it makes the shot more beautiful.' And push comes to shove, and he's going to win," Irastorza said.
PHOTO COURTESY OF PICTUREHOUSE ENTERTAINMENT
LEAVING MUCH TO THE IMAGINATION : "We continue to believe in [Guillermo del Toro] as one of the next great directors in the sci-fi and horror genres, and beyond that," Cafe FX co-owner Jeff Barnes said. "He just knows how to tell a story."
# Doing more for less is how Cafe FX got its production arm, Sententia, credited for presenting the picture. When they were given the opportunity to do all the special effects on the film, a first for the local effects house, they approached Pan's as more of an investment than a money-maker. And getting the opportunity to create animated characters is almost unheard of for a small studio like Cafe FX. It allowed the crew members to do the type of artistic work they'd not gotten their hands on before.
"It was a very, very tight [budget], and Cafe ended up investing a lot of time and resources," Irastorza added. "One of the jokes Guillermo said at the end was, 'Had they done one more extra shot, they would have gotten a "directed by" credit.'"
As it is, Sententia gets credit as co-producer on top of Cafe FX's status as the sole digital effects company for the film.
In a phone interview with del Toro, the director claimed that there's a good reason Cafe FX is listed as a presenter and co-producer.
"They were partners in creating the movie economically, and they were partners creatively, and they really went past the reasonable limits of pushing the crew and resources in delivering some magnificent digital effects for a film that, budget-wise, is pretty small," he said. "I think they saw the beauty of the film and the story and trusted that, and they came on board full force. I owe them big time."
Del Toro wouldn't single out a shot he was most proud of producing. He said that each was very difficult in its own right, and that they'd all laugh each time they set up a shot, adding, "There's not an easy shot in any of this."
So, ultimately, did del Toro see his vision come to fruition? Did Cafe FX translate what was in his mind to the screen?
"Very much so. Otherwise, I would have returned their shots. You can ask them," he said, and laughed out loud. "I would have told them, 'Let's do it again.'"
At the heart of the film is del Toro's conviction that both the factual and fictional worlds have important roles to play in our lives. In Pan's, the essential nature of the world is balanced with the nature of Ofelia's imagination, and it's not so much about her escaping reality as it is about her understanding that reality through magic.
"I believe the life inside, the emotional life you have, has as much weight as the real world," the director said.
Del Toro explained that people tend to place too much emphasis on elements of money and time, "but the spiritual and magical world you create inside of you, it can be through religion, or it can be through fantasy, or it can be through literature, or through art, and it has an equal weight as the material world.
"I'm not saying more, I'm not saying less," he summed up. "It's exactly the same."
And whether the envelopes opened award him the highest honor from his peers or not, del Toro said that he truly feels blessed to have been nominated for a Golden Globe and, very possibly, an Academy Award.
Cafe FX's Barnes shared a similar sentiment on receiving nominations.
"I'd like to see it win for [del Toro] and for us too, because I think it's a brilliant film," he said. "At the end of the day, sure you want to win, but you think about all the films out there just to be nominated really is an honor."
Pan's Labyrinth will be Cafe FX's 58th studio release feature film, several of which have been Academy Award feature films. This film, however, gives the studio the honor of an associate producer credit and the honor to have been the film's only digital effects vendor.
"Then to have the accolades [Pan's] has and to be as happy with it as when we [first] read the script, is pretty much what you strive for," Barnes summed up.
SIDEBAR: Palming Pan
Wendy Eidson, director of the San Luis Obispo International Film Festival (SLOIFF), had been looking for a promotional event for the annual movie celebration, and discovered that Pan's Labyrinth was opening locally at a serendipitous time.
"I was at the Toronto Film Festival last fall, and it was a big deal back then," Eidson said. "The screening was sold out, so I didn't get to see it there."
Upon her return, she learned that the effects were made locally, and she was able to see it at a November screening in Arroyo Grande. Now, the general public has a chance to experience it, too.
Pan's Labyrinth will show in a sneak peek screening at The Palm Theater in San Luis Obispo on Jan. 18 as a benefit for the SLOIFF. The movie moves into wide release on Jan. 19. The fundraiser will include a question-and-answer session with members of the Cafe Fx visual effects team, a video demonstration, and a chance to meet the SLOIFF board. The reception is at 5:30 p.m. at the film festival headquarters at 861 Palm St. The film screening is at 7 p.m. For more information, call 546-3456.
Tickets for the event are $25, or $20 for Film Society members.
Cafe Fx continues to work on Spider-Man 3 and has recently signed on to do special effects for a new film, The Kite Runner, based on the best-selling novel. Other recent projects to its credit include The Good Shepherd, The Departed, Snakes on a Plane, and Sin City. For more information, visit www.cafefx.com.
---
Craig Shafer is arts editor for New Times' sister paper, the Santa Maria Sun. Send comments to cshafer@santamariasun.com.