There may be no one in the world who appreciates Americana like the pop culture historian, entertainer, retro-geek, and possible inventor of fried cereal, Charles Phoenix.
Phoenix has built a career on the celebration of suburban domestic life in the '50s and '60s. Like a deranged, slightly manlier Martha Stewart, Phoenix regularly charms the Internet with his cooking segments demonstrating, step by step, how to make dishes like the "Cherpumple" ("A three-layer cake with a pie stuffed in EACH layer!" the description reads. "YUM!") and the mostly edible "Astro-Weenie Xmas Tree."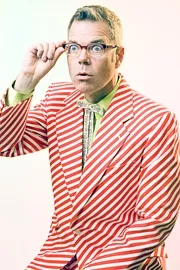 PHOTO COURTESY OF CAL POLY ARTS
CHARLES PHOENIX:
But his most enduring obsession, found Kodachrome slides, began when he stumbled upon a box of them in a thrift shop, labeled "Trip Across the United States 1957." Phoenix has been collecting old slides ever since. He's amassed enough images of kitsch-tastic Americana to curate several books of them, most recently Americana the Beautiful: Mid-Century Culture in Kodachrome, in which he writes:
"Americana doesn't discriminate between classic and kitsch, high-tech or homespun, mass produced or one-of-a-kind, the authentic or make-believe. It draws no borders between town and country. It embraces Mother Nature and man-made, the future and the past. Americana is the essence of American culture."
But Phoenix, a performer at heart, also created an ever-evolving live comedy performance around these voyeuristic glimpses of strangers' holiday traditions. His running commentary is a mixture of affection and bemused acknowledgement of domestic, mid-century America's foibles in so many regards: cooking, dressing, decorating, entertaining, and most of all, celebrating.
His New Year's, Easter, Fourth of July, Halloween, and Thanksgiving stockpiles are impressive—though no holiday does tacky quite like Christmas. Thankfully, the Charles Phoenix Retro Holiday Slideshow, coming to the Performing Arts Center pavilion on Dec. 17 at 3 p.m., packs a little of everything into one hilarious performance. Holiday dress is encouraged. Visit pacslo.org or call 756-ARTS.