To hear him answer the question "How do you see yourself?" Matt Kokkonen is a living embodiment of the American Dream.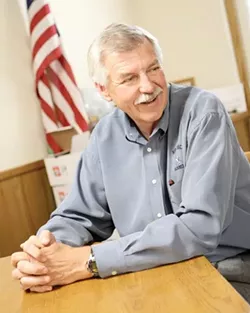 PHOTO BY STEVE E. MILLER
SLIM FINN: Republican SLO financial planner Matt Kokkonen is trying for another office, running for the U.S. House seat occupied by Democart Lois Capps.
"I'm just an Immigrant boy from Finnland," he answers, deliberately understating his achievements and his ambitions. He may have washed up on the shores of New York with only a single suitcase, and 16 tender years of worldly experience, but today, he's an all-American story; 63 years old, a financial planner, husband, father, grandfather. Now he's running for the U.S. House of Representatives.
So who is Matt Kokkonen?
Tim Nugent said he's known Kokkonen for about five years, since they started attending the same church in SLO.
"He's a little stiff," conceded Nugent, "But I trust him; I trust his character."
His opponent, U.S. Rep. Lois Capps, opted not to comment on Kokkonen at all.
Whatever Kokkonen is, he's comfortable with self-promotion, a little skill he has doubtlessly picked up during past bids for public office. In 2002 he won a seat on the Republican Central Committee for SLO County. In 2004 he ran for State Assembly, and in 2006 he ran for the office of SLO County Treasurer-Tax Collector-Public Administrator. While none of the later bids have been successful, he's gained notoriety among the camps in which he campaigns, and his face, which supports a neatly trimmed white moustache, is easily recognizable.
Beyond that, he is tall and trim from a lifelong soccer habit, which has also earned him the nickname "the flying Fin." At the top of his achievements, he lists his 40-year marriage to Jean.
Kokkonen is, in no uncertain terms, a pick-yourself-up-by-the bootstraps Republican and self-appointed custodian of traditional conservative values. He's for family (as created between a man and a woman), entrepreneurism, and "securing the borders." If he had to hang his hat one issue though, it's energy independence, particularly from domestic oil reserves.
At a recent fundraising event in San Luis Obispo, Kokkonen explained in detail his position on offshore drilling, which he endorses wholeheartedly for the Santa Barbara Channel. He maintains it will offset natural "seepage" of oil into the Pacific. As for ANWR, the Alaskan National Wildlife Refuge, he says if drilling were allowed in the area, then the only problem would be getting a pipeline big enough to move the oil. Kokkonen said that addressing the current energy crisis, based on skyrocketing oil prices, would be a goal of his in Congress.
"Some people say we can't drill our way out of this," Kokkonen said." I say, 'yes, we can'."
Minutes later, Kokkonen said that he did not want to be misquoted as saying that oil is the only path to energy independence, and stated that we must look at all other options, including conservation.
Kokkonen is representing the GOP in a predictable fashion, down to the denial of human action in global climate change.
"I am your Congressional candidate for the American life," Kokkonen said. "I ask you to support the American life."
In November, Kokkonen will battle incumbent Lois Capps for a spot in the U.S. House, but it will likely be another steep electoral climb for him if he hopes to take District 23. Analysts are already calling 2008 a Democratic-leaning year, and Capps has held tight to the position for four terms.
Regardless of Capps' popularity, Kokkonen said it's important that the voters have a choice. According to the latest filings reported on the Federal Election Committee's Web site, Kokkonen has not reported collecting a single dollar in campaign donations.
For all his principals, which he describes as rooted in tradition, Kokkonen is bringing some radical ideas to the political round table.
The Matt Kokkonen future looks like this: First, get rid of all federal taxes for people younger than age 25. The smart ones will wisely invest the money in new businesses and homes, or use it to pay off crippling debt from student loans. And if most young people use their tax break to better squander their youth, then so be it.
"We can only provide people with the opportunity," Kokkonen said. "But we cannot guarantee the results."
But he is hopeful: "What an opportunity!" for young people to build a life, without the burden of federal taxes, he says. For those who spend their money on frivolous things, well, even that is good for the economy, assuming it's not spent on illicit—tax free—drugs.
Another plan is to allow homeowners who are near foreclosure to withdraw up to $50,000 from 401(k)s, IRAs and other so-called non-flexible savings accounts, without penalties, and without being taxed to save their homes. While it may hurt them down the road, when retirement accounts have been emptied, it would allow many homeowners to keep their homes, without a government bail-out, he argues.
"It would allow them to save their home," Kokkonen said. " And owning a home is the American Dream."
For now, though, Kokkonen has his own dreams to chase.
---

Staff Writer Kylie Mendonca can be reached at kmendonca@newtimesslo.com