It all started with a bunch of old, broken-down cars.
Paso Robles photographer Dean Crawford was telling a friend at a local photo guild meeting that he was looking to shoot some gorgeous, vintage, rusty vehicles.
Fellow photographer, and at this point virtual stranger, Deb Hofstetter, overheard, leaned in, and said, "I know a place ... ."
That shoot went well, and three years later a love of photography and a sense of nostalgia for the past has cemented the duo's friendship and led to the pair sharing a permanent gallery space at Studios on the Park in Paso Robles.
"We like the same things, the subject, the style," Crawford said. "I was impressed with how creative she was."
Photo By Dean Crawford
CALIFORNIA HISTORY North County photographer Dean Crawford often uses various filters when capturing images like this one of Mission San Miguel in order to give the piece a surreal look.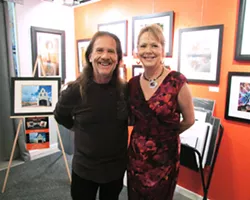 Photo Courtesy Of Deb Hofstetter
DYNAMIC DUO Photographers Dean Crawford and Deb Hofstetter share gallery space at Studios on the Park in Paso Robles.
Hofstetter and Crawford's Americana show—featuring photos of old cars, crumbling buildings, rundown movie theaters, Native Americans, horses, roosters, benches that have stood the test of time, and more—is currently on display at Studios through Sept. 30.
When they aren't showing work together, Crawford teaches photography classes through the city, and Hofstetter also specializes in wine photography for local clients like Ancient Peaks and Halter Ranch. They also did an Americana-themed show last year and brought it back due to its popularity.
"Americana to me is like American icons, like the flag or things from the past," Hofstetter said. "Old bikes, old barns, old delis ... . It's country, it's rust. It evokes a sense of belonging. We all want to belong."
Years and years ago, when Hofstetter was a little girl, she lived on the same street as High Street Deli, back when it was just a market. To this day, the building still sports the same door that Hofstetter would open on her way to buy candy. She captured the popular sandwich shop in her photo, Making Memories.
"I went there all the time to get hot balls and cinnamon sticks," Hofstetter said. "You drive around and you find these to shoot. You have to be aware."
Photo By Deb Hofstetter
DOWN THE STREET Photographer Deb Hofstetter grew up living on the same street as High Street Deli in San Luis Obispo, back when it was just a market where she would buy Fireballs.
Art regulars at Studios can quickly pick out which pieces were shot by Crawford. He's known for using a variety of filters and sometimes using his graphic design background to bring a little something extra to the photo. In pieces like a photo of Mission San Miguel, it almost looks not quite real.
"When I get a photo, I don't want to leave it like it is," Crawford said. "I want to put my own touch on it. The main thing I hear is that, 'That's not a photo, it's a painting.'"
For Hofstetter the best moment isn't necessarily when a client buys a photo, but the moment right before, when a client's eyes land on a particular piece and they light up and say, "That photo, that's so me."
"That they find that personal connection, that makes me feel successful as an artist," she said. "All I want to do is just grow and become more creative." Δ
Arts Writer Ryah Cooley is waxing nostalgic at rcooley@newtimesslo.com.