Even though I ordered them more than a month ago, I finally set-up my three faux terracotta rain collection cisterns this past week, a somewhat tricky endeavor since they have to sit perfectly level next to a downspout, and for obvious reasons, the land next to a house is not level—the idea is for water to fall away from a house, not toward it. They all fill in less than 12 hours in what is the most significant rainfall we've seen in more than six years.
PHOTO BY GLEN STARKEY
FLOAT ON: A plastic garden shed washed out of a yard abutting Laguna Lake is spotted floating aimlessly along on Jan. 9.
All my usual places are feeling the storm. Down at Olde Port dog beach, huge swaths of beach are eroded down to rock normally buried deep beneath sand.
The change to Laguna Lake is even more drastic. Two summers ago, it was bone dry—a cracked puzzle of dried mud so hard you could walk across it. One good storm last season refilled the lake, but on Monday, Jan. 9, for the first time in more than six years, the lake is full enough to push water out of its south spillway under Madonna Road and toward San Luis Obispo Creek and on to the Pacific.
When I walked by the lake on Sunday, Jan. 8, it hadn't quite gotten to the point of overflow. I looked over the edge into the culvert and saw a floating hypodermic syringe, no doubt left by a junkie who had sheltered under it some time before the storm. The poor lake is in a sad state, in desperate need of dredging and maintenance. I remember when I first moved to SLO Town in the late-'70s, people swam in and boated, sailed, and windsurfed on the lake. It's now so filthy, I wouldn't let my dogs in it.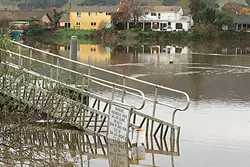 PHOTO BY GLEN STARKEY
DUCK WEATHER : Even the Laguna Lake boat launch is submerged by the storm.
When I walk to the park on Jan. 9, a tree has fallen down across the sidewalk, forcing the dogs and me onto Madonna Road to get around it. The ground has apparently become so saturated with moisture, trees are uprooting. Our normal footpath to the park is submerged and we're forced to use the asphalt walk, which is also close to being under water in spots. Even the boat launch is washed out.
In the middle of the lake, a green and gray garden shed floats listlessly along, having washed away from one of the yards abutting the water. Surreal. Who knew those things could float?
I stand silently in the middle of the dog park and all around, seemingly from every direction, I hear the chorus of a frog opera coming from the hills, the fields, and all around the lake—thousands of croaking voices in wet, sloppy, frog heaven.
PHOTO BY GLEN STARKEY
BEACH BOUND: For the first time in more than six years, Laguna Lake is full enough to outflow excess water to San Luis Obispo Creek and on to the Pacific.
The grass is a vibrant, lush green, and the field has rivulets of water finding their way to the lake. Along the shore, trees normally on dry ground emerge from the water, wannabe Mangroves whose roots are suffocating.
More rain is on the way, and longtime locals in the Laguna Lake area no doubt recall the flood of 1973, which left Oceanaire Drive submerged under 3 feet of water. You can find photos online of residents rowing boats down the street past cars with water up to their windows.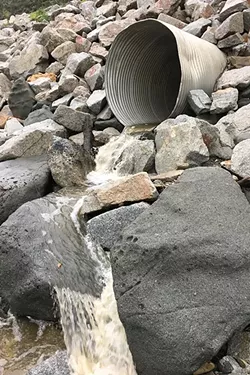 PHOTO BY GLEN STARKEY
RUNNING WATER: A drainage pipe is rushing water to the sea at Olde Port dog beach on Jan. 8, where swaths of sand are washed away.
As singer-songwriter Daniel Johnston wrote, "Running water, running water, what are you running from? You always seem to be on the run."
Glen Starkey is New Times' senior staff writer. Contact him at gstarkey@newtimesslo.com.