Editor's note: Glen Starkey is on vacation so Flavor writer Hayley Thomas Cain is stepping in for a couple of weeks.

Sam Outlaw will be the first to tell you: If you're thinking about giving up your day job to make a living in the underground country music scene right now, you're absolutely crazy. Totally bonkers.
Clean-shaven in his tight Wranglers and glistening cowboy boots, Outlaw (the name's real; from his mom's side of the family) is proud to be branded crazy. It's true; the former ad man raises more than a few eyebrows among man-bun speckled LA—but it's not just the urban cowboy mystique or fierce dedication to a genre that no longer exists on the radio that sets Outlaw apart. It's the songwriter behind that fine vintage Stetson.
PHOTO COURTESY OF GOOD MEDICINE PRESENTS
URBAN COWBOY: Los Angeles based Cal Poly alum Sam Outlaw brings his dusty SoCal country to a Good Medicine Presents show at Tooth and Nail Winery this Dec. 15.
Listen to Outlaw's debut album Angelino, released last year to critical acclaim, and you'll get it. Windswept and worn, with a dual shot of coastal cool and heartland grit, Angelino is a solid, authentic country album meant to be returned to, over and over again (it's in my top 10 road trip jams, up there with Waylon Jennings This Time, and George Strait's Greatest Hits). Like denim, Sam Outlaw only gets better with wear.
Produced by Ry Cooder with a nod to multiple layers of country history, the goods are all here: poignant pedal steel, twangy guitars, and haunting harmonies that gnaw at forgotten places of your heart.
I caught up with the 30-something Angelino during a Utah stop on his latest tour, which brings his band to Tooth and Nail Winery in Paso Robles this Dec. 15 (6:30 p.m.; all ages; $15 at ticketfly.com; $20 at the door).
New Times: Excited to have you in Paso!
Sam Outlaw: We love coming back to SLO County. It's funny. I've only been doing this full time for a year and a half, and I feel like I have lived three lifetimes and played 400 shows ... actually, that sounds about right. The more I do this, the more you really end up caring about the people you're working with. Not to sound cheesy, but it's true. You care about who the hell is going to be there when you get there.
NT: Who's showing up for you?
SO: On this tour, it's crazy. We played a sold out, packed show in Austin, then we played in Houston for literally six people. Last night, we played to a packed house in Denver.
NT: I love that you say "LA is the country music capitol of LA." What's the scene like back home? Is it like the era of the Bakersfield Sound—all these musicians had a similar thing going on?
SO: Well, it can't really be like that. In the '50s and '60s, the country music that was being made was also the popular music of the day. Buck Owens was both good music and popular music. Now, the country music that is actually supported by corporate country radio is actual dog shit, and you can quote me on that. I have no chance of being played on the radio, so I can't burn any bridges. Plus, everyone already knows it!
NT: Ha! We're getting real here. Who should we be watching for now?
SO: There's a lot of women in Nashville kicking ass right now. Molly Parden, who I've had in my band; Erin Rae; my friend Michaela Anne is awesome. There's so, so, so many. It's weird. There's hundreds of people in my shoes and so little industry for the kind of music we're doing, yet myself and some others are somehow able to make a living doing this.
NT: That's pretty amazing.
SO: This is my only job, and my wife is a stay-at-home mom now. The music somehow gets to the people who want to hear it and those people come to your show and buy enough koozies to keep you alive for a couple of months. We're still alive—knock on wood! A big part of it is Europe, where I am three to four times bigger over there.
NT: When you come back to SLO, as a Cal Poly alumnus, where do you go?
SO: I still have to take the band to Firestone because it's "the thing." That tri-tip sandwich is still ingrained in my nostalgia. Also High Street Deli; go in for the 4:20 special. Montaña de Oro, climbing Bishop's Peak. That was what was so special about the Central Coast. Dunes, beach, mountains, trails—it was just a wonderland.
NT: You just won five new local fans!
PHOTO COURTESY OF CHRIS ROBINSON BROTHERHOOD
COSMIC CALIFORNIA: Trippy rockers the Chris Robinson Brotherhood will attempt to blow your mind at Fremont Theatre this Dec. 15.
SO: Hah! It's true. But I don't think I could live in SLO and create art, because I'd probably be too happy. It's just too good. For the people making a living there, who proactively support arts and promote it, you're all very special. Thank you.
NT: So the '90s are getting a comeback, but '90s country is still not cool at all. My husband got me into really solid '90s country music that stood the test of time. I know it has influenced you.
SO: Up until six years ago, I didn't listen to any '80s/'90s country. I didn't listen to Randy Travis or Alan Jackson. Similarly, it was my wife that was the one who got me into it. She grew up with it. A good song is a good song, and in the '80s and '90s, it was all about neo-traditionalism in country. Those musicians were basically trying to make modern records that sounded like George Jones. They were bringing back the classic sound that had been lost to disco country and all that BS. Yeah, some of the production is a little cheesy now, but I still love it so much.
Tune in, drop out
Chris Robinson Brotherhood's new album, Anyway You Love, We Know How You Feel, is a reflection of the place where it was made. Recorded in Northern California on the side of a mountain overlooking the foggy Pacific Ocean, it channels the natural majesty and melancholic weather of their surroundings into the album's eight tracks. See this "Cosmic Californian" outfit perform live at the Fremont Theater, Dec. 15 (7 p.m; all ages; $22 presale at ticketfly.com or $25 at the door).
More music ...
At 16, soul/gospel guitarist Jonny Lang found success with the release of his major label debut album Lie To Me. Fame does not seem to have impacted the artist, who says he's still "the same country farm boy from Fargo."
PHOTO COURTESY OF STUART MASON
HE'S GOT SOUL: From teen star to family man, gospel blues singer Jonny Lang reaches to the edge of human emotion with fresh songs at the Fremont Theatre this Dec. 17.
Lang's latest release, Fight For My Soul, represents a chapter of renewed self-discovery.
"Much of what I've experienced through music and life in general is in these songs. I really like reaching out and connecting with people," Lang said in press materials.
You can see Lang live at the Fremont Theater Dec.17 (7 p.m.; all ages; tickets $30.50 to $45 at ticketfly.com).
Guitar wizards, unite! New Jersey's seven-string guitar wizard Charlie Hunter is known for wielding custom-made guitars, on which he simultaneously plays baselines, rhythm guitar, and solos (crazy, right?). Joining Charlie is Bobby Previte on drums and Curtis Folkes on trombone. Allow these fellas to blow your mind at Tooth and Nail Winery Dec.16 (6:30 p.m.; $25 pre-sale at ticketfly.com or $30 at the door).
Basin Street Regulars will host swanky 1940s Jazz Band Royal Garden alongside local act Gypsy All Stars Dec. 18, at the Pismo Vets Hall, over at 780 Bello St. in Pismo Beach. The glitz gets on at 11 a.m. and includes a holiday buffet. Bring a dish to share (salad, desert, or an appetizer) or throw $5 into the pot.
Heaps of holiday sounds ...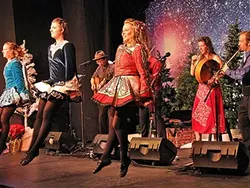 PHOTO COURTESY OF STUART MASON
CANDY IN MY HEELS : If bagpipes, fiddles, and traditional Celtic dancing gets your blood pumping, you might want to catch Molly's Revenge with vocalist Christa Burch and the Turco Irish Dancers this Dec. 16 at the South Bay Community Center in Los Osos.
If bagpipes, fiddles, and traditional Celtic dancing get your blood pumping, you might be Irish—or, in any case, an Irish culture enthusiast. If either is true, don't miss Molly's Revenge with vocalist Christa Burch and the Turco Irish Dancers, Dec. 16 at the South Bay Community Center in Los Osos (7 p.m.; $20 advance, $25 door; kids 12 and under $10; tickets at Boo Boo Records or mollysrevenge.com). Email stuartmasonmusic@gmail.com or call 215-0306 for more information.
A very jazzy holiday is in store for attendees of this upcoming show, chock full of diverse seasonal delights. Joyful Noise Productions, in collaboration with The Jazz Vespers Series at the First Presbyterian Church of San Luis Obispo, presents an evening of Christmas jazz on Dec. 18 (7 pm; all ages; $15 recommended donation).
The show benefits the new Homeless Services Center at 40 Prado Road and will feature the return of the original George Garcia Quartet with vocalist Inga Swearingen.
The First Presbyterian Church of San Luis Obispo is located at 981 Marsh St. Purchase advance tickets at Boo Boo Records.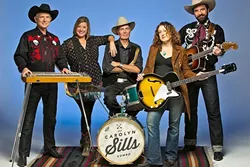 PHOTO COURTESY OF CAROLYN SILLS
SWING ME SANTA: If Western swing is your thing, head to Pine Street Saloon for a rowdy country holiday gig featuring Carolyn Sills Combo this Dec. 17.
The Arroyo Grande Rotary Club's Christmas and Holiday Sing-Along returns to the Clark Center Dec. 18, (4 p.m.; $12 for adults and $6 for children) and features the Arroyo Grande High School a Cappella Choir and choirs from Nipomo High School and Righetti High School. Performers will also include Righetti High School Ballet Folklórico, Everybody Can Dance Troupe, The Grande Ringers, and talented Pioneer Valley High School drama students Aislinn Mase and Stefano Rincon.
Tickets are available from the Clark Center Box Office at 489-9444 or clarkcenter.org.
The Carolyn Sills Combo wants to get you in the holiday spirit with their annual "Santa is Real" Western holiday show this Dec. 17, at Pine Street Saloon in Paso Robles (9 p.m.; $3). Sing along to 1950s holiday favorites, sung by local Santa Cruz Western heroes Gerard Egan, Charlie Joe Wallace, Jim Norris, Sunshine Jackson and Carolyn.
Hayley Thomas Cain gets into the holiday spirit with only the heaviest of metal songs. She can be reached at hthomas@newtimesslo.com.