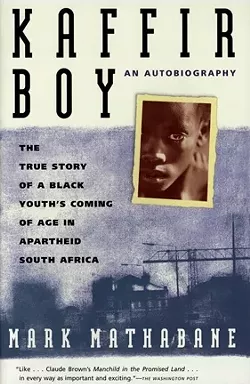 IMAGE COURTESY OF SIMON AND SCHUSTER
CHALLENGED! : An anonymous complainer kicked off a review process to consider banning Mark Mathabane's Kaffir Boy from San Luis Obispo High School.
W
hen Mark Mathabane was 7 years old, he followed his friends into one of the ghettos of South Africa. Standing in a small room, with a group of older men watching them, his friends flew to a table stacked with food and began gorging themselves. Mathabane hadn't eaten in days, but he sensed something was wrong, so he stood in a corner and didn't touch the food. He was right to stay away—when the boys were done eating, the men took them back to bunk beds and molested them.
"I shot out of that place like I had rockets on my feet," he told New Times.
Mathabane wrote about his experience in an autobiographical account of South African apartheid, Kaffir Boy. However, due to an anonymous complaint about a passage in the book in which Mathabane describes how some children would prostitute themselves for food, San Luis Obispo High School has begun a review process that could potentially remove Kaffir Boy from the school's curriculum and its library. The book was listed as the 39th most challenged book by the American Library Association, which is protesting bans during Banned Books Week now through Oct. 2.
"Teachers are very careful about the material they choose to expose [their students to,] and also very brave to challenge students to basically ... know reality," Mathabane said. "For them to be put on the spot and to be told that their judgment as teachers is irrelevant because some parents or parent is offended by reality is really sad because this is exactly what happened in South Africa when I was growing up."
According to SLO High Principal Will Jones, an anonymous complaint came in last spring. School officials unsuccessfully attempted to obtain an author-approved edited version of the book. The next step was to begin a review process, which will involve a review committee comprised of school officials, community members, and students.
Jones said the policy, which is set by the school's board, can kick in when anyone makes an objection to perceived offensive material.
"So we want to make sure that we're doing it the way it's supposed to be done," Jones said, adding that it was the first time in his nine years as principal that the school has considered banning a book.
If the book is deemed offensive, it could be removed from the spring curriculum of the world history class, as well as the library. County Superintendent of Schools Julian Crocker could only recall one other attempt to ban a book, in Paso Robles, but the book survived and the student was simply assigned an alternative reading.
Mathabane said students have told him they find his tale inspiring and it's helped them withstand peer pressure: "They should never be allowed to deny all the [other students] the opportunity to read something this empowering and liberating to young people." ∆