Ron Roberson will tell you that he's never done woodwork before, but one look at some of the tables he built inside The Boar's Hole will have you questioning the validity of that statement.
"This wood came from a guy in San Luis named Jim Sweetwater," Roberson said. "It was just in his scrap pile, and he was going to toss it, but we grabbed it."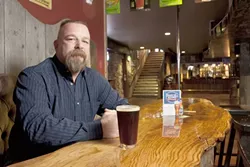 PHOTO BY STEVE E. MILLER
THE WATERING HOLE : Ron Roberson (pictured) and his wife Shelly own The Boar's Hole, a new pub in Paso, where fun, music, and beer flow freely.
Roberson's easygoing attitude toward woodwork jives with his attitude about almost everything. Formerly a corrections officer, Roberson decided to leave the prison system after 14 years on the job.
"My wife and I play a lot of pool, and we were in a pool league where we got to see a lot of the bars and pubs in the county," Roberson explained. "They were all nice places, but they all seemed to be missing something, so we decided to open our own place where we felt our family and friends would be comfortable coming."
People definitely seem comfortable in The Boar's Hole—so comfortable, they've taken to writing on the walls, something the Robersons have encouraged.
"We were at the store and we saw this chalkboard paint, and we thought it would be cool to let people write on the pillars," Roberson said. "Well, the first night we opened people had already filled the pillars with messages, so they started to draw on the ceiling." An upward glance will give you an indication of how popular The Boar's Hole's interactive walls have become.
While patrons are waiting for a turn with the chalk, they can quench their thirst with one of the pub's 15 beers on tap, along with a great selection of local wines.
Roberson says his favorite beer in The Boar's Hole is Moose Drool, which comes out of Missoula, Mont. But they're also huge proponents of supporting local endeavors.
"We really try to feature some of the local wines and local micro brewers," he said.
After the refreshments have been procured, it's best to take a few spins on The Boar's Hole pool table. The Robersons feature two league teams at the pub, and they hope to soon extend the pub's space to the dart league, but for now customers can take aim at one of three dartboards.
Sundays and Mondays are karaoke nights at The Boar's Hole, while Wednesdays feature an open mic night. A DJ comes in every Tuesday and Thursday to provide some dancing entertainment. No self-respecting pub would go without a live music night or two, which is why The Boar's Hole brings in artists on Friday and Saturday nights.
For now, happy hour runs from 4 to 8 p.m., except for members of the military, who get happy hour every day all day.
The Boar's Hole is a relaxing spot downstairs from Paso Robles' hopping Park Street, and it caters to all types, from three-piece suits to daisy-dukes casual. It's the type of place that may never make its proprietors filthy rich, but that's something Roberson says he's OK with. "It would be great if it happened," he said, "but mostly I just want to have a lasting business, something I can leave my grandson."
Roberson smiles when he talks about leaving The Boar's Hole to his grandson, Lucas. But he may have to wait a while for all that to happen.
"His footprints are over there in the floor," Roberson said as he moved a table to show them off. "He's 14 months old right now, but it would make me really happy to leave him all this. He'll have his 21st birthday here."
The Boar's Hole is open every day at 1 p.m. at 1242 Park St., Paso Robles. Check them out on Facebook! For more information, call 835-1894.
Fast facts
Stover & Associates present a Proposal Preparation Seminar at the Embassy Suites' Edna Room at 333 Madonna Road, San Luis Obispo, on Feb. 28 from 9 a.m. to 5 p.m. Topics will include strategizing for a winning prize, developing a tech proposal, past performance, and the proposal review process. There's no cost, and it's funded by the U.S. Small Business Administration. ∆
Maeva Considine compiled this week's Strokes & Plugs. Send items for consideration to strokes@newtimesslo.com.