Every wine industry person knows the feeling. You'd rather spark up a deep conversation with a rabid telemarketer than drink another glass of room temperature cabernet sauvignon. You need something crisp, clean, bubbly, zesty, and—most importantly—not wine. Enter hard cider, the ultimate palate cleanser.
Especially after a sweaty harvest, a glass of crisp hard cider (or a really cold beer) is what most hardcore winos reach for. Tin City Cider co-owner Andrew Jones told me so, and hey—I should trust him. He's a winemaker after all (see: Field Recordings, also located in Paso's booming Tin City). Along with his pal Mikey Giugni (Scar of the Sea, vineyard specific pinot noir, chardonnay, and hard cider), and Curt Schalchlin, owner/vintner of Rhone house Sans Liege, the gang is bringing refreshment back in a bold way.
PHOTO BY JAYSON MELLOM
THE HARD WAY: Tin City Cider Co. is flipping the cider world on its head. Each hard cider is sourced from apples grown in the Sierra Foothills, hopped for character, barrel-fermented, and can-conditioned for the perfect balance of bubbles and bite.
"This place fills up with wine industry people; they love drinking our refreshing hard cider," Jones said during a recent tour. "But we're also doing a lot of tasting flights and introducing some people to hard cider for the very first time."
Already buzzing with live bands each weekend, hosting recent dinner collabs with friends like Larder Meat Co., and welcoming lots of tourist traffic, it's amazing to think that the glistening metal taproom pushed out its first offering just last year.
You may also have the same question that I did: How did a longtime winemaker and grower—someone who has stepped foot in virtually every vineyard on the Central Coast—make the leap from grapes to apples?
Just as every wine drinker needs a palate refresh from time to time, Jones needed a refresh on his outlook. Although he loves the wine he makes and appreciates his cozy spot within the industry, he's only human.
After years growing and selling rootstock, he could feel the complacency—the status quo—creeping in. Like any artist, he had to nip it in the bud.
"I had a bad day at the nursery, and I just felt like I wanted to do something different," Jones said. "That's when I decided to go with cans. They're fun, have a low environmental impact, and there's a huge cost savings."
PHOTO BY JAYSON MELLOM
TIN MAN: Andrew Jones, winemaker/owner at Field Recordings, has joined together with Mikey Giugni of Scar of the Sea and Curt Schalchlin, owner/vintner of Sans Liege, to create Tin City Cider Co. in Paso Robles.
Plus—and winemakers probably don't want you to know this—cans also help protect wine better than a fancy glass bottle. Light cannot penetrate the aluminum, which is why you'll find so many craft beer brewers switching from bottles to cans, too.
In 2013, the winemaker started selling cans of his Fiction Paso Robles red blend (hop on the Field Recordings website and you'll even see tasting room guests donning "beer helmets" complete with straws running from wine can to mouth).
"The first round of cans sold out in four weeks," Jones said of that initial "aha" moment.
So, why not cider? That's the question all the guys asked themselves while hanging out (Jones and Schalchlin are also partners on their Fableist wines brand, and Giugni has been making orchard-specific hard cider for years).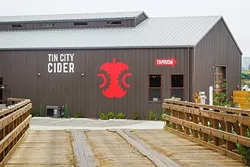 PHOTO BY JAYSON MELLOM
TIN CITY SPLENDOR: Tin City Cider Co. joins Wine Shine, ONX Winery, and BarrelHouse Brewing Co. (as well as many more inventive artisanal offerings) at Paso Robles' hippest new tasting stop, Tin City.
"We all love Mikey's cider. We wanted to take his geeky cider-making techniques and combine it with our own winemaking style and love of canning," Jones said. "The goal was to introduce more people to a high-end cider that was still an everyday, affordable product."
Oh, and gloriously geeky these ciders are (and damn good, too). While some hard ciders can come off as one note, watery, too sweet, or unmemorable, Tin City Cider is a standout star.
For instance: "Templetucky" features a blend of Placerville apples co-fermented by native yeast with blood oranges from Cambria and aged in old bourbon casks for four months. Like all of Tin City Cider's offerings, the cider is dry hopped to add interest and depth.
Tin City's "original" cider is far from traditional, offering up a blend of West Coast apples—including Golden Delicious, Fuji, Granny Smith, Gala, Gravenstein, Macintosh, Mutsu, Red Delicious, and Pink Lady—fermented and aged in a combination of French oak barrels, acacia barrels, and stainless steel. The cider is fermented with a combination of beer and wine yeast: English cider yeast, Edinburgh ale yeast, Champagne yeast, Belgian saison yeast, white wine yeast, and native cellar yeast. Then, it's aged for three months and dry hopped with Nelson Sauv and Cascade hops to add to the aromatic complexity.
"We make cider like we're making sparkling wine," Jones said of the thoughtful process. "Really, Tin City Cider is a combination of sparkling wine and beer techniques. Everything is container-conditioned in can, bottle, or keg. That secondary fermentation that happens in the container is what creates the bubbles."
Those bubbles taste a little different, too. A champagne-like effervescence dances on your tongue. It's compelling and exciting, hard to put your finger on.
"There's more energy to it, a different feel," Jones said.
Fan of sour beers? Try Tin City's Sour Blonde, made with blonde wheat wort brewed just next door at Barrelhouse Brewing Co. Fermented by native yeast and soured with brettanomyces and lactobacillus yeasts in French barriques for six months, the cider is dry hopped with galaxy and simcoe hops and left unfiltered.
Other ciders, like Liliko'I and Strawberry Fields, feature luscious fruit-forward characteristics. Whether playing with passion fruit grown at Stepladder Ranch in Cambria or fresh cherries (just look for the bright pink cider on tap), the crew is always at play.

EASY TO LOVE HARD CIDER: Tin City Cider Co. is located at 3005-A Limestone Way in Tin City, Paso Robles. For hours and information or to join the cider club, go to tincitycider.com. Check out acoustic music every Friday night and live bands plus food on each second Saturday. Second Saturday releases are also rolling out each month featuring new specialty cans and bottles for tasting and purchase.
Someone's got fab Granny Smith apples growing in Paso Robles? They'll pounce on 'em. An old wine barrel needs a new purpose? They're on it.
It's true: These wine-turned-cidermakers are proud to let their geek flag fly. Just ask Jones a few questions about the cider in your glass and he'll light up with hilarious stories, obscure apple trivia, and barrel stats.
During moments like these, you can tell that this winemaker has been thoroughly refreshed, body, mind, and soul.
Amazing what a good hard cider can do.
Hayley Thomas Cain believes in the life-changing joy of hard cider. She can be reached at hthomas@newtimesslo.com.