Kristina Spitale might actually be crazy. At the very least, she possesses a drive to succeed on her own terms that far surpasses the average co-ed and she's not afraid to work for it. While her fellow student bodies spend their out-of-class time between the South County's sunny beaches and the library, the crazy cowgirl skips between her job as a waitress and a bartender, and her kitschy country boutique. But she's not complaining. Spitale smiles earnestly, greeting customers and meticulously arranging jewelry as she buzzes around the shop.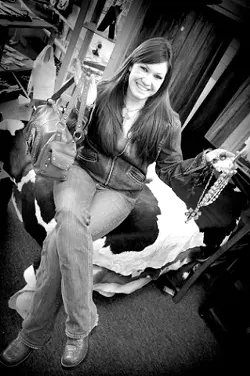 PHOTO BY KYLIE MENDONCA
IN THE BALANCE : Kristina Spitale, owner of Crazy Cowgirl Jewelry, juggles quite a few roles.
# The Central Coast native got her entrepreneurial start early, raising livestock for auction at the Mid-State Fair. With the money she earned from that endeavor, she got a business license, started making jewelry, and sold her wares at trade shows. At 18, Spitale bought 10 acres north of Paso Robles. At 22, she built a home there. Her latest enterprise is Crazy Cowgirl Jewelry, a store that features her own necklaces, bracelets, and rings as well as purses, cow hides, crosses, hats, and unique home decor.
Much of the jewelry is in the form of chunky natural stones such as onyx and turquoise or coral set in sterling silver or brass. The store features barbed-wire wreathes, cut-iron picture frames, and homemade, western-style signs that spell out welcome in a few ways.
Crazy Cowgirl isn't just about boots and spurs, though the shop offers cute earrings, necklaces, and knickknacks that could work with any style. Furniture and mirrors with a western flair fill any remaining space in the little store.
Spitale gets her merchandise from sources all over the country. Much of it is handmade, if not by herself, then by some other handy upstart. She's always looking for new and exciting crafts to stock, and the collection changes all the time. If all this isn't enough, there will soon be a Crazy Cowgirl line of clothing. You can vote on colors and suggest slogans at her Web site, or just wait for the line to come out.
The shop is cute, down-home, and surprisingly affordable. The only thing that overshadows the merchandise is Spitale's own radiant disposition. Stop in and see for yourself. But keep in mind that Spitale is the lone employee at the shop, so the hours can be a little crazy.
Crazy Cowgirl Jewelry is located at 799 Foothill, suite D, at Ferrini Square in SLO. For more info, call 547-1800 or visit www.crazy-cowgirl.com.
Kylie Mendonca compiled this week's Strokes and Plugs. Send your business news to rmiller@newtimesslo.com.