The first—and thus far, only—time I juried an art show, I discovered a bizarre inclination to award first prize to a really large painting. Sure, several smaller pieces were equally deserving, but it somehow seemed right that an enormous, bold, ballsy painting should win. When you put it that way, it sounds ridiculous (Congratulations, your piece is gigantic!), and, mostly, it is. On the one hand, it's true that large-scale pieces have a greater effect on the viewer, and typically require a greater investment on the part of the artist. But what if a simple line drawing expresses a superior idea?
PHOTO BY STEVE E. MILLER, ARTWORK BY NICOLE ANDERSON
UNTITLED:
Taking in the Cuesta College student art exhibit, assertively titled "I Am an Artist," I was reminded of this dilemma. The show, which opened Friday, April 18, and hangs through May 17, showcases the best work in the areas of photography, painting, drawing, sculpture, and ceramics.
Nicole Anderson was awarded first place for painting for her large-scale work Follow Me and Best in Show for another large, untitled mixed-media piece. The effect of Anderson's breathtaking work is only magnified by its scale. Follow Me depicts two horses, one perhaps still a foal, with its spindly legs, the other one older, guiding the smaller animal with its body. Anderson seems to leave her process deliberately exposed: here and there, the outline of a hoof is left unfinished, separate from the completed image, as if the artist had begun it and then made another choice, or as if suggesting the forward motion of the horses' hooves. Brushstrokes are left drippy and carefree. The animals' faces, however, are more neatly rendered. The smaller horse turns down its ears submissively, its brow furrowed in a near-human expression of anxiety.
Anderson's Untitled is significantly taller than it is wide, and depicts, among many things, a doorway, upon which several drawings, ideas, and centuries have been layered. At the lower left corner, a woman in Renaissance clothing lifts up her skirt to reveal an alternate reality: a great cavernous space where red and blue figures encounter one another at a crossroads of sorts. Beside her, Grecian muses (perhaps!) cavort in various degrees of completion, some left as mere sketches. Again, the process is exposed: exquisite layered drawings in graphite are marred by errant drops of paint. Anderson's work is certainly not overly precious.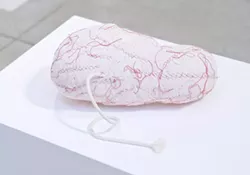 PHOTO BY STEVE E. MILLER, ARTWORK BY EMILY EMANUEL
WHY DID YOU COME BABY DEAR?:
Viewers seem to gravitate toward her pieces, and it's also easy to see why jurors Dalton and Jeff Jamieson, brothers who recently displayed their work in the very same space in the joint show "More is More," made their decision.
But scale is not everything, and the Jamieson brothers are far too seasoned to be swayed by bigness or by illusions of physical effort. First place in drawing went to Emily Mullisen's Untitled, the smallest and least representational piece in its category.
Jeff Jamieson is himself a sculptor and a ceramics teacher, so works in those categories likely had to withstand an especially critical eye (though the same could be said of Dalton Jamieson—a painter known for his painstaking still lifes—and the painting category). Tom Martin's simply yet skillfully wrought Ghost placed first in the ceramics category. Eamon Winkler's wonderfully disgusting piece Parasites, a humorous work comprised of two tiny ceramic structures that resemble creatures out of science fiction—took the honorable mention in the ceramics category.

GET SCHOOLED: "I Am an Artist," a Cuesta College student art exhibition juried by Jeff and Dalton Jamieson, hangs through May 17 at the Cuesta College Art Gallery on Hwy. 1 on the SLO campus. Gallery hours are noon to 4 p.m. Monday through Friday. Admission is free.
The photography section is smaller than the others, but no less varied. Jamieson and Jamieson awarded first prize to Raymond Norte's poignant Forgotten, an image of an abandoned home in slow decay, dated wood paneling slowly peeling off into a pile on the filthy plush carpet. The image is dim like a memory, with a single source of light pooling into the center, as if lit by a flashlight.
The lovely thing about Cuesta's art department is that it's not just filled with stressed 20-year-olds in a hurry to start their careers. There are real adults as well, returning students with a certain maturity and wealth of experience that gives their work weight. Among them is Emily Emanuel, who last winter exhibited, among several sculptural pieces, an illuminated box containing MRI scans of her daughter, who suffers from MS. But Emanuel also has a sharp sense of humor: In the same show, her piece Limp depicted a rather deflated-looking phallic object, made of leather, which was placed between two stones—a Freudian symbol at its most comically pitiful.
My limited impression of Emanuel's work was that it was surprising, was deeply personal, and toyed with unusual textures, and her latest piece only confirmed this. Her fabric sculpture, titled Why did you come baby dear? took first place in its category. A fetus-shaped object, soft on the outside and covered with loose red threads like tiny veins, contains a baby doll on the inside. Handling the piece is allowed, and doing so is an unsettling experience, as one is first taken aback by the piece's weight and then by the odd sensation of tiny arms and legs underneath the plush exterior. A short bit of rope dangles like an umbilical cord, but one realizes with a jolt that it's attached to the wrong side of the baby, further underscoring the piece's dissonant and profoundly uncanny effect.
"I Am an Artist" is an incredibly dynamic show, though I imagined I could sense the Jamieson brothers' aesthetic: a tendency toward profound simplicity and away from fussiness or representation. But the Jamiesons will surprise you. Here and there among the often intense or somber works are irreverent little selections that feel like well-timed jokes (see Jazmine Ropner's gleefully silly watercolors, or Michael Miller's sweetly simple puppy portrait). These little pieces that seem to serve as a reminder that art—making it, jurying it, looking at it—need not always be such a dramatic exercise.

Arts Editor Anna Weltner is peppered with well-timed jokes. Contact her at aweltner@newtimesslo.com.