Before there was Kid Rock, there was another crazy Detroit rocker, a guy who wholly embodied the gritty Americana rowdiness of the Midwest. That's right, people, I'm talking about the original Motor City Madman, Ted Nugent.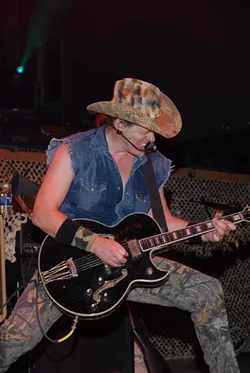 PHOTO COURTESY OF DUANE SYCZ
THE HUMAN TORNADO! BE SWEPT UP IN TED NUGENT'S RIPPING GUITAR AND RIGHTWING RHETORIC AT POZO SALOON ON JUNE 13. : Be swept up in Ted Nugent's ripping guitar and rightwing rhetoric at Pozo Saloon on June 13.
Sure, he's become better known as a weird rightwing nut, a pro-gun, pro-hunting, "I kill everything I eat and eat everything I kill" crazypants, but he still plays a ripping guitar!
Let's take a closer look at the opinions of this guy who doesn't drink or do drugs—a guy who can barely open his mouth without sticking his foot in it! The following are actually Ted Nugent quotes: "If you want to save a species, simply decide to eat it. Then it will be managed—like chickens, like turkeys, like deer, like Canadian geese"; "Mr. Janet Reno? I think Mr. Janet Reno ... I think he's one of the best hunting dogs in the world"; "The war is coming to the streets of America, and if you are not keeping and bearing and practicing with your arms then you will be helpless and you will be the victim of evil"; "Vegetarians are cool. All I eat are vegetarians—except for the occasional mountain lion steak."
Ah, Ted! Gotta love America, a place where you can rock as hard as you want, say whatever you want, stockpile weapons, wait for Armageddon, and play Pozo Saloon on (spooky!) Friday, June 13!
Nugent hits Pozo Saloon for his "Rolling Thunder 2008" tour, during which he'll be participating in another great American pastime: capitalism. Nugent, aka "The Human Tornado," is touring in support of his many projects including a new CD and DVD (Sweden Rocks), book (Ted, White & Blue: The Nugent Manifesto), and film (Beer for My Horses)—all out this summer.
In addition, the rocker has a new song, "I Am the NRA," and a hit TV show called Ted Nugent Spirit of the Wild, which airs on the Outdoor Channel. Watch Ted kill!
On this, his 50th tour, Nugent promises to roar through his classics including "Stranglehold" as well as songs from Love Grenade, his 35th album released last fall on Eagle Rock Entertainment. You can also expect a between-song lecture on what it means to be a real American! As a warning, here's one more Ted Nugent gem: "I have busted more hippies' noses than all the narcs in the free world."
Only in America, people! Now get out there and rock! Tickets ($38 and $55) are available at Boo Boo Records, the Mid-State Fairgrounds, the Cal Poly Rec Center, the venue, by phone at (888) 825-5484, or online at pozosaloon.com.
Rockin' for a cause
Crosby, Stills and Nash haven't played the Central Coast in a decade, but David Crosby did appear at the Cuesta Auditorium several years ago and I was blown away by how great this guy sounded. I mean, how many livers has he gone through, anyway?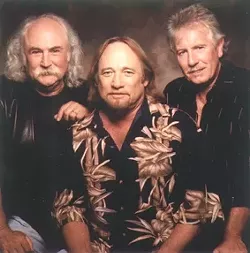 CROSBY, STILLS AND NASH
OLDIES BUT GOODIES: Crosby, Stills and Nash headline the OPTIONS Family Services fundraiser on June 10 at Avila Beach Resort.
I've never seen Crosby, Stills and Nash together live, but I hear it's a glorious thing to behold.†Rolling Stone Magazine called a 1999 show at San Francisco's venerable Bill Graham-established Fillmore Auditorium "One of the concerts of the decade." Even after all these years, they've still "got it." Their stunning three part-harmony is breathtaking on songs like "Judy Blue Eyes," "Helplessly Hoping," "Guinevere," "Teach Your Children," "Wooden Ships," "Dark Star," and "Just A Song Before I Go." †
This Tuesday, June 10, OPTIONS Family Of Services presents the third annual Avila Beach Music Festival at the Avila Beach Resort beginning at 7 p.m. OPTIONS is a Central Coast nonprofit organization dedicated to helping persons with disabilities since 1984. The nonprofit organization serves over 200 persons with developmental disabilities or traumatic brain injuries daily. †
Tickets ($60 and $95) are available through all Vallitix outlets.
Musical altruists
I loved the Sunday afternoon concerts at The Cliffs in Shell Beach. It was so fun to bring a chair and settle in on the hotel's lawn, order some food and drink a few beers during a free concert. But apparently, the concerts got a little too big and too sloppy. I heard out-of-town vacationers were complaining about the racket made mostly by the locals who swarmed to the event, sometimes drinking too much and becoming too boisterous.
PHOTO COURTESY OF RAMONA CORDOVA
On June 6 (during Art After Dark) Ramona Cordova (pictured), Francois Virot, and Sonny and the Sunsets play Retrospect Vintage in SLO to celebrate the release of a new magazine, SLO Fringed.
Well, leave it to music lovers Korie and Todd Newman of Downtown Brew to keep the weekend beach-music flame burning.
"When we heard that Cliffs wasn't going to be doing live music every Sunday, we thought we'd step up and keep the music alive, and there's no beach more beautiful than Avila," explained Korie. "From this Saturday, June 7 through Saturday, July 19—seven weeks in a row—from 1 to 5 p.m. we're going to be bringing two to three bands to Avila for free concerts."
This Saturday, June 7, from 1 to 5 p.m., on the promenade between Mr. Rick's and the pier, Iration and Still Time will kick off the first concert. Unfortunately you can't drink on the beach, pier, or public streets of Avila, but there's a patio at Mr. Rick's and lots of great places to grab a bite and enjoy the music.
Way to go, Downtown Brew! And on a quick side note, I heard Downtown Brew has also secured the Santa Maria Speedway to do outdoor concerts, the first being a multi-band hip-hop show called "Summer Skool" on Sunday, Aug. 10, with '80s hip hop trailblazer Rakim headlining.
More music…
Three Cal Poly students—Graham Culbertson, Brooke Robertson, and Jennifer Giese—want to put me out of business, damn mo-fos! "Graham and I have been working on a project for about six months creating an arts and culture magazine, SLO Fringed," said Giese. "The magazine is set to launch Friday, June 6 (during Art After Dark) with an art show and a live performance by Ramona Cordova, Francois Virot, and Sonny and the Sunsets, at Retrospect Vintage clothing (672 Higuera Street)." The alternative publication is meant to serve the underground San Luis Obispo community, and the first issue features interviews with artists like the L.A. noise band Health, a look into the erratic mind of Atlas Sound's Bradford Cox, and a chat with Eugene Hutz of Gogol Bordello. The magazine also features art, short fiction, and feature stories covering everything from fashion to motor-cross. I'm very angry. Very angry!
PHOTO COURTESY OF STEVE AND KATE
LISTEN AND LEARN: Voice teacher Katie Bravante performs June 7 at Community Church of Atascadero to promote her new Bravante Voice Studio.
Can you imagine all the equipment they have to lug in? Kate Power & Steve Einhorn perform on a ton of different tools. Kate is a DADGAD guitarist (D modal tuning gets its
name from the tuning of the guitar strings; instead of the standard EADGBE tuning), banjoist, ukulele picker, and bodhran and bones aficionado, but her first instrument is her voice. Singer-songwriter Steve plays guitar, ukelele, trumpet, harmobells, and jawharp. They've been featured on Prairie Home Companion. See them Friday, June 6, at 7 p.m. in Coalesce Bookstore for a SLO Folks concert. Tickets are $15; call 772-2880 to reserve yours. But that's not all. On Saturday, June†7, Kate and Steve play with Blind Willies in Wilson Hall of the SLO First Presbyterian Church (tickets are $21.50 at Boo Boo's or $22 at the door). Blind Willies is Annie Staninec, multi-genre fiddler, and Alexei Wajchman, guitarist/singer/songwriter. They met and began playing together at San Francisco School of the Arts. Sonnie Brown will interview all four artists on Saturday, June 7 on The Minstrel Song Show, KCBX 90.1FM, between 2 and 4 p.m.
Oldies rock act Unfinished Business headlines the Morro Bay Music Festival this Saturday, June 7, on the waterfront at 714 Embarcadero, across from Rose's Landing. The line-up includes Cuesta Ridge from 11 a.m. to noon, Blue Latitude with special guests from 12:30 to 1:30 p.m., Louie Ortega and the Wild Jalapenos from 2 to 3 p.m., Resination from 3:30 to 4:30 p.m., with Unfinished Business playing from 5 to 6 p.m. You can buy tickets online for $10, or spend a little more for tickets with lunch and/or an event T-shirt, at mbmusicfest.com. There're always lots of vendors and activities, making this festival fun for the whole family.
PHOTO COURTESY OF BRIAN JOSEPH
GOOD MUSIC, GOOD CAUSE: On June 7 at Castoro Cellars Winery, Brian Joseph (pictured) and Kathrin Shorr play a benefit show for Escuela del Rio, a day program for adults with developmental disabilities in North San Luis Obispo County.
There's a new voice sheriff in town and her name's Katie Bravante. Do not mess with her unless you want your voice to sound amazing, ya hear? She recently opened Bravante Voice Studio (805-434-4809) at 34 Tamarack Way in Templeton, and she'll demonstrate her vocal prowess with a voice recital entitled "Love is a Song" on Saturday, June 7, at 7 p.m. in the Community Church of Atascadero (5850 Rosario Ave.). The program will include both classical and contemporary song literature. Sally Anderson, a local music teacher and performer, will play piano. The suggested donation is $10 for adults and $6 for students. †
Yee haw! The Red Barn Community Music Series presents its annual "Big Hoedown Local Talent Showcase" on Saturday, June 7 at the Red Barn in the South Bay Community Park, Los Osos. The concert and potluck supper are a benefit for their Music in the Schools program, which pays traditional folk bands to perform for kids in the Los Osos area. As in the past, many local musicians playing everything from bluegrass to blues to Irish acoustic music are scheduled to participate, including Better Late Than Never, Growling Old Geezers, Morro Bay Pub Band, Kenny Blackwell, Seamus Conroy Band, Yo Pitsey, Foggy Bay String Band, Patio Furniture, Noel Monteleone, Riley and Aiden Bagpipers, Tony Skelton, Chuck Aronson, Christine Rogers, Ron Saul, Dave Sullivan, James Wimmer, Peter Beck, and more. The potluck's at 6 p.m., the concert at 7. A $10 donation is requested at the door.
On Saturday, June 7, at 7:30 p.m., you can join Castoro Cellars Winery and Hampton Inn and Suites as they put on an evening of live music under the stars to benefit Escuela del Rio at Castoro Cellars in Templeton. Kathrin Shorr and Brian Joseph provide the entertainment, and dinner will be available for purchase from Miss Odette's catering with a portion of these proceeds going to Escuela del Rio also. Tickets for this third annual event are $25 and the catered meal is $12. Raffle items to be given away include guitars, dinner certificates, a cruiser bicycle, and overnight room and wine tour packages. Tickets are available at KMan Cycle & Run (461-8735) and Escuela del Rio (466-4438), both in Atascadero, Matt's Music in Paso Robles (237-0054), and over the phone, online or in the tasting room at Castoro Cellars: 238-0725; castorocellars.com. Escuela del Rio is a day program for adults with developmental disabilities in North San Luis Obispo County.
The 2008 Arroyo Grande Village Summer Concert Series kicks off Sunday, June 8, with Cal Poly Jazz Groups at the Rotary Bandstand on the Village Green in the Historic Village of Arroyo Grande. The Sunday concerts are free to the public and start at 1 p.m. †
Downtown Brew and Numbskull present hip hop/ indie/ progressive ensemble Living Legends this Sunday, June 8 during an 18-and-over, 8 p.m. show. Presale tickets are $24 at the venue and Boo Boo Records. Sunspot Jonz and Luckyiam formed Mystik Journeymen in the early 1990s. In the mid-'90s they hooked up with the Grouch. Around that time in L.A., the Log Cabin Crew consisted of several rappers including the 3 Melancholy Gypsys (Scarub, MURS, and Eligh). The Log Cabin Crew later broke up and the Gypsys crossed paths with the Mystik Journeymen to form Living Legends. Voila!
Dynamic playing and virtuosity meet in this exciting young ensemble of world-class musicians called Elameno Quintet, which features Rebecca Kleinmann (flute and vocals), Dusty Brough (guitar), Myra Joy (cello), Miles Jay (double bass), and Tobias Roberson (percussion). The modern acoustic originals of Elameno Quintet encompass sounds from jazz and Arabic to Flamenco, Brazilian and Irish. See them at Steynberg Gallery at 7:30 p.m. on Tuesday, June 10. Call 547-0278 for $10 tickets. ?
CD Reviews
Steinski—What Does It All Mean?: 1983-2006 Retrospective
Could any DJ have tapped into American culture any better? In 1983, Steinski & Double Dee, an advertising consultant and sound engineer respectively, collaborated on the exceptional cut-and-paste mastermix "The Lesson Part One, aka: The Pay-Off." Initiated for a remix contest, they not only snatched first prize but stamped into vinyl a sound collage that appropriated a parade of sound, merging funk breaks with samples from cartoons, films, and pop culture. Think Andy Warhol with a mixing board and records as opposed to a paintbrush and soup cans. Though they never hurdled into the mainstream and commercial success due to excessive copyright issues, these "lessons" eventually inspired a cult worship amongst DJs like Coldcut, DJ Shadow, and Cut Chemist. What Does It All Mean? collects Steinski's elusive output into one solid anthology, coupled with a second disc of one of the best mixed albums ever. Whether it's his hip hop-inspired megamixes or his serious Kennedy assassination sound edit "The Motorcade Sped On," Steinski perverted the rules into creating art for the headphone generation.
Disco Italia—Essential Italo Disco Classics:1977-1985
Disco stiffly gets a bad rap, much the same way as smooth jazz gets reduced to its lowest common value of being bland, redundant, and, well, bland. But despite such over-arching claims, within a genre you'll find some rewards if you sift enough dirt. Thank Strut Records for doing the dirty work and offering us a clinical study of Italo Disco. Originally referencing Italian and German futuristic synth music created on the ZYX label, it came to encompass a full sub-genre of spacey, European electonic dance music that bridged the gap between the death of disco and the precursor of the 1980s dance revolution in Chicago and Detroit. Opening the compilation, Five Letters converges the funky swagger of Rose Royce's classic track "Car Wash" with a French accented chorus and enough cowbell to romance a bull. Firefly resembles Chic's "Good Times" and is equally just as happy. Admittedly, this collection may only satisfy the select few, but historically, this sound has influenced clubs from America to Ibiza.
—Malik Miko Thorne, of Boo Boo Records and KCBX's "Night Train."
---
Glen Starkey knows that eagles soar, but weasels don't get sucked into jet engines. Remind him of his natural predators at gstarkey@newtimesslo.com.