He never wanted to paint Donald Trump. But then in 2016, Trump won the Republican presidential nomination. And then, against all odds, he won the actual presidency later that year.
So Arroyo Grande artist Mark Bryan continues to create satirical paintings featuring our reality TV star/hotel mogul-turned-commander in chief. With each painting, he swears it will be his last. But, inevitably a new President Trump-related development comes up and Bryan heads to his canvas.
"I was so obnoxious," Bryan said. "I didn't think he was going to win and when he did it was so depressing. He's exhausting [to paint]. It's hard to know when to stop."
Image Courtesy Of Mark Bryan
BRINGING DOWN THE HOUSE The Nightmare, painted in December 2016, depicts what artist Mark Bryan imagined the Trump presidency would be like.
Uncertainty calls for more art as we get closer and closer to the 2018 midterm elections this November and the upcoming 2020 presidential election. From Oct. 5 to Jan. 23, Bryan's art, political and otherwise, will be on display at Frameworks in San Luis Obispo as the Interesting Times show.
"I make general statements with my Trump art and then I go off and do my other work, which is a lot more fun," Bryan said. "Once in a while I like to make comments not just about politics, but about life in these times."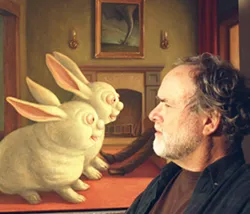 Photo Courtesy Of Mark Bryan
LOCAL ARTIST Satirical and whimsical artist Mark Bryan is based in Arroyo Grande.
Bryan finished his painting, The Nightmare, just as Trump was sworn into office in December 2016. In it, Trump is depicted as a sort of giant octopus or kraken, slimy pink tentacles flailing over the White House as one tentacle holds up a mirror for Trump to admire himself and another holds up a smartphone ready to send out a tweet. A stream of sinister characters, including an evil clown, a pig in a top hat, a man with a money bag for a head, and a fellow with a Russian military-style hat on, march through the White House doors.
"It's what I thought was going to happen," Bryan said of The Nightmare. "And it sort of did. He brought in all of these corrupt people."
At that point, Bryan had painted maybe four or five Trump related pieces. He was done with Trump as a subject matter. And then he heard about the president wanting to throw a military style parade in America, like the kind he had seen on a trip during Bastille Day in France, and similar to the types of parades they throw in North Korea. The parade was eventually canceled, but it did inspire Bryan's latest Trump painting, The Shit Show. From the sidelines, a pouty Napoleon sized Trump eagerly puts a finger on the nuclear button while a sea of sheep people watch the parade. The spectacle includes a giant golden Trump robot with one hand extended straight forward—heil Hitler style—and figures in white KKK hats and robes ride elephants while carrying confederate flags.
Image Courtesy Of Mark Bryan
AMERICAN PRIDE Mark Bryan's painting The Shit Show envisions what Trump's version of an American military parade would include.
"There's always been characters like him, but the fact that 35 to 40 percent of the country thinks he's the greatest thing. ... That's what's scary," Bryan said. "This is pretty serious stuff. It can't go on."
Bryan doesn't expect anyone to hang one of his pieces from the current political era in their living room or kitchen. Octopus Trump or nuclear Trump is a lot to confront at home on a daily basis. Instead Bryan sees his Trump art as best taken in at an art gallery or museum. So while the presidentially inspired pieces won't be for sale, Bryan's more whimsical art, featuring things like robots and rockets set against classical landscape backgrounds, will be available for purchase.
"I want people to have fun, but there's stuff to think about," Bryan said. "If the Democrats get the House and Senate then everything will be different. There's no way he can stay in office. It's sad the way this country is going. It's so divided and tribal." Δ
Arts Writer Ryah Cooley is still resisting at rcooley@newtimesslo.com.