Daniel Leighton has Crohn's disease and sometimes the pain that flares up in his body is so debilitating that he can't get out of bed. But even on those days, Leighton dutifully works on his art.
Since the iPad came out in 2010, Leighton has used the device as his blank canvas to create digital art on.
Photo Courtesy Of Daniel Leighton
HUMANITY ON DISPLAY Los Angeles based artist Daniel Leighton uses his digital art to chronicle observations about the human condition in pieces like Permission To Enter.
"There's infinite options to create the look you're after," Leighton said. "Ever since I was a little kid I've had a strong desire to express ideas visually."
Leighton's work, along with digital artists Jayne Behman and Robert Chapman, is currently on display as the Electric Abstractions exhibit at the San Luis Obispo Museum of Art.
Leighton creates his pieces using his iPad and augmented reality. His process starts with the app Sketch Club to create black lines. He uses the Procreate app to create the watercolor-like quality found in his whimsical, narrative pieces chronicling the human condition.
"It's raw, emotional, and vibrant," Leighton said of his work. "I have a chronic illness but everyone has something that they're struggling with. If we can make these things not so taboo, we can start to dialogue about it."
His app, Daniel Leighton Art Plus AR, can be used when people are looking at his art for a more immersive experience. Simply open the app, point your phone at the piece of art, and watch it come alive with animation, sound, and video.
"It's like nothing you've ever seen," Leighton said.
Behman, like Leighton, turned to digital art partially so she could work from anywhere while caring for her sick brother. Her focus used to be primarily on painting and then shifted when she uploaded her iPad with art apps like Sketchbook and Paper by 53.
Photo Courtesy Of Jayne Behman
ART ON THE GO Morro Bay artist Jayne Behman started making art like MM11 Liquefied on her iPad as a way to work wherever she needed to during a period when she was caring for her sick brother.
"I love to combine media," said Behman, who is currently based in Morro Bay. "I'm a risk taker. Art has been my life."
With her abstract work, Behman seeks to tell how art moves through us, as well as the stories of line, color, placement, and composition.
"I believe in simplicity and minimalism," Behman said.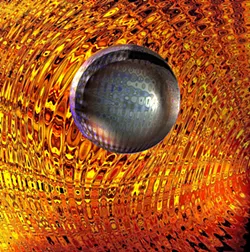 Photo Courtesy Of Robert Chapman
DIGITAL REVOLUTION While North County artist Robert Chapman didn't have a personal computer until 2000, he now makes most of his art, like Z-137, on it using Paint Shop Pro.
While Chapman and his wife didn't get a personal computer until 2000, for the past three years the San Miguel-area based artist has worked primarily with Paint Shop Pro. He used to predominately paint in oils and started getting more interested in digital art when editing and tweaking photos.
"I sort of ignored it," Chapman said of his current medium. "I didn't take it seriously."
Using an abstract expressionist style in his work, Chapman said it often takes him as long or longer to craft a digital piece as it does to make a painting.
"As soon as you make a mark you respond to it," Chapman said. "It suggests how to proceed. You're making the same judgments, the same responses, the same connections you would with any other medium. It's just as valuable as other mediums. It just happens to be a new media." Δ
Arts Editor Ryah Cooley is reading (and sometimes watching Netflix) on her iPad at rcooley@newtimesslo.com.