Paul LaRiviere has long used art to better society. A visual artist and registered art therapist, he holds a master's degree in fine art and psychology. He taught art to criminally ill patients at Atascadero State Hospital before taking on the position of institutional artist facilitator to the California Department of Corrections. Working with visual artists, musicians, writers, poets, and actors, LaRiviere taught inmates healthy means of creative expression. Now retired, he's served as art curator at the Gay and Lesbian Alliance (GALA) Center since 2004, where he's put together many exhibitions of local artists' work.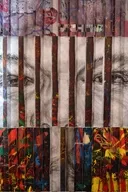 ART BY PAUL LARIVIERE
'THE EYES HAVE IT' : Artist Paul LaRiviere has extensive experience in printmaking, including etching, woodblock, linocut, lithography, and monoprint media, his bio reads. Pictured is The Eyes Have It.
Now through May 11, see LaRiviere's own prints, paintings, and assemblages at the GALA Center at 1060 Palm St. in San Luis Obispo. Receptions will take place on Friday, April 6, and Friday, May 4, during Art After Dark from 6 to 9 p.m. (At the May 4 reception will be a poetry recital by Lani Steele, including a poem called "God Has No Balls.")
"I am currently interested in working in a reductive printing process with various media including linocuts and wood blocks in a series form," LaRiviere wrote in an artist's statement. "The paper used in printmaking lends itself beautifully to folding, cutting, and manipulating to make interesting shapes. I enjoy playing with the prints in a three dimensional format. The new structures become books to read in a different way."