PHOTO BY GLEN STARKEY
HORSE STUDIES : Stick these babies in your western-themed den!
It's Easter Sunday, April 4, and I should be at church with my family. Instead, I'm wandering through the Holy Immaculate Temple of the Perpetual Bargain (aka—the swapmeet at Sunset Drive-In).
I've got my coffee in one hand and a wad of low-denomination bills stuffed into my pocket, and I'm on the lookout for art. It's not that I'm in the market to buy a painting; I just want to get an "expectation baseline" for when I attend Morro Bay's citywide yard sale next weekend. I figure Morro Bay's yard sales—more than 100 of them scattered throughout the city—ought to be great places to pick up some art.
PHOTO BY GLEN STARKEY
CAT LOVERS, COME AND GET ME! : Nothing says "meow!" like an overly fussy rendering of a cat.
I'm on the very first aisle and viola! Propped up against the legs of a folding table are three horse studies. They actually don't suck, and they'd look good next to this really kitschy cowboy lamp I bought at the swapmeet last year, but I walk on, determined to see what else is out here.
Hey, there's a print—I think it's a print—of a cat painting in a little grey frame. Grandma Moses would be proud! Look at all that fussy, naive detail! Someone—not me—would love that!
PHOTO BY GLEN STARKEY
SEASCAPES! : Think how good these will look in your nautical-themed bathroom with the shells and that old fishing net strung on the wall.
A-ha! Here are a couple of seascapes—exactly the kind of stuff I expect to see next weekend. I've seen some spectacular seascapes in my day, stirring images of backlit waves crashing along a rocky shore, heaving boats bracing against stormy seas, idyllic impressionist revelries of carefree beach days. These two paintings are nothing like that. One's an overly stiff palette knife painting of an out-of-perspective house on stilts, a tiny boat below, two free-wheeling seagulls careening above. The other is of a beached dingy next to a formless sea. Oh well, I'm sure someone had fun painting them, and if you've got a nautical themed guest bathroom in your house, you could do worse.
As I move to another aisle, I spot a painting of an old Victorian house in muted green, tan, and brown. The perspective is better though still off, and the foliage looks a sickly, unnatural teal. I do like the clouds and the game attempt to capture the shadows as they fall across the complicated porch.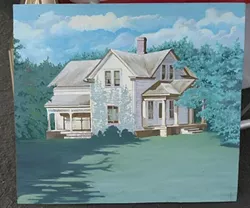 PHOTO BY GLEN STARKEY
THIS IS A HOUSE : And that's all I have to say about it.
As I wander on, I see a lot more—more still lifes, landscapes, and abstracts; more graphic prints and posters; more wood carvings and objet d'art
(a trio of Three Stooges puppets! Cool! But probably not art.) There's a surprising number of paintings for sale, especially considering the thin Easter Sunday attendance. Can't say any of it really excites me, though.
Hey, wait a hot minute! While definitely not an original, there's a cool image of W. C. Fields holding a pool cue and 8-ball. If I had a billiards room … but I don't.
PHOTO BY GLEN STARKEY
ALMOST ART : These Three Stooges puppets are nearly art!
I think the true hidden gem at the swapmeet is a portrait of Mickey Mouse giving the peace sign. Why? Because it's painted on … wait for it … yes! Black velvet! And the kitsch award goes to this little masterpiece!
I don't know if Morro Bay's event will be able to top it, but I'll find out next weekend. According to event organizer Ray Ladd, attendees can expect to find the best selection on Saturday, "especially in the first few hours," but the best prices on Sunday, when some people will be "giving stuff away so they don't have to store it."
PHOTO BY GLEN STARKEY
WINNER OF THE KITSCH AWARD! : A painting of Mickey Mouse? Giving the peace sign? On black velvet? Oh yeah, baby!
Afterwards on Saturday, Ladd suggests people head downtown for a free 3 p.m. concert by the Shival Experience. There'll also be a fundraiser carwash and bake sale and an oyster feed and more music on Sunday.
Good bargain hunting!
Glen Starkey takes a beating and keeps on bleating. Contact him at gstarkey@newtimesslo.com.