Last year at the San Luis Obispo Museum of Art, a striking exhibit went on display in the McMeen Gallery. It was a series of white gowns made from everything but what you would expect: pistachio shells, plastic bags, gauze, long johns, sugar sacks, cheesecloth. The exhibit was a little eerie, like a roomful of ghosts. But it was unusual in another way, too. Here, trash was elevated to the holy heights of couture, challenging perceptions of both.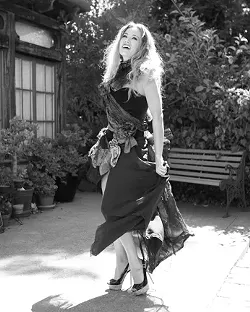 PHOTO BY STEVE E. MILLER
PRETTY AS A PEACOCK : Silk marbler Sharon Gellerman and veteran seamstress Bernadene Morgan teamed up to create this vibrant fantasy gown, inspired by the ostentatious coloring and plumage of the peacock. Pictured is model Amanda Valena.
One of the brains behind "White Gowns," artist and veteran clothing recycler Melinda Forbes, is back as a coordinator of "ArtWear," a fashion show and sale of original and repurposed clothing. Inspired by the success of "White Gowns," Forbes teamed up with Yarns at the Adobe's Anne Gough and a committee of crafty locals—Mary Wood, Robin Kaplan, Julie Frankel, Mary Fullwood, and Joan Wenglikowski—to put together an afternoon of high fashion culled from humble beginnings.
I met the group on a recent Saturday afternoon, as they began the task of jurying submissions from local weavers, knitters, seamstresses, and other fiber and textiles artists. There was an undeniably girly vibe to the whole affair, as committee members exclaimed over the scarves of Kathy Friend, the ethereal everyday finery of Robin Kaplan, and the ornate and bizarre costumes of Catherine Panofski, which included an embroidered jacket with a clock stitched into it and a dress emblazoned with lightning bolts.
Forbes, with her usual resourcefulness, had taken a silk communion veil and some hot pink dye and created one sinfully flirty sundress. Textiles artist Sharon Gellerman, known for her beautifully hand-marbled scarves, had teamed up with professional seamstress Bernadene Morgan to create a lusciously layered gown Morgan described as "a gothic, gypsy, fantasy … something."
A veteran seamstress, Morgan built a career designing wardrobes for many Hollywood films and television shows, including 2009's Star Trek.
"It's kind of a mystery profession," said Morgan, now retired from wardrobe design. "A lot of people don't pay any attention to it—and that's how you know you've done your job."
UPCYCLE YOUR LIFE: "ArtWear" takes place Sunday, Oct. 7, from 3 to 6 p.m. at Yarns at the Adobe, 964 Chorro St. in downtown San Luis Obispo. Tickets cost $40 and include a small plate and glass of wine or tea. Get your ticket at Yarns at the Adobe or by calling Anne Gough at 549-9276.
"Fiber artists are very humble people and are part of that craft movement," Forbes said, echoing Morgan's sentiment. "It's kind of folk art, in a way."
But events like "ArtWear" are looking to change the humble status of fiber artists, showcasing wearable creations as art objects in their own right. Taking place in the garden at Yarns at the Adobe, the inaugural event is a fundraiser for the SLO Noor Clinic, a nonprofit providing free health care to uninsured folks in SLO County. The fashion show will be complimented by a sale of locally made clothing. The $40 ticket price covers a small plate of fresh local food, a glass of wine or tea, and live music by Forbes' son, jazz pianist Ian Forbes.
Every so often, handmade things have a habit of coming into fashion, and given the popularity of crafty sites like Etsy and events like the Renegade Craft Fair—which takes place in the hipster capitals of San Francisco, Austin, and Brooklyn—I'd say crafts are pretty hot at the moment.
Locally, too, fine craft has been enjoying an upswing in popularity. Last August, the Cambria Center for the Arts was host to "Entanglement: Current Considerations in Fiber," a gallery exhibit featuring 14 California artists doing unusual things with the medium. Last spring, performance artist Sha Sha Higby exhibited her highly sculptural costumes—bafflingly intricate creations made of carved wood, gold leaf, Japanese urushi lacquer, fabric, and paper—in a much exclaimed-over exhibit at the San Luis Obispo Museum of Art. Crafts, it seems, are in.
But I don't get the feeling the ladies behind "ArtWear" give a hoot about being trendy. Many have been quietly sewing, embroidering, knitting, and weaving for decades, and can simply observe, bemused, as their lifelong hobbies come into vogue once again. Yes, crafts are awesome. We know. Welcome to the party, everyone else.
Arts Editor Anna Weltner is printed on acid-free, archival-quality paper. Contact her at aweltner@newtimesslo.com.