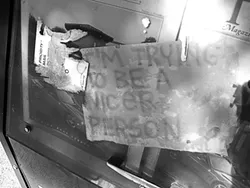 An anonymous person makes a public proclamation

On a lonely stretch of Marsh Street, between Osos and Morro, on an otherwise ordinary newspaper rack bearing copies of The Central Coast Homes Magazine, an individual made a very brave, personal proclamation. "I'm trying to be a nicer person," a note announces, in orange ink, punctuated by a period followed by a heart.

The note has existed for months, at least. The orange print is barely legible. The person who made this pronouncement may have since abandoned their effort altogether, or fulfilled their ambition, becoming a better version of themselves.

Nothing is known of the author. (I rather suspect the writer to be of the female persuasion, based on the penmanship, choice of ink color, and the heart, though this gender profiling may be completely inaccurate.) Perhaps the author passes this route often and receives fresh impetus to be kinder. Perhaps she, or he, no longer resides in or visits the area. But it's comforting, at least, to know that someone has such an aim.
Personal thoughts, opinions, and ambitions have long graced the walls of bathroom stalls. But those often run towards the slanderous, sexual, or downright bitchy. Sometimes you can find a phone number, or two. The artwork is often humorous, and sometimes just plain uninspired. Rarely is there any sort of uplifting proclamation. Perhaps this will spark a new public art movement—more meaning and less nonsense