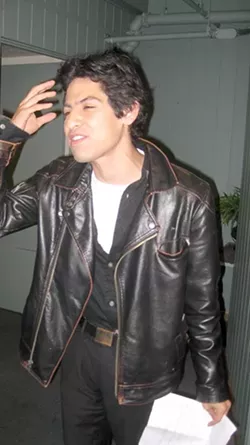 PHOTO BY NICK POWELL
PASSIONATE PLAYWRIGHT : John Carroll and his bad-ass jacket explain the nature of a character's obsession. He had to recruit an actor from the audience to perform his piece, One-Sided Conversation.
Make way, nachos and humping. There's a new entry to my list of most favorite things ever, and her name is No Shame Theatre.
We met late at night, neither of us knowing quite what to expect. I was a naïve but intrepid young journalist; she, a vivacious series of five-minute skits and songs. There was an air of mystery about her. Mystery and tension. One could never guess which of her many faces would present itself, but, as usual for a Friday evening, I got lucky.
I met New Times Arts Editor Anna Weltner downtown for a few glasses of liquid courage before the big date (for the record, Anna's not the one with whom I was lucky). We drank classy beer from little cups and discussed things that made me seem intellectual. Still, my mind wandered to my lady in waiting. I had to see her, so we downed our drinks and left, arriving at SLO Little Theatre just after 10:30 p.m., right around the time I decided to drop this clunky device of pretending the show was a woman.
"Isn't this great?" said Wendy-Marie Foerster as we walked through the door without even paying, since No Shame is as free as the wind. "We got 15 scripts in like three minutes."
The format demands that people submit any short, original work an hour before the show starts. Only the first 15 scripts are accepted, and they're performed an hour later.
The Little Theatre's lobby was full of people rehearsing scenes and drinking beer. A young Jeff Goldblum look-alike gesticulated wildly as he begged a random actor to help with his scene.
"You'd be playing a younger version of me, and we're in jail reliving this memory over and over," said playwright John Carroll. "The older guy is trying to explain why it was such a pivotal moment."
"I'm in," said Jorden Angel. "That sounds awesome."
They nailed the scene an hour later, but first John described his motivation and involvement in the theater. This Cuesta student turned out to be the human embodiment of No Shame. Passion for art? First time performing his own material? Heartwarming tale of overcoming a rough childhood?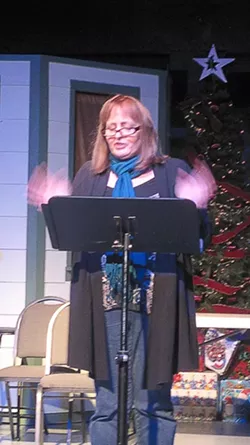 PHOTO BY NICK POWELL
GIFTED PHOTOGRAPHER : Maybe it was an accident, but I scored the perfect shot of Becky Pedillo in her performance of Killing Them Softly with Jazz Hands, a hilariously dry monologue that featured zero actual jazz hands.
"This is definitely autobiographical," he said. "My father was in and out of prison for half my life. This could have been me, but theater saved me."
Check, checkity, check.
John so perfectly described the way theater allows people to express themselves without being judged, I didn't need to bother interviewing anyone else. I did, because I'm a professional, but it was hardly necessary.
Peter Pan was in the house, but actress Natasha Harris was taking a night off from flying around the Pacific Conservatory of the Performing Arts in Santa Maria. I caught her in the midst of practicing a monologue as a British hit woman and awkwardly forced her to demonstrate the accent. Sorry, Natasha!
Moving on, I found Anna chatting with her friend Lauren Lamberto who had a script in her hands. She asked if I would read with her, and it turned out she was playing her current boyfriend's ex-lover in a scene he had written. If that's the kind of role-playing they do in public, I wonder what they're like in the bedroom. Boo-ya!
The show was about to start, so Anna and I scrounged quarters together for one last round and found our seats.
The opening act was Ryan Loyd. His routine, "Where Do I Get Off?" was less about being rude and more about masturbating. Hilarity ensued. Audience participation was great, as the crowd yelled and clapped in response to his scientific poll of the infinite question, "Spit or swallow?"
The best part about No Shame was the transition from scene to scene. The only person visibly offended by Ryan's schtick was the next performer, who followed with a sweet song about her dreams as an artist. We also saw a girl seeking intimacy online while her boyfriend trolled for Internet skanks in the next room, the first men ever to eat chicken, a mock religious revival for teens, a monologue called "Killing Them Softly with Jazz Hands," and a bunch of other amazing things.
PHOTO BY NICK POWELL
MORAL LAPSE : Anna Weltner and Chase Hall think drinking beer in the audience makes them cool, but we know better. Don't we, kids?
None of the performances stunk, only two or three were "meh," and the rest wavered between emotionally intense and audaciously clever. Bravo, everyone.
The organizers were strict about the five-minute time limit. The lights cut off several performances, pre-empting the surprise ending for the piece I'd practiced in the lobby (whisper: They bone). Ryan said the sixth minute of his piece "would have blown [my] mind." Apparently we also missed out on geriatric analingus. Is it still disgusting if you describe it with big old Latin words? I think yes.
After the show, I discovered that almost all of the New Times editorial staff and Office Manager Tanya Gallardo had shown up for the spectacle. Tanya raved, saying she was dying to perform next time and would do anything, which gave me an idea for a piece about a newsroom that's attacked by a snarling, scantily
clad bear.
Practice them roars, Tanya. We've got until Jan. 28 to pull everything together in time for the next No Shame. After that, they'll host the event on the fourth Friday of every month.
Contributing writer Nick Powell contributes his contributions through Managing Editor Ashley Schwellenbach. Contribute your comments to aschwellenbach@newtimesslo.com.