It's May 14, Mother's Day, and after making sure to call my mother I decide to check out the Trivets, Steamers, and Spare Forks exhibit by local artist Janelle Younger, currently on view at Linnaea's Cafe in San Luis Obispo. In order to avoid the Sunday brunch crowd, I go later in the evening and end up running into the study group crowd instead. But that's a sign of a healthy business, and I'm mostly just happy that the place I'm going to see art at also serves food.
PHOTO BY TREVER DIAS
ROBOTS HAVE A HEART: A robot tea infuser becomes Mr. Robot with an oven plate, trivet, spatula, fork, and heart-shaped candy dish.
After grabbing a tea latte and some coffee cake I walk through the cafe toward the back room where Younger's exhibit is displayed. Most of her pieces are attached to black, red, and blue panels that hang from metal chains, but at least one stands on its own atop Linnaea's piano—which you're allowed to play, but only if you actually know how to play and ask a barista first.
From a distance Younger's work resembles cuckoo clocks or 3-D realizations of family crests embellished with layers of symbols. Younger practices an art form known as bricolage in which a work of art is created from a diverse range of components, as well as a similar craft known as assemblage, which involves collections of three-dimensional items, typically attached to a base material.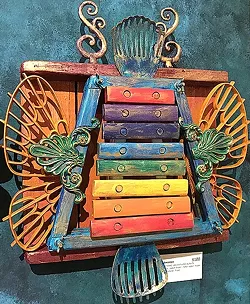 PHOTO BY TREVER DIAS
GET IT TOGETHER: A xylophone gets its wings, a racket holder, finials, and more in 'Badminton.'
The objects, which compose her many-layered works, are listed next to each piece, along with its title. Most of the them are painted by Younger, but in a way so that they don't seem to lose their age too much. The exception is a piece called Mr. Robot, which appears to be constructed entirely from objects that maintained their patina.
WELL PUT TOGETHER: Trivets, Steamers, and Spare Forks, an exhibit of bricolage and assemblage art by local artist Janelle Younger, will be on view at Linnaea's Cafe in SLO through June 30.
Just about anything made from metal or wood that's been around for a while might show up in one of Younger's works. An owl-shaped drawer handle inside a butter dish becomes the centerpiece of Lows. A vintage compass encircled by Jell-O molds makes up the majority of Stand, a cutting board and lamp base can each be found in Additionally, and a tobacco tag and faucet handle both make an appearance in Standard.
If you want to check out Younger's eclectic assemblages, Trivets, Steamers, and Spare Forks will be at up Linnaea's through June 30.
Calendar Editor Trever Dias is currently disassembled, but can be reached at tdias@newtimesslo.com.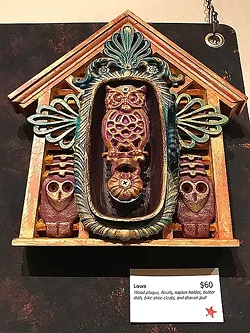 PHOTO BY TREVER DIAS
THE OWLS ARE NOT WHAT THEY SEEM: An owl drawer-pull is transformed into the piece 'Lows,' with a little help from a butter dish, some bike shoe cleats, a napkin holder, and other items.
PHOTO BY TREVER DIAS
REPURPOSED PALETTE: Gears, compasses, silver dishes, lazy Susans, and Jell-0 molds are all a part of artist Janelle Younger's palette of found objects.