Pete Miller remembers staring down the barrel of a loaded gun in the early morning of Dec. 28, 2010. He remembers how the hand of the arresting officer—now a disgraced narcotics agent serving time for crimes related to stealing evidence—shook as it gripped the weapon. How the officer smiled, with blood-shot eyes and a sweaty brow.
Miller's house was one of several raided as the Narcotics Task Force swept up a dozen people with ties to local medical marijuana dispensaries. The group became known as the "Doobie Dozen."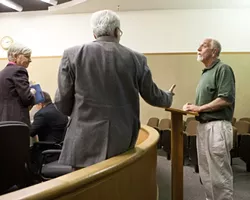 FILE PHOTO BY STEVE E. MILLER
SEIZED AND CONFUSED: Pete Miller is congratulated by his lawyer after his case was dropped.
The combined haul for that day included close to 60 pounds of marijuana, 160 plants, hash and hash oil, some cocaine, seven guns (belonging to Miller), and about $493,000.
"When they raided my house, they took books, artwork, cell phones, my son's computer ... emptied my bank account and took all cash on hand [about $5,000]," Miller said.
But in the four years since the bust, there have been zero convictions. Six cases were dropped—including Miller's—and a seventh is scheduled for a court hearing in late November. Miller said the county eventually returned his money, with interest, and his other property, but it took 2-1/2 years of waiting in legal limbo.
"I got everything back but my life," Miller said. "I lost my house, my wife, my job. ... I am not sure I'll ever recover."
It's fair to say Miller is bitter about the affair. He said his record has yet to be expunged, making it difficult to get a job. He left San Luis Obispo County and "moved to the desert." He said he now lives without electricity or running water.
"I don't think this had anything to do with protect and serve," Miller said. "It was all about asset forfeiture and pumping up the budget of the Narcotics Task Force."
Policing for profit?
Asset forfeiture is a civil process that allows law enforcement agents to take personal property from people suspected of criminal activity, especially selling drugs. Essentially, officers can make a judgment call at the time of arrest to seize property that is believed to be purchased by ill-gotten money and ask the district attorney to initiate a forfeiture—long before a defendant goes to trial for any crime. The property itself is considered guilty without a trial, and if that property has value, the law enforcement department that seized it wins the proceeds of a successful asset seizure. Many critics claim this is a conflict of interest.
Attorney Lou Koory, who is representing one of the Doobie Dozen, was more blunt about the process.
"You're basically trusting the narcs with the cash and the valuable assets," Koory said. "And the narcs are incentivized to seize as much of it as they can."
The practice is convoluted, controversial, and widespread. Federal officials seized more than $85 million worth of assets in California last year, according to congressional reports. Detractors say the system encourages law enforcement agents to seize more property, that it contributes to the increased militarization of local law enforcement, and that it violates the constitutional right to due process.
Proponents say it removes the monetary incentive to deal drugs.
The SLO County Sheriff's Office currently has about $385,000 from federally seized and forfeited assets in a county-run trust fund, and holds about $50,000 from state-seized assets in a separate trust.
There are two important points here: The first is that assets can be forfeited to the state or the federal government, and there are different rules and incentives associated with each. The second is that these assets are forfeited through a civil process, not a criminal process.
The civil asset forfeiture process is largely disconnected from any criminal charges a person might face. In fact, the forfeiture process can be completed before a defendant ever has a court date, let alone a conviction.
When Miller said he believes his arrest was driven by asset forfeiture, he was talking about that $493,000: the combined cash and bank holdings of the Doobie Dozen. Days after the 12 people were arrested, the District Attorney's Office began the process of seizing that money. Most of the dollars are still tied up in the courts, but it's easy to see the profit incentive: Under state guidelines, about 55 percent ($271,150) would go to the Sheriff's state asset forfeiture fund, and 15 percent ($74,000) would go to the District Attorney's Office.
"This was not a coincidence," Koory said. "This was an opportunity."
Civil? Criminal? What's the difference?
There is a criminal forfeiture process that can happen after a person is actually convicted of a crime, though it's less streamlined, less defined, and fully within the discretion of a judge. The defendant—and his or her property—must be proven guilty beyond a reasonable doubt. Groups like the American Civil Liberties Union say this process abides by the constitutional protection promised to Americans.
When the forfeiture is handled civilly, however, the burden of proof is much lower. Civil forfeiture cases are brought against the property, not the defendant. And it's up to the property owner to prove that property is innocent. In most cases, a criminal conviction isn't even necessary for law enforcement to successfully seize property through civil asset forfeiture.
The actual forfeiture process looks like this: A person is arrested on suspicion of selling drugs. Assets—such as money or a car—are taken as evidence. Later, a specially trained narcotics officer initiates the actual forfeiture by dictating to the district attorney exactly what property should be forfeited.
If the criminal case is handled locally, the local district attorney initiates a 30-day forfeiture process. An ad appears in the local newspaper for someone to claim the property, the person from whom property was taken is notified, and the countdown begins.
If the property owner doesn't file a one-page challenge to the forfeiture within 30 days, the property is automatically forfeited. Without a criminal conviction of any kind. Without a judge ever looking at the case.
This is where groups like the American Civil Liberties Union and the Institute for Justice say due process is violated. And this is exactly what happens most of the time.
According to attorney Jordan Cunningham, forfeitures go unchallenged nine times out of 10. Cunningham is currently a local defense attorney, but for three years he worked as a deputy district attorney for SLO County. Among other things, he handled the county's forfeiture cases, though he didn't handle the Doobie Dozen.
"We would give the 30-day notice, and they don't turn [the challenge] in, either because they are still in jail or because they've got bigger things to worry about," Cunningham said.
New Times posed the same question to several local defense lawyers. Why don't people challenge these forfeitures?
Those lawyers overwhelmingly said it's not standard for a criminal defense attorney to handle civil forfeiture claims as it's outside of their purview, and they're not experts on what is a complicated area of law.
"Having been on both sides," Cunningham explained, "as a prosecutor and defense [attorney], I can tell you the laws are not as clear as you would want them to be."
Defense attorneys don't want to deal with asset forfeiture because it's a complicated process, which leaves untrained citizens attempting to recover their property. And frankly, the loss of $500 or $2,000 might seem insignificant to a person who's facing jail time or a lengthy court battle.
"It is very much a trap for the unwary," Cunningham said. "Because if you blow that deadline, there is nothing that you can do. There is no legal remedy for you."
When asked why the department pursues civil forfeiture at all, given the civil rights and conflict-of-interest issues it raises, Sheriff Ian Parkinson said his department would receive nothing from the criminal process, whereas pursuing the property civilly benefits the county.
To be clear, Parkinson wasn't the acting sheriff at the time of the Doobie Dozen raids, but in general, he defends the civil asset forfeiture process and has spent that money freely, trumpeting its source each time. Parkinson, for example, has made significant investments in the department's K-9 unit with money from civil asset forfeiture.
"It's not a secret," Parkinson said. "When we bought our new K-9s out of asset forfeiture, I talked about that all over the county. That that's the way the money was paid, and the taxpayer didn't pay for it. You know, we got the dogs that are drug-sniffing dogs out of drug dealer money. And I think that's the intent of it."
Challenge accepted
In the rare instances when forfeiture cases are challenged and transferred from an administrative proceeding to a civil case before an actual judge, the asset itself is on trial.
Local cases have received names like "The People v. $2,500" or "The People v. 2 Pagers" or "The People v. 1998 Toyota." Though the property is on trial, it's up to the property owner to prove the property's innocence—and that's harder to do than you might think.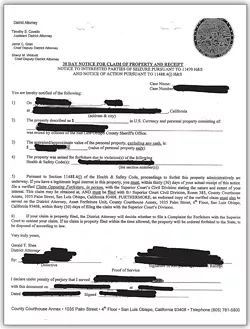 YOU'VE BEEN SERVED: Once property is seized, owners have 30 days to make a claim or it's gone for good.
If, for example, $1,000 were on trial, the owner might rely on a check stub to prove that $500 was earned through legitimate work, but could lose the other $500 if there's no record of it being earned legitimately.
District Attorney spokesman Jarret Gran said it's the county's policy to halt asset seizures when there's a claim against the property. In such a scenario, the county will wait for the results of a criminal trial before proceeding.
A guilty verdict means forfeiture, but an acquittal could also result in a forfeiture because the burden of proof in civil cases is lower than in criminal cases.
And what if your case has been languishing for four years? Steve Gordon, one of the Doobie Dozen, is scheduled to appear before a judge Nov. 24. He wasn't keen on talking to New Times before the court date, but confirmed that his bank accounts have been frozen since late 2010. No deposits, no withdrawals. More than $11,000 in cash and checks were seized from his house.
"How can I make my car payments?" Gordon asked. "I can't make my house payment."
Disturbing trend
Compared to the federal government, the state forfeiture process is fairly transparent.
Yet in SLO County more cases are trending toward federal. Gran, when questioned about the local forfeiture policies, sounded perplexed.
"You know, lately I think they have gone federal, because I have not seen that many cases," he said.

MONEY PROBLEMS: Comparing numbers from state and federal filings proved to be problematic. By law, all revenues from state asset forfeiture must be reported to the Attorney General. These filings show each seizure completed by the local district attorney, including the amounts seized and the amounts each department received from that seizure. The arresting agency (usually the Sheriff's Office) receives 65 percent of the value of all assets seized, and the district attorney receives a small percentage to cover expenses.

When the forfeiture is federal, the lead agency must report all assets to Congress, which is done annually. These reports don't show how much was seized, but they do show the amount local agencies received as a result of "equitable sharing." This is usually 75 to 80 percent of the total value of seized property. The Sheriff's Office receives money and sometimes seized vehicles from the Department of Justice and the Department of Treasury. Additionally, monies are distributed among many departments including the SLO Narcotics Task Force* the Office of the Sheriff, and the Sheriff-Coroner.

* Though the Narcotics Task Force officially disbanded in late 2011/early 2012, it continued to receive funds from the Department of Justice through 2013.
Indeed, between 2002 and 2010, the District Attorney's Office handled asset forfeiture cases with an average value of $131,600 per year, according to the disclosures filed with the state Office of the Attorney General. In 2011, however, the District Attorney's Office handled only $32,700, and in 2012 it was around $21,700. The state hasn't released numbers for the 2013-14 fiscal year.
Meanwhile, the Sheriff's Office continued to receive increased "equitable sharing" funds as a result of federal asset forfeitures.
These cases, including the accompanying criminal cases, aren't handled in local courts, and following the numbers becomes incredibly difficult. At least two different federal agencies (the Department of Justice and the Department of Treasury) have managed such cases, and the funds have gone to at least three different sources at the Sheriff's department: the now-defunct Narcotics Task Force, the Office of the Sheriff, and the Sheriff-Coroner.
What's clear is that the money coming into the Sheriff's department's coffers through federal asset forfeiture is on the uptick (see sidebar).
The Institute for Justice calls "equitable sharing" a legal loophole, because it's basically a way around state forfeiture laws. The institute graded states on forfeiture laws, based on the number of times they were used, as well as the protections they offered citizens. California scored a C+. However, when the use of federal equitable sharing was introduced, the state's score dropped to a D. In 2000, the state Legislature moved to close the loophole by making it more difficult for local agencies to make a federal seizure, but then-Gov. Grey Davis vetoed the measure.
For law enforcement agencies, there are two main advantages to federal seizures. The local agency receives as much as 80 percent of the proceeds, compared to 65 percent in state cases. And the federal government can keep (and share) property for use in fighting crime. In 2010, for example, the SLO Narcotics Task Force received two seized vehicles with an estimated value of $39,000 from the Department of Justice.
"Typically, we seize cars on the federal level only," Parkinson said. "We don't do it through the state because you have to sell it. They auction it off and give us the money. But if we decided that, 'Hey, this car has a use for us,' we have to note in the original paperwork that's going to be the use."
Parkinson wouldn't say whether his department was pursuing more federal than local cases, but he said, if it was, there was a reason—and it's not money.
"We mainly decide [to make a federal case] if there is a federal agency involved," Parkinson said. "So in other words, if we had no federal partner on the case, it's typically going through the District Attorney."
When the Narcotics Task Force disbanded at the end of 2011, the Sheriff's Office created a new special operations unit to combat gang violence and drugs. That new Sheriff's Narcotics Unit includes agents from the FBI as well as Homeland Security. Essentially, every drug case is potentially federal if a federal agent has worked on it.
Parkinson said this is necessary, because his narcotics unit has increasingly been combating drugs that come from outside the county, the state, and even the country.
"Most the time we've partnered with them is because we have a case that's bigger than SLO County," he said.
Thank your local drug dealer
Parkinson said that though his department benefits from asset forfeitures, there's no conflict of interest for his officers.
"They don't personally benefit from any of it," he said. "I don't give them any credit for making a seizure. They get no value out of that from me or the agency. Whether we seize a dollar or a million dollars, that's really irrelevant, because that's not the purpose of seizure. The purpose of seizure is to take the incentive out of people who are selling drugs."
So what has your local drug dealer bought for you lately?
As mentioned earlier, Parkinson has invested heavily in K-9 units, including new dogs, specialized training, equipment, and "Kustom Krates." In the past six years, the Sheriff's Office spent about $130,000 on dogs and related accoutrements, including food and medical care.
Parkinson said that every penny he wants to spend from the asset forfeiture fund must ultimately be approved by the county Board of Supervisors, from a $112.38 expenditure on Pro Force alligator clips to a $12,136.41 outlay on a DARE drug prevention robot. Proponents point to the new morgue (roughly $170,000), the new graffiti eradication truck ($67,450), new first responder kits ($2,000), and say all of that was purchased for the taxpayers, not by the taxpayers.
Those who claim that the trust fund supports increased militarization can point to the $78,000 spent on a Lenco BearCat armored vehicle, more than $200,000 on Tasers in 2009, and ballistics vests for dogs.
County supervisors have yet to turn down any of Parkinson's requests, but he said the oversight is important.
"Remember this," Parkinson said. "Remember, you still have a reasonable person looking at this."
Parkinson's main defense against claims that asset forfeiture encourages cops to "smash and grab" is this: The money is nice to have, but his department doesn't need it to keep the lights on.
"We're not dependent on it for that very reason," he explained. "Because it would create incentive. We're simply taking the incentive out of the person that's selling heroin or methamphetamine. I don't think there's a conflict."
On one hand, forfeitures don't amount to much of the department's $60 million annual budget—in the best years, forfeiture is less than 1 percent. But if you're the guy whose car was just seized, or the girl who just had $1,000 confiscated from a dresser drawer, that sort of loss can sting. It matters. Or when the sheriff needs new equipment in the middle of a recession. It matters.
This is what the department, under Pat Hedges, explained to the board when asking for the release of $500,000: "Over the past few years, the Sheriff's Department has avoided purchasing some replacement items as a result of diminishing resources. Many of those items recommended for purchase have scheduled replacement times and are at or beyond those dates, or are failing to operate as needed."
And the truth is, asset forfeiture incomes are significant enough that the county plans on revenue from asset forfeiture for capital improvements. It's listed as is one of eight funding sources in the county's five-year (2012-2017) Infrastructure and Facilities Capital Improvement Plan. According to that document, "The funding sources ... are most commonly applied to capital and major maintenance projects for the facilities developed within the functional area."
The functional area in this case is "Public Safety."
Freelance writer Kylie Mendonca can be reached via Managing Editor Ashley Schwellenbach at aschwellenbach@newtimesslo.com.