Los Angeles Opera chorus member Gabriel Manro still remembers the first musical he ever auditioned for. In the early 1990s, he tried out for the role of the male lead, Curly, in Oklahoma! at Atascadero High School. Manro didn't get the part and was instead assigned to a role with a grand total of two lines.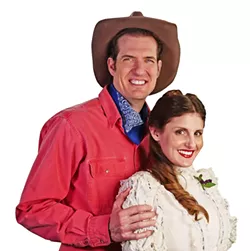 Photo Courtesy Of Opera San Luis Obispo
YOUNG LOVE Gabriel Manro and April Amante star as Curly and Laurey in the classic musical Oklahoma! on stage at the Cal Poly Performing Arts Center May 12 and 13.
"I really wanted to be in musicals, that was my dream," Manro said. "I sang 'Oh, What A Beautiful Morning.' I thought I sang it really well."
Still, Manro was told as a teen that he was too much of a goofball to play the leading man Curly. He admits that his drama teacher may have had a point.
"I was the biggest up-stager," he said.
To bring more attention to his background character, Manro tried bringing a mechanical rubber chicken on stage during one rehearsal. That idea was promptly cut.
"I was trying to be funny," Manro explained. "I don't know if I really wanted to be Curly. I didn't know much about the show when I auditioned. I just wanted to be the lead."
But this May 12 and 13, Manro will make his redemptive return to the Central Coast theater scene as Curly in Opera San Luis Obispo's production of Oklahoma!, a musical by Richard Rodgers and Oscar Hammerstein II. It follows two love triangles in 1906 in the Oklahoma territory outside the town of Claremore. The first triangle is between Curly, a bright and confident cowboy, and Jud, a tough hired farmhand, both of whom are in love with Laurey, a strong-willed farm girl. The second pits Ado Annie, the girl who "can't say no," between smooth-talking traveling peddler Ali Hakim and the simple and good-natured cowboy Will Parker.
"It's the first musical I auditioned for," Manro said. "It's full circle."
To Manro, Oklahoma! represents his early years growing up in Templeton, where his family had chickens, goats, and horses. Later, when they moved to Atascadero, Manro rode in the Colony Days Parade and won the distinction of "Best Little Cowboy." He also remembers celebrating that first year in Atascadero when the town finally had more people than cows.
"The Central Coast is kind of the Oklahoma of California," Manro said. "It's a different place. San Luis Obispo is like the idealized California."
Photo Courtesy Of Opera San Luis Obispo
STRAIGHT OUTTA NORTH COUNTY Opera singer Gabriel Manro, who grew up in Templeton and Atascadero, will return to the Central Coast to play Curly in Opera San Luis Obispo's upcoming production of Oklahoma!
After his stinging rejection in high school, Manro continued playing violin in the youth symphony through the San Luis Obispo Symphony and singing in the choir at school. After graduation, Manro studied opera at Cal State Northridge, and from there, he was hired as a member of the Los Angeles Opera chorus, where he's worked ever since.
Aside from a return to his home and the role he always wanted, this production marks a creative collaboration between Manro and his girlfriend, Justine Prado, who's serving as the assistant director and stage manager for this show.
"It's very momentous," Manro said. "It's almost the perfect casting. I grew up as a kind of little cowboy."
Through the lens of Oklahoma!, Manro wants audiences to walk away with a sense of appreciation for the lives they lead here on the Central Coast.
"I hope they take away a sense of appreciation that life is great," Manro said. "From someone coming in from the outside, SLO is like a fantasy world. And that life was so celebrated at the time this musical was written."
Arts Editor Ryah Cooley isn't terribly musical. Send comments to her at rcooley@newtimesslo.com.