Over the past few months, Atascadero City Manager Wade McKinney has repeatedly denied his involvement in promoting the construction of a Super Wal-Mart at the north end of town. However, a recent investigation by New Times uncovered that McKinney may have worked hand-in-hand with Atascadero Fire Chief Kurt Stone to pressure a local business owner to sell a piece of land that the retail giant allegedly desired.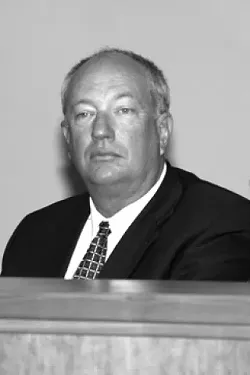 PHOTO BY JESSE ACOSTA
HANDS OFF? : An Atascadero businessman accused city leaders, including City Manager Wade McKinney (pictured), of pressuring him to sell his land in a Wal-Mart-related property tussle. McKinney has denied involvement in promoting Wal-Mart construction at the north end of town.
# Bob Kelly an Atascadero businessman who makes his living working side-by-side with local firefighters owned a small lot at the southeast corner of Del Rio Road and El Camino Real where he planned a three- to four-shop complex, potentially boasting a Jamba Juice and a Starbucks Coffee.
In an August 2005 letter, developer The Rottman Group offered Kelly $600,000 for his land a below-market price, considering that the property had previously been valued at $1.2 million, according to a real estate evaluation performed in 2005. Kelly declined the offer.
"I had no intention of selling my property," Kelly said. "I wanted to develop it myself."
Kelly said he was asked to attend a Sept. 6, 2005, meeting at the firehouse, at which Fire Chief Stone, City Manager McKinney, and Assistant City Manager Jim Lewis explained how important Kelly's property was to the future of Atascadero, how McKinney's use of tax dollars had provided the department with two new fire trucks, and how the planned development would provide funding for a new fire station.

Stone, Lewis, and McKinney failed to reply to requests for verification of this account.
Following Kelly's refusal to sell, Assistant City Manager Lewis spoke at a regular fire department briefing that included Kelly's cousin, Atascadero Fire Department Capt. Scott Satterthwaite, according to a fireman who asked to remain anonymous. At the briefing, Lewis explained how Kelly, "the greedy holdout," was holding the city hostage by not selling his parcel, how the city needed the project for tax revenue, and how a Super Wal-Mart would not participate without Kelly's lot, the fireman said.
Kelly said that on Sept. 27, 2005, The Rottman Group sent him a letter detailing its plans to build an elevated pad that would restrict access to his land.
"I was told they would raise the pad around my lot, making it worthless, and I would not have access except from the front," Kelly said. "And the city wouldn't support front access."
A representative from The Rottman Group was unavailable for comment.
On Oct. 11, 2005, City Manager McKinney scheduled a closed session of the city council, posted as "real property negotiation" of Kelly's property.
In a letter from Kelly's attorney, Dennis Law, to a representative of The Rottman Group, the city is accused of circulating information that characterizes Kelly as "being greedy and unreasonable in his dealings with the The Rottman Group," of threatening Kelly's livelihood by involving the fire department in negotiations, and of plans to take Kelly's property through litigation.
"It became apparent that city officials and the The Rottman Group were designing a possible eminent-domain proceeding to take Mr. Kelly's property, specifically for the The Rottman Group's benefit in the event Mr. Kelly refused to sell the The Rottman Group his property," Law says in the letter.
McKinney did not return numerous requests for comment.
In response to allegations that McKinney was pressuring Kelly to sell, the city council held a special closed session on Oct. 31, 2005, to look into McKinney's job performance due to undisclosed circumstances, according to the council's agenda. Prior to the closed session, a room full of city employees voiced support for McKinney. The council exonerated the city manager, giving him a vote of confidence.
The noon session was set with 24 hours' notice. Essentially, the only people who showed up and spoke during the public-comment portion of the meeting were members of city staff, according to city records of the meeting. In response, members of the public voiced dismay over not having an opportunity to express their opinions.
"Firemen were told to support the meeting, and Kurt Stone went around to all the city offices asking staff to support McKinney," said a city staff member who asked to remain anonymous.
In May, Kelly sold his property for an undisclosed amount to the The Rottman Group.
"Socially, this is a small town, and so I decided to get out of the project," Kelly said. "I like Stone, and many of the firemen are my friends."