A Tulare County man is suing the Atascadero Police Department, claiming he was unlawfully detained, questioned, and searched in racially motived encounter with an APD officer last year.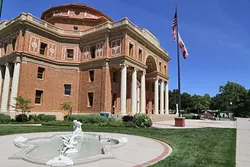 File Photo
BLACK AND WHITE A recently filed lawsuit claims that an Atascadero Police Department officer detained, questioned, and searched a black man because he was part of an interracial couple.
The lawsuit stated that the man, Army reservist Kyle Bell of Visalia, had traveled to SLO County with his wife and two children on Oct. 21, 2016, to spend a day at the beach. On their way back home, Bell stopped in the parking lot of the Atascadero Police Department, believing that it would be safe place to stretch his legs and smoke a cigarette before continuing the drive back home.
As he was standing in the parking lot Bell was approached by an Atascadero Police Officer, later identified as Rochelle Hanson, who began to question him, telling him "you look suspicious." The officer then detained Bell "via coercion and a show of force" before searching Bell's vehicle, the lawsuit stated.
Both Bell and his lawyer, Visalia attorney Matthew Owdom, believe that the incident was racially motivated. According to the lawsuit, Bell is 6-foot-4 and "a very dark-complected black male," and his wife is a white female. The lawsuit alleges that Hanson approached Bell's wife and asked her, "Why are you here? Are you OK?"
"[Bell] is informed and believes that his detention was based solely on his race and/or the fact that his wife appeared to be a white woman," the lawsuit stated.
Bell was eventually allowed to go on his way and later filed a complaint with the department. According to Owdom, he and Bell asked the department for an apology and to provide officers with training about racial bias, but he claimed the department refused to apologize, and also denied them access to Hanson's bodycam footage of the incident. Owdom said he was told the department conducted its own review of the incident, but he was not aware if the APD took any action against Hanson as a result.
"I don't think police departments can be trusted to police themselves," Owdom said. "Unless you challenge these things in court, there will not be a positive change."
Atascadero Police Department spokesman Sgt. Caleb Davis said the APD would not comment on ongoing litigation, and confirmed that Hanson was still employed as an officer with the department.
Bell's lawsuit also alleges that the 2016 incident between Bell and Hanson was the symptom of deeper problems in the department, charging that it had "engaged in a pattern of systematic deprivation of the constitutional rights of African-American citizens and persons of color."
While public data on the racial demographics of individuals stopped and searched by the department was not available, Federal Bureau of Justice statistics showed that the majority of the department's staff is white. As of 2013, 65 percent of the department's personnel, which include sworn police officers, were white. No officer employed with the department at the time was black. The department is slightly more diverse than the racial makeup of the city itself. An estimated 76 percent of Atascadero's population is white, and 2 percent was black, according to U.S. Census data.
The lawsuit also characterized Atascadero as a "sundown town" with a historical "official hostility" to interracial relationships. When asked about the claim, Owdom said that he heard informally that the city "may not be welcoming to outsiders."
The role of racism in Atascadero's history sparked a controversy in 2013, after a local historian gave a speech that mentioned that the colony's founder E.G. Lewis included clauses in local land deeds restricting property purchases to whites only. According to a SLO Tribune article on the dust-up, Lewis also included language to limit the sale of property in Atascadero exclusively to whites in a prospectus on the community written in 1916.
Bell's lawsuit was filed in SLO County Superior Court July 21. In addition to seeking unspecified monetary damages, the suit also asked the court to appoint a special auditor to oversee "rehabilitation measures" within the Atascadero Police Department. Δ