Big automakers are not the only ones getting government bailouts—Atascadero city officials gave developers of the Colony Square project $1.5 million to help get the struggling plan started.
The unanimous decision by the new City Council (doubling as the Redevelopment Agency Board) allowed staff to put up city funds as collateral for a $9 million loan to build a movie theater on a vacant lot in downtown Atascadero. The theater is the first phase of a larger project pegged to be a cornerstone of a revitalized downtown.
Colony Square LLC failed to finance the project before the lending market crash and thus went to the city for help. But since Colony Square was approved in August 2005, critics argue that the developers did not try hard enough to find private money before turning to taxpayers.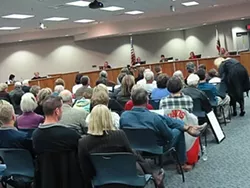 PHOTO BY COLIN RIGLEY
HOT TICKET: A crowd watches as the Atascadero City Council, acting as a redevelopment agency, pledges $1.5 million for a downtown theater project.
At the Dec. 9 City Council meeting, applicant James Harrison said the credit crisis has pushed loans out of reach. Harrison and his partner Peter Hilf had asked about five other developers for help but were unsuccessful, he added. Local developers would only throw their support and money behind Colony Square if it were redesigned, but Harrison said he was unwilling to do that.
"I believe we've exhausted almost everything we can," he said.
Some, like Lee Perkins, were still skeptical. "Harrison and Hilf say they have exhausted all avenues, and we have no way of knowing."
There are still plenty of unknowns with the loan, such as interest rates and what city projects could be shelved while the funds are tied up. The city is partnering with Mission Community Bank to draft the loan and still must bring a final proposal to the City Council, now that council members have shown a strong interest in the project.
Some council members worried about the risk to the city. Newcomer Roberta Fonzi, in particular, asked how vulnerable the city was by essentially placing itself as an investor. Most fears seemed to be overridden by officials' desire to build the project and a belief that the risk was relatively small. According to city staff, the $1.5 million would only be at risk if the loan went into default and the property value dropped more than 40 percent.
Despite a few public criticisms, the decision was widely supported, especially by the business community.
"This really can be a demonstration project [for Atascadero]," Mission Community Bank President Anita Robinson said.
The vote was one of the first actions for new council members. Despite the unanimous vote, there are already blatant tensions between some members. Council member Jerry Clay said it was difficult for him to appoint Ellen Beraud as mayor because she previously would only meet with him if someone else was in the room.
Nevertheless, Clay said, "I vote 'yes' begrudgingly."
—Colin Rigley