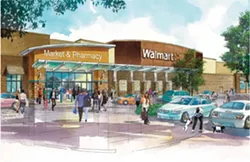 IMAGE COURTESY OF THE CITY OF ATASCADERO
GREEN LIGHT: This is architectural rendering reveals the proposed Walmart Neighborhood Market on El Camino Real and Del Rio Road in Atascadero.
The legal challenges are over, and the proposed Walmart Supercenter slated for the north end of Atascadero has come through unscathed.
After a citizen group challenging the project chose not to file a final appeal, the box store stands triumphant after an eight-year saga that was, at times, raucous. The issue drew sharp a divide in the community and became the centerpiece for a round of City Council elections leading up to the project's approval.
The Atascadero City Council approved the project and the necessary annexation and general plan amendments in 2012.
Save Atascadero, a citizen group formerly known as Oppose Walmart, then filed a lawsuit claiming that the project's mitigations outlined in the Environmental Impact Report weren't in compliance with the California Environmental Quality Act, citing concerns over air quality and traffic impacts. A SLO Superior Court judge upheld the City Council's approval of the project, and Save Atascadero in turn appealed the ruling in the Court of Appeal. The Court of Appeal affirmed the superior court's decision on July 8, giving Save Atascadero until Aug. 18 to make a final appeal to the California Supreme Court.
The process was concluded without any pomp or circumstance, after Atascadero quietly sent out a four-sentence notice on Aug. 25. What used to be a website for Save Atascadero is now an open domain available through GoDaddy.com.
The project first came out of the woodwork in 2006, sparking intense opposition, with a crowd of 500 people attending one city council meeting. The opposition became the local manifestation of a national wave of anti-Walmart mobilization, raising issues with pay, benefits, and treatment of employees; the impacts of the company's business and sourcing practices oversees; and the claim that the box store wipes out smaller and local businesses.
The store's proponents have said that it would bring much-needed jobs and sales tax revenue to the city, and will greatly enhance grocery and retail shopping options. The project was even cited in the city's Climate Action Plan of potentially reducing greenhouse gas emissions by stopping "retail leakage"—the term used when residents go to a neighboring city to shop.
According to Atascadero Community Development Director, the Walmart Supercenter will be a maximum of 123,112 square feet of indoor retail space, with an additional 65,000-square-foot outdoor garden center. There may be an additional 10,000 square feet of stand-alone retail space, and 44 multifamily residential units. Across the street, an additional 120,900 square feet of commercial space is cited. All told, the project's footprint covers 39 acres in the area of El Camino and Del Rio Road, across from the existing Factory Outlets.
-- Melody DeMeritt - former city council member, Morro Bay