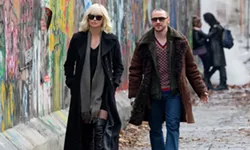 Photo Courtesy Of Focus Features
What's it rated? R
What's it worth? Matinee
Where's it showing? Stadium 10, Galaxy
Pick
David Leitch directs Kurt Johnstad's action spy thriller screenplay based on the graphic novel series The Coldest City by Antony Johnston and Sam Hart, about Lorraine Broughton (Charlize Theron), a British Cold War-era operative sent to Berlin to investigate a fellow spy's death. Once there she enters an uneasy alliance with yet another spy, David Percival (James McAvoy). The film also stars Eddie Marsan as East German traitor Spyglass who stole a list of spies' names and identities that everyone wants, John Goodman as CIA operative Emmett Kurzfeld, Toby Jones as Lorraine's MI6 handler Eric Gray, and Sofia Boutella as French spy Delphine Lasalle.
The first thing you need to know about Atomic Blonde is that Theron convincingly kicks ass. You know the old Ginger Rogers quip that she did everything Fred Astaire did but backwards and in high heels? Yeah, move over James Bond because despite the high heels and skintight outfits, Lorraine Broughton will give you a run for your money. Theron's hand-to-hand combat sequences are bone crushing, and she doesn't get out unscathed. This is Tarantino-level abuse. Think Uma Thurman in Kill Bill.
Set right as the Berlin Wall is scheduled to fall, the film is filled with iconic late-'80s fashion and music. The stylish, atmospheric thriller feels a lot like an extended music video, and tracks like New Order's "Blue Monday," Nena's "99 Luftballons," and A Flock of Seagulls' "I Ran (So Far Away)" set the appropriate tones throughout.
There are also the sexy lesbian scenes between Theron and Boutella that have set fan boys' hearts a flutter. Theron is stunning at nearly 42, and after her turn as Imperator Furiosa in Mad Max: Fury Road, she's eager to reinvigorate the idea that she's a bankable action star. For the ladies, there's also a very buff McAvoy, who after his role as Dennis/Patricia/Hedwig in Split has proven his immense range as an actor. Both he and Theron do a lot of their own stunts, and the CGI-free proceedings will give purists something to celebrate. As a point of reference, director Leitch is a stunt man and also helped direct John Wick.
This is a spy thriller, so it's expected to be complicated and convoluted, but it's really hard to keep track of who's double crossing whom. By the end, it basically sorts itself out, but thinking back, parts of the narrative don't actually make sense, but who cares? Everything's happening so fast that viewers are just hanging on for dear life.
If you like to watch a stunningly beautiful woman take out a series of relentless tough guys to the thumping sounds of New Wave music, this is the film for you! (115 min.)
—Glen Starkey