PHOTO BY GLEN STARKEY
OUT FOR BLOOD! : Candye Kane screams out a fatwa against me for writing about her ex-stripper boobs.
I guess I should have known I was in for it when Jay Dismas wrote, "I got a real kick out of the first two paragraphs of Glen Starkey's article about Candye Kane. Are you prepared for the onslaught of the pious folk in town?"
I wrote back, "Ha! I dare to dream, but sadly, I think the overly washed masses are used to my puerile meanderings."
Wrong again! Mary Ann Foster took the bait, labeling my comments about former-stripper-turned-blues-singer Candye Kane's boobs "inappropriate, hurtful, and reflect[ing] the residue of a swaggering, macho culture."
I'm macho? Awesome! Anywho, here it is, Friday, June 25, and as soon as I roll into Downtown Brew to see Candye's show, Connie, aka—Blues Chick on Facebook, rushes up to me and says, "I'm in the booth next to yours and all the women I'm with want to kill you."
Death threats! This should be interesting!
PHOTO BY GLEN STARKEY
"SHE DOESN'T PLAY WITH HER GIRLIE PARTS" : Laura Chavez delivered some ripping guitar riffs, her gender notwithstanding.
I'm hanging with, among others, Dan Keller, mandolinist for Cuesta Ridge, and he looks at me and says, "Now you've got to go make up for your article, right?"
"Nope!" I blurt. "I'm going to throw napalm on the fire."
I'm reckless, see?
As I walk toward my reserved booth (sucks to be me!), I see June, aka—J.Pop, who uses her hands to push her boobs together and hisses, "Want to write about these!?!"
Then some woman who says her name is Alitabox screams, "I want to see your dick!"
"Go get an electron microscope," I shoot back.
After running through a few songs, Candye starts talking about her rough childhood, her alcoholic parents, their constant use of four-letter words, and how "words matter." Hmm, is this a reference to my article? Am I paranoid?
Then she's introducing her awesome guitarist Laura Chavez, talking about how some guys say, "'She's pretty good … for a girl!' Well, guess what," continues Candye, "she doesn't play with her girlie parts; she plays with her hands."
PHOTO BY GLEN STARKEY
THESE SHOES WERE MADE FOR STOMPING : Candye Kane wants to stick these up my keister!
Snap! The estrogen is coursing in this joint!
Then Candye launches into a song called "I've Put a Hex on You." Uh-oh!
"I think this one's dedicated to you," says my friend Steve Royal.
Then Candye is singing about how she's a "white trash girl," and after the song's over she's hawking her new CD: "You don't have to buy one, but my grandma is having an operation, and it's not the same operation she was having the last time I came through town."
OK, we've established Candye has a sense of humor about conning people into buying albums, but not about her boobs.
After a couple more songs, she launches into a tirade about my article. "Who cares about big tits?" she asks. "What about the music?"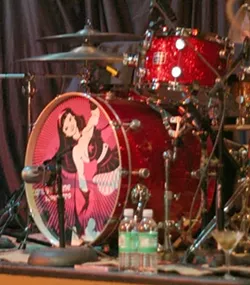 PHOTO BY GLEN STARKEY
SUPERHERO! : Candye Kane's drum kit proclaims her a superhero. Her super power is the power to invoke pity.
Well, in my defense I only spent two paragraphs about her boobs and three about her music, but who's counting?
"Obviously, this article was written by a man," continues Candye, who goes on to complain about how I mentioned she was an ex-stripper. "Who cares about what I did 25 years ago? I subsidized my dreams in unconventional ways," she says, prompting me to wonder why she puts her past as a stripper in her bio if she doesn't want anyone to write about it.
"What's with the pity party?" asks my housemate Tamara DePaulo. "I mean, OK, maybe you whine a little, but between every song?"
After the show, I go up to Candye and introduce myself, and instead of scratching my eyes out she asks me to take a photo of her and a young girl who somehow got into the show, which I happily do. See? I'm not a total dick! See?
Sadly, I'm pretty sure she doesn't see. Maybe I'm wrong, but if you can't talk about an ex-stripper's boobs, whose can you talk about? Anyway, I thought Candye Kane's boobs were big, but it turns out my mouth is bigger.
Glen Starkey takes a beating and keeps on bleating. Contact him at gstarkey@newtimesslo.com.