Ed. note: For this week's Art Bash, Glen chose to emphasize the "bash" side of the equation. Enjoy!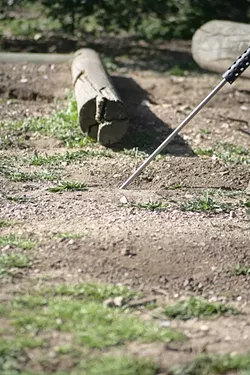 PHOTO BY GLEN STARKEY
BEFORE THE BLAST:
As SLO City Maintenance Worker II Ken Herrmann prepares to deliver some serious wrath-of-god squirrel abatement at Laguna Lake Park, I can't help but be reminded of Carl Spackler's exchange with Scottish head greens keeper Sandy in Caddyshack.
Sandy: "I want you to kill every gopher on the golf course!"
Carl Spackler: "Correct me if I'm wrong, Sandy, but if I kill all the golfers, they're gonna lock me up and throw away the key."
Sandy: "Not golfers, you great fool! Gophers! The little, brown, furry rodents!"
Carl Spackler: "We can do that; we don't even have to have a reason. All right, let's do the same thing, but with gophers!"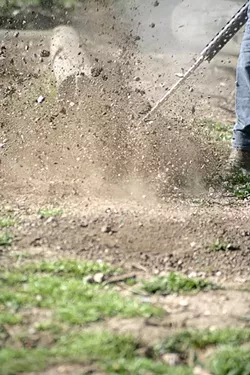 PHOTO BY GLEN STARKEY
KA-BOOM! : The Rodenator fills squirrel holes with a mixture of propane and oxygen, then ignites the mixture, which results in an "instantaneous underground shockwave of concussive force," which kills burrowing pests.
City worker Ken Herrmann, whom I frequently see at the dog park every morning, explains how his Rodenator works by pumping a mix of propane and oxygen in a ground squirrel hole and then igniting it into a small explosion that kills the squirrels instantly and collapses their burrows, burying them in graves they've essentially dug themselves.
"People think the live traps are more humane, but those squirrels are later drowned in a bucket," he notes.
Herrmann exterminates the squirrels a couple times a year, and if you live in the Laguna Lake area, as I do, you've no doubt heard the periodic explosions in the distance. They can occur every 10 minutes or so and go on for several hours, or until "we have too many curious onlookers," says Ken.
PHOTO BY GLEN STARKEY
THE MAN WITH A PLAN : Maintenance Worker II Ken Herrmann is charged with maintaining Laguna Lake Park, which means periodically exterminating its rodent populations.
This particular day's adventure was predicated by a fallen 35-foot pine tree, whose root system was undermined by burrowing ground squirrels. The damage they do to the park is extensive, and you don't have to walk far in the park to find clusters of holes and a labyrinth of tunnels. Somebody's going to twist an ankle!
Plus, it's sort of fun to see the flying dirt, though this reporter saw absolutely no carnage: no flying squirrel parts, no blood, no little brown rodents playing out their final death scenes with one paw over their hearts and the other over their furrowed brows, gasping for a final breath. Nope, a clean and tidy death, followed by a city worker with a shovel to fill in the hole.
PHOTO BY GLEN STARKEY
PESKY AND DESTRUCTIVE! : Burrowing ground squirrels managed to down and destroy a 35-foot pine tree and have undermined trails and other improvements at Laguna Lake Park.
To paraphrase Carl Spackler, "License to kill squirrels by the government of the United Nations. Man, free to kill squirrels at will. To kill, you must know your enemy, and in this case my enemy is a varmint. And a varmint will never quit—ever. They're like the Viet Cong—Varmint Cong. So you have to fall back on superior intelligence and superior firepower. And that's all she wrote."
Ka-boom! ∆
Glen Starkey takes a beating and keeps on bleating. Keep up with him via twitter at twitter.com/glenstarkey, friend him at Myspace.com/glenstarkey, or contact him at gstarkey@newtimesslo.com.