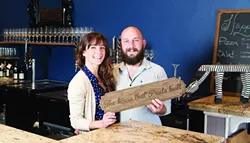 PHOTO BY STEVE E. MILLER
EAT, DRINK, AND BE MERRY: Wife and husband team, Alex and Shawn Dugan are happy to serve you at their new wine bar and eatery next to the Carlton Hotel in Atascadero.
As a guest speaker at the Cal Poly Vines to Wines Club, I always explain the importance of aligning yourself with an outstanding winery where you'll learn to make great wines, manage a tasting room, or learn the skills necessary to become a press relations person for the wine industry to aspiring winemakers and viticulturists. I was reminded of that belief when I heard the interesting story of the people behind a terrific new wine bar named avion & claw in Atascadero. When you've worked for one of the best wineries in the U.S., like Tablas Creek in Paso Robles, the payoff is immeasurable.
Visiting avion & claw on a Friday night Dan Hardesty and I discovered an amazing social scene. Paso Robles winemakers, from long-time stars to rising-star startups who are making a bold statement with the extremely limited wines they're making, came to meet friends. All of them, from Tablas Creek, Lone Madrone, and Ledge Catacombs, were connected to the wine bar proprietors— Shawn and Alexandra "Alex" Dugan. The business name comes from the French word for airplane; Shawn is a pilot, and claw refers to Alex's unique wedding ring of a talon clasping a raw diamond.
Straight out of Atascadero High School, Shawn started working at a flight school and by the age of 21 he was flying commercial planes. After several years Shawn grew tired of the commercial airline industry, and returned to Atascadero where he was born and raised. He started working at Tablas Creek Vineyards, where he spent three years learning the wine business. He began in the tasting room and he also helped them start the working farm animal program at Tablas Creek. Much as he loved his winery job, Alex explained: "Shawn really missed flying planes. That's why he returned to working as a pilot working in crop-dusting and fire-fighting, mostly the latter." Nevertheless, his ties to the wine industry remain secure. They are supporting their friends in a new way, selling their wines by the taste, glass, or bottle. In fact, they offer eight wines on tap which makes them available to the public in an array of sizes.
PHOTO BY STEVE E. MILLER
SEASONAL MENU: Chef Matthew Dugan (Shawn's brother) brings an impressive culinary resume including working as a chef at the famous French Laundry. Some of his menu items include this Black Forest Bacon pizza, housemade focaccia, and a Central Coast Winter lettuce salad with a house vinaigrette.
It was at Tablas Creek that the couple first met. Born and raised in Templeton, Alex had just returned from Denmark where she studied psychology, and was looking for a job. She visited Tablas Creek and soon after landed a tasting room position there; that's when the duo became close friends. Alex smiled while noting, "After a couple of years I finally said yes to a date with Shawn." They soon became engaged but rushed the wedding date for his mother, Paula Luis. The family knew she was dying from cancer and they wanted her to attend the wedding. Luis made Shawn promise he would invest his inheritance on his future, not on an airplane. At avion & claw an antique-looking sign notes, "the house that Paula built," in honor of the legacy she left the Dugans.
The Dugan family story goes much further: Shawn's brother Matt Dugan is preparing the daily menus and he carries a resume that professional cooks around the world would drool over. Matt spent several years working for world-renowned chef Thomas Keller in Napa Valley. Matt started working at Bouchon, then Per Se, and spent the last two years with Keller at the world-renowned French Laundry in Yountville.
Now Matt's helping Shawn and Alex establish avion & claw as a destination for amazing dining and drinking experiences. The menu, like the ambiance, is quite casual. We enjoyed the pizza of the day, which featured crumbled bacon, a farm egg, and Kendall Farms Crème Fraiche, topped with mesclun ($13). This delicious treat is amazing, particularly the dough. We also shared a salad of winter greens and radicchio with housemade vinaigrette ($3). The beautifully simple, artisan menu changes daily depending on what's in season at the Farmers Market.
"The pizzas can be made vegetarian or vegan, it's a celebration of the bread and local products," explained Matt, who makes a fresh "mother" dough daily. "We support all of the Farmers Markets and change the pizza selection daily if possible, using local products. I'm using vegetables you can eat here and still go purchase at the Farmers Market."
The Dugan family has created a comfortable, friendly environment where you'll find the food and drink menus quite unique. Shawn nodded to Tablas Creek winemaker Neil Collins, who makes a line of specialty ciders, "We carry all of the Bristol's Cider products that no one else has. We have a lot of wines related to my time at Tablas Creek. People get excited about new winemakers doing new things."
Winemaker's dinners in Shell Beach
Thursday, Dec. 19 and Saturday, Dec. 21 at Seaside Café and Bakery
Chef Liz Lynch is offering two winemaker's dinners for a white tablecloth dinner affair. The café will feature Stephen Ross on Thursday and Opolo on Saturday, with two seating times each night, 5:30 and 7:30 p.m. This epicurean meal will provide three courses paired with wines. The main course offers a choice of roasted beef tenderloin with veggies or creamy polenta with ricotta and autumn veggie ragù. Part of the proceeds will benefit the Women's Shelter Program of SLO. To purchase tickets call the Seaside Café at 773-4360, located at 1327 Shell Beach Road in Shell Beach.
Contact Cuisine columnist Kathy Marcks Hardesty at khardesty@newtimesslo.com.