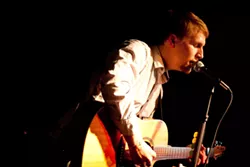 PHOTO COURTESY OF LOREN RADIS
SOULFUL SOUNDS: Award-winning Central Coast singer-songwriter Loren Radis will release his new live album on Sept. 19 at Steynberg Gallery.
Loren Radis has been quietly making great music on the Central Coast for six years. He first hit my radar in 2009, when his song "If You'll Be Mine" was one of the winners at the inaugural New Times Music Awards. He was a winner the next year with "Homesick," and the next, with "(May I) Walk You Home?" This year his winning track, "Young Man's Song," again made the finals. You're starting to get the idea, right? He's a gifted and engaging songwriter, and that's made nowhere clearer than his new live CD And Everything Was Perfect, recorded in August 2013, at a house concert in Nipomo.
It's just Loren and his guitar on the CD, but when he plays an album release party this Friday, Sept. 19, at Steynberg Gallery (7:30 p.m.; all ages; $10 includes a CD; reservations at 547-0278), he'll be joined by cellist Bob Liepman of Shadowlands and violinist Kate Feldtkeller of Hilary and Kate.
The recording quality is surprisingly good, and Loren's voice is clear and arresting, with crisp, rhythmic guitar work backing up his tender, folk ballads. He lists The Beatles, Simon & Garfunkel, and Damien Rice as influences, and his music has been compared to Paul Simon and Elliott Smith. Indeed, these are thoughtful, beautiful compositions.
They're also immediately accessible songs that span his six-year career, frequently focusing on love and relationships. In short, these are pretty irresistible songs from a humble but talented performer. If you haven't caught the Loren Radis bug, get infected!
Phantom!
PHOTO COURTESY OF SLIM JIM PHANTOM
SLIMMER: You can soak in the glory of former Stray Cats drummer Slim Jim Phantom at SLO Brew on Sept. 20.
Is he the greatest rockabilly drummer in the world? He's certainly the coolest, the slimmest, and the most rakish! This Saturday, Sept. 20, you can soak in the glory of former Stray Cats drummer Slim Jim Phantom at SLO Brew (7 p.m.; 21-and-older; $15 presale or $17 at the door).
The iconic rocker helped usher in the neo-rockabilly craze of the early-'80s, and he's continued to be a purveyor of rockabilly. His entry into music came from listening to his parents' jazz collection in their Brooklyn home, where he started playing drums at age 10.
"To be honest, I think the drums chose me. I can't remember ever wanting to do anything else," Phantom recalled in press materials.
SLO Brew's got a bunch of other great shows this week like The Real McKenzies on Thursday, Sept. 18; Mt. Eden on Friday, Sept. 19; punk rock legends 7 Seconds on Sunday, Sept. 21; Mitis on Monday, Sept. 22; Sky Blue on Tuesday, Sept. 23; awesome and enigmatic The White Buffalo on Wednesday, Sept. 24; and pop sensation Aaron Carter on Thursday, Sept. 25. Visit slobrewingco.com for all the details.
Halfway to St. Paddy's!
PHOTO BY DAVID SAFIAN
GO GREEN!: The Young Dubliners will play the 2nd annual Blarney on the Beach at the Avila Beach Golf Resort on Sept. 21.
If you're already jonesing (or, should it be murphying?) for Saint Patrick's Day, you're covered, because The Young Dubliners will play the second annual Blarney on the Beach at the Avila Beach Golf Resort this Sunday, Sept. 21 (noon to 5 p.m; all ages with kids under 8 free; $20 general admission; $40 McCarthy's VIP tickets that include the McCarthy's VIP Lounge, Irish food samples, VIP parking, and more; tickets online at blarneyatthebeach.com).
The Young Dubliners are on a U.S. tour that started in Alaska, promoting their ninth studio album, aptly titled Nine. This time around, they decided to eschew the label route and release independently.
"We had a few offers but decided we were well overdue to take things into our own hands," said frontman Keith Roberts in press materials. "After eight albums on various labels, it just seemed right to go it alone for once and maintain full creative control."
This is an amazing, hardworking Irish-American rock-and-beyond band. They'll have you on your feet.
In addition to the headliners, you'll hear music by The Real McKenzies and Staggering Jack, and sponsors include Tullamore Dew, McCarthy's Irish Pub, Harp Lager, Guinness, Smithwick's Ale, with proceeds benefiting the Central Coast Autism Spectrum Center. A great cause, great music, you're at the beach, and there are no snakes!
The Mouse that roars!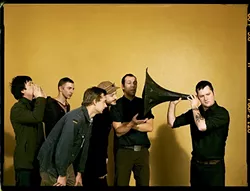 PHOTO COURTESY OF MODEST MOUSE
EXPERIMENTAL: Indie, experimental rock act Modest Mouse plays Vina Robles Amphitheatre on Sept. 24.
Modest Mouse may not be quite the sensation they were when they hit the scene in the mid-to-late-'90s, or in 2004, when they received two Grammy nods, or even when former Smiths guitarist Johnny Marr joined the band briefly in 2006, but for fans of core members Isaac Brook and Jeremiah Green, and their indie, experimental rock sound, they're still undeniably engaging, and they're playing Vina Robles Amphitheatre this Wednesday, Sept. 24 (doors at 6 p.m.; show at 7:30; all ages; $56.20 at vinaroblesamphitheatre.com). Last year, they played Coachella, and earlier this year, they played the Hangout Music Festival in Alabama, and headlined the Shaky Knees music fest in Georgia. In other words, you're about to see a huge band in a relatively small, intimate venue. Feel lucky!
More music …
Doug Adamz—a gifted guitar player, soulful singer, and punchy harmonica player—plays this Friday, Sept. 19, from 7 to 9:30 p.m., at the house of Stanley and Carol Stern. Call for reservations and directions: 528-6557.
Nashville-based Americana duo Mare Wakefield & Nomad are touring through town this week with Poet on the Moon, a new album they funded through Kickstarter that reached No. 10 on the Folk and Roots Chart. See them at the Songwriters at Play showcase at Bon Temps Creole Café this Monday, Sept. 22 (6:30 p.m.; all ages; free).
CD Reviews
Derek Senn: The Technological Breakthrough (independent)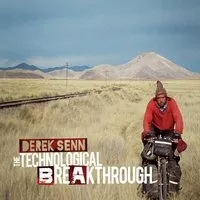 CD IMAGE COURTESY OF DEREK SENN
I've been listening to Derek Senn's basement tapes for years—low-fi nuggets of repressed angst generated by a rebellious artist forced to wear a collared shirt and work 9 a.m. to 5 p.m. to keep his wife and kids fat and happy (OK, not actually "fat"; it's an expression, Melanie). Much of his music seems to stem from the tension between his artistic frustrations battling his deep affection for his family.
So when he shoved a copy of The Technological Breakthrough in my hand, and I brought it home and slapped it in my CD player, my first thought was, "This seems overly produced for Derek." He had headed to San Francisco's Tiny Telephone recording studio for a 10-day session, where producer-musician John Vanderslice and his team of session players—Jon Monahan, Rob Shelton, and Jason Slota—were standing by to fill out the sound on Derek's songs. I was admittedly a bit put off at first. I liked Derek's DIY, recorded-in-his-basement sound, and this? Well, it wasn't the Derek I know.
I kept at it. I listened. I listened again. And then, it clicked.
Without a doubt, the star of Derek's show is his lyrics, which border on brilliant when they haven't already crossed over into freaking brilliant territory.
"Bless Her Insecurity" kicks off the album: "She brings home the bacon she pays all the bills/ I eat all the bacon I eat all the pills/ She does all the cooking she does all the chores/ I'm known for my past athleticism and my generous pours/ and she could definitely do a lot better than me/ Bless her insecurity."
Derek has taken a giant leap forward in his writing, mixing elements of his life with created characters he weaves through gripping narrative songs.
In "Hell If I Know," Derek sings, "We used to wake up in the morning/ climb to the summit and take in the valley below/ and the last time we did that hell if I know/ We used to wake before the sun/ grab our guns and our suits and shoot out to the Morro/ and the last time we did that hell if I know."
That one's probably a bit closer to home. Two young boys can put a damper on parents' outings. And then, there are quirky tracks like "Whoop De Do," about a magnum opus to his canoe. To remind listeners of his politic bent, Derek offers "Healthcare's Where," which puts him into the character of a rightwing nut who supports war and being tough on crime—but won't spend a dime on healthcare. The title track is about giving up our distracting "devices" and getting back to life.
Every song is deceptively thoughtful, sneaking up on you, drawing you in, taking you for a ride. Derek's album may take a few listens to hook you, but beware; once it does, you're his.
John Wessel: Cajun Woman (Rhombus Records)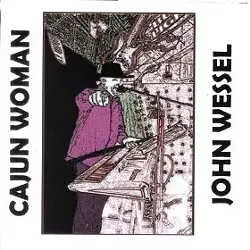 CD IMAGE COURTESY OF JOHN WESSEL
John Wessel's gritty, rustic voice sounds like it's seen a lot of miles, as he describes on his new solo CD's opening track, "Where Were You," on which he sings, "New York, LA, Chicago—I played them all, theaters, dive bars, and even pool halls. Stayed up all night, no sleep till dawn. Wakin' up sometimes on someone's front lawn. Where were you to help me through?"
Cajun Woman is the inveterate musician's first solo CD, but he's no newcomer to music. He began playing professionally at age 15, and his band Shameless has been a Central Coast staple for more than a quarter century.
He can write a great '70s style, hook-heavy track, such as "Just One Dance," as well as a smoky, nasty little track like "Help Us Know," that weaves in politically charged lyrics.
The CD's title track, "Cajun Woman," has a reggae rhythm, pointing out Wessel's range, and perhaps more amazing still, Wessel plays almost every instrument on the album: flute, saxophones, keyboards, bass, tambourines, and hand drums, with guest guitarists Ed Frawley, Bill Tomkin, and Bill Starling sitting in on guitar.
Over the years, Wessel has collaborated regularly with long-time friend Glenn Cornick, founding member of Jethro Tull, who died earlier this month. Because of Wessel's flute playing and range, he was a natural to join Cornick for Jethro Tull "tribute" shows. You can definitely hear Tull influences in here.
You can see Wessel with Shameless on Friday, Sept. 19, at Cambria Pines Lodge from 9 to midnight; Saturday, Sept. 20, at the Fuel Dock from 9 p.m. to 12:30 a.m.; and on Monday, Sept. 22, at Harry's from 9 p.m. to 1:30 a.m.

Keep up with Glen Starkey via twitter at twitter.com/glenstarkey, friend him at facebook.com/glenstarkey or myspace.com/glenstarkey, or contact him at gstarkey@newtimesslo.com.