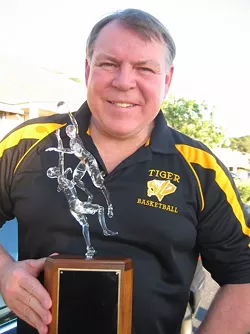 PHOTO COURTESY OF KIRBY GORDON
PROUD HOOPS COACH : Warren Hooper of Hooper Studios recently sculpted the trophy at the center of San Luis Obispo and Mission College Prep high schools' basketball rivalry. SLO High assistant basketball coach Kirby Gordon (pictured with the trophy) called it "exquisite."
Trophy days for most of us ended at our high-school athletic banquets, but for more than 30 years, brothers Robert and Warren Hooper have been making trophies for local events, for celebrities, and even for former presidents.

"Our claim to fame is to bring life-like motion to a very static medium," glass sculptor Robert said.

Warren recently sculpted a trophy that will be used as the perpetual award in the long-standing basketball rivalry between San Luis Obispo and Mission College Prep high schools.

"I was happy with it," he said. "I was able to capture motion in glass."

San Luis Obispo High assistant basketball coach Kirby Gordon commissioned the trophy. The school was first to take home the statue by defeating Mission College Prep by a score of 50 to 40 on Jan. 23.

"I wanted to institute a friendly rivalry," Gordon said. "This is the first year we've had the trophy, and it is exquisite, an amazing piece of art."

The Hooper brothers do not use molds to create their trophies. All trophies are hand sculpted using the art of flame work: manipulating a solid glass rod in mid-air, Robert explained.

"It is like what you see at Disneyland or the fair," he said. "It is hard to do with glass because glass is like honey. It is trying to get out of control on you."

The brothers went their separate ways for about 15 years and have now teamed up again.

"We are combining our knowledge," Warren said. "We're not in competition, we just divide up who does what better."

Some of Robert's more recognized pieces include the Indianapolis 500 team award trophy that now resides proudly in the Indianapolis 500 museum and a 6-foot 5-inch replica of the Taj Mahal for the opening of the MGM Grand Hotel in Las Vegas, commissioned by Donald Trump. He's also made national awards for the Clorox Company and Kraft Foods.

"Those are some of the more famous ones," Robert said. "I've also done the Ship Builders of America award for [President] Clinton, and the Eagle award for [President] Reagan; I had to make that one twice because a protester ran up on stage and smashed it."

Warren specializes in realistic glass sculpture. His works include an award for the Pebble Beach Rolls Royce Tour d'Elegance, rowing team awards for Harvard University, and local awards for San Luis Obispo Ambulance and Friends of Hearst Castle.

"We didn't aim for the award business but we kind of fell into it through exposure," Warren said. "We've expanded the awards business to be high end."

Contact Robert and Warren Hooper at Hooper Studios, 200 Suburban Road, San Luis Obispo.

Fast facts

San Luis Obispo's Mothers For Peace is accepting applications for its annual scholarships to students with an interest in issues of peace, social justice, or the environment.

The scholarship will provide $1,000 to a university or college junior or senior in San Luis Obispo or Santa Barbara counties, and $500 to a graduating high school senior in San Luis Obispo County.

Applications must be postmarked by Wednesday March 11. For application forms and requirements visit mothersforpeace.org. …

A grant from Pacific Capital Bancorp has enabled Cal Poly's Orfalea College of Business to expand its Volunteer Income Tax Assistance (VITA) program from a single site in SLO to an additional site in Santa Maria.

VITA is an IRS-sanctioned program that gives Cal Poly accounting seniors experience preparing tax returns for underserved members of the community.

Student returns are reviewed by certified tax preparers. Spanish-speaking preparers will be available at both locations.

Families with incomes of less than $42,000 per year can visit the Cal Poly Business Building's third-floor computer lab, open every Saturday from 11 a.m. to 2:30 p.m. until March 14, or the Community Education Center on Allan Hancock College's main campus, open 9 a.m. to 1 p.m. during the same dates.

For more information call 756-2667 …

San Luis Obispo highlights its great food and wine in the first ever Culinary Carnival, a fundraising effort for the Prado Day Center. The event will be held the weekend of Feb. 6 in various venues throughout San Luis Obispo.

The event kicks off at 7 p.m. Friday night at Embassy Suites. Participants can enjoy live jazz music, local wine tasting, gourmet appetizers, and cooking demonstrations.

On Saturday afternoon, Tolosa Winery will host a wine-and-cheese pairing, and A Garden's Kitchen will host a beer-and-food pairing. At 6 p.m., a gala dinner, dancing, and auction will take place at the Embassy Suites Ballroom.

Attendees will get their tasting fees waived and will enjoy special discounts at many wineries throughout the area all day.

Tickets cost $149 for the whole weekend or $100 for the Saturday Gala Event.

To purchase tickets or learn more, visit sloculinarycarnival.com, or call 541-7963.

Interns Bridget Veltri and Clinton McGue compiled Strokes & Plugs. Send business or nonprofit news to strokes@newtimesslo.com.