As a child, my Easter Sunday preference for breakfast was the See's chocolate bunny, and I had a special proclivity for eagerly chomping off his ears. My appetite changed but hardly because I grew up; I'm still a kid about chocolate. Thankfully, adult foods satisfy me much more, particularly Easter brunch with Champagne. With its myriad styles, you can find a Champagne or California bubbly that pairs with savory or sweet dishes.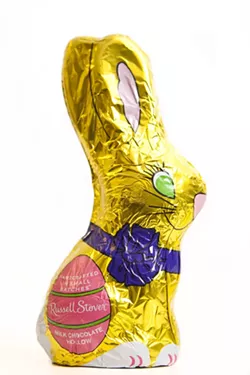 PHOTO BY STEVE E. MILLER
DO THE BUNNY HOP : Easter's on its way, and we can help with easy-to-follow recipes and wine suggestions.
While I wouldn't choose a dry Roederer Estate sparkling wine with chocolate, I love it with eggs and bacon or a crab Benedict. A Schramsberg Crémant Demi-Sec, which is subtly sweet and creamy, pairs very well with fruit salads and desserts. The trick is to make sure the bubbly is sweet enough to equal the sweet treat you're eating.
I prefer a multi-course brunch with lots of great choices, which you'll find at Central City Market in Santa Maria, Lido in Shell Beach, and Thomas Hill Organics in Paso Robles. If you want the all-you-can-eat buffet, no restaurant does it better than Marisol at the Cliffs Resort, with a bonus of fabulous ocean views. No matter which of these popular restaurants you choose, you'd better make a reservation soon. For those who stay home, try these great recipes from the aforementioned chefs.
Central City Wine Market's Easter Prime Rib
This recipe written by chef Ryan Gromfin provided the techniques for achieving restaurant quality prime rib at home. You'll succeed if you follow his directions. You'll need an instant-read thermometer, and if you don't have one, the chef insists: "Buy one—they're cheap!"
"Traditionally, the theory on roasting meat was to go hot and fast to seal in the juices. This theory has been opposed by professional chefs who scientifically tested it and proved that that strategy doesn't seal in juices, it actually dries out the meat. Now chefs roast meat slowly at low temperatures, which retains moisture and preserves the flavor and tenderness. I tested these theories and agree that the new way of cooking meat is best.
"The only problem: Gray meat is visually unappealing and therefore doesn't taste as good. That's why we need to sear the meat to caramelize the surface, creating both flavor and visual appeal.
"Most importantly, buy the best quality meat at a busy butcher shop. Choose a prime rib that's deep red with nice, white, clean fat. The night before roasting, remove the plastic wrap on the meat and pat it dry (moisture comes from fat, not water, and dry meat cooks better).
"I don't give measurements because the meat varies too much in size. You'll need salt, pepper, fresh parsley, rosemary, thyme, and olive oil. Rub the meat with just enough olive oil to make it sticky, then sprinkle liberally with salt and pepper. Next, rub on chopped fresh parsley and very small amounts of chopped rosemary and thyme (these are powerful, don't use much). Allowing the meat to sit at room temperature overnight will provide much better results.
"Pre-heat oven to 200 F. In a roasting pan add a bed of roughly chopped onion, carrot, and celery (the vegetables also improve the flavor of the au jus), and place the meat on top. While roasting, the meat will appear gray and ugly and take a long time to get there: about 25 minutes per pound, but start checking after 15 minutes per pound (just a guess, when my cooks ask how long, I tell them 'Until it's done,' sorry).
"With an instant read thermometer, you'll want to reach a temperature that's 15 degrees below your desired doneness. For example, medium is 135 to 140 degrees, so you would pull the meat out of the oven between 120 to 125 degrees (for other temperatures, just Google meat internal temperatures). Now crank the oven up to 450 F and let it heat up for at least 30 minutes. Put the prime rib back in for just 10 minutes, and it should become dark and beautiful and about 5 degrees below your desired doneness level.
Allow meat to rest on serving platter while making the au jus. Tent it with foil and let it rest until you're ready to slice it. It will stay hot for a long time and be perfectly cooked through. To make au jus, place your roasting pan over a low flame on your stove, add top-quality beef stock, and simmer for 10 minutes. Strain and skim fat off the top of au jus, season to taste with salt, and serve.
Lido's Blueberry, Ricotta, Cornbread
Pudding with Pine Nut Brittle
This dessert by chef Benjie Puga will be available on Lido's Easter menu.
Start by preparing custard:
Place heavy cream into a 6-quart pot and heat to 180 degrees. While your heavy cream is heating, take whole eggs and yolks and place them in a 6-quart mixing bowl. Whisk lightly and add sugar one third at a time until it's all incorporated. When cream reaches 180 degrees, add one quarter at a time to the egg mixture, whisking continuously so the eggs won't scramble. Lastly, slice two vanilla beans lengthwise and add to custard. Let this set about 30 minutes so the full flavor of vanilla beans will be extracted. When done, strain to remove vanilla pods from custard.
Assembly:
three 3 1/2-ounce baskets fresh blueberries
1 lb. fresh ricotta cheese
8-10 cups cornbread, your favorite recipe, cubed
custard, made in advance
pine nut brittle (or nut of your choice)
Preheat the oven to 300 F. Evenly scatter as much cornbread as needed to cover the bottom of a 6-by-9-by-3-inch deep baking pan. Pour custard evenly over cornbread. Sprinkle blueberries so they're evenly distributed. Crumble ricotta over the top so it's evenly distributed. Cover with aluminum foil and bake 45 minutes. Uncover the pan and bake another 45 minutes or until golden brown. Allow to cool six to eight hours before cutting to serve, and garnish with brittle.

Contact New Times' Cuisine columnist at khardesty@newtimesslo.com.