Becky's New Car is so sublimely middle-class, it hurts. Becky Foster works in a cubicle in "an American city very much like Seattle," the program reveals. Her husband's name is Joe. He repairs roofs and wears dad T-shirts. He calls her "Beck." Their son Chris studies psychology. He's likely still in bed, sleeping off college student angst and $2 shots. We learn this in the opening scene of the play, as Becky putters about the living room, picking up after the family, talking absentmindedly to the audience the way one might with one's pets.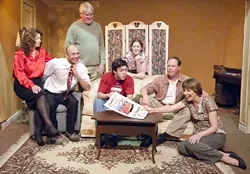 PHOTO BY BRETT WHITE
BECKY AND COMPANY : Becky Foster (Lori Cunningham, far left) doesn't have an unhappy life. But when opportunity comes along in the form of a rich stranger, she's tempted to trade her old life in for a hot new model.
"Here—do you want the sports section?" Becky asks the audience in her vaguely Midwestern accent, thrusting the paper toward the front row of Cambria's Pewter Plough Playhouse. Becky—played by Lori Cunningham—resumes slowly combing the house for debris, her tired-ol'-mom gait made perfect by practice. She continues her monologue, pausing once more to extend a roll of TP to playgoers. (Could you put this away? Thanks.)
She is a vision of normalcy, of domestic bliss. Well, OK, domestic contentment. Oh hell—who are we kidding? Domestic boredom, quietly edging on desperation. You see, Becky wants a new car, badly. And not just to get her from A to B, as we gather from this all-important snippet of her one-sided conversation: "When a woman says she needs new shoes, what she really wants is a new job; when she says she needs a new house, what she really wants is a new husband; and when she says she wants a new car, she wants a new life."
Becky, written by Steven Dietz and directed by Anita Schwaber, explores what happens when respectable grownups take a look around at the orderly little cubicles they built up around their ordinary little lives and feel a primal scream coming on.
The cubicle Becky occupies happens to be in a car dealership, where she's worked for several years, selling other people the cars of their dreams. When rich businessman Walter Flood (played by Craig Brooke; is he always that awkward?) happens to waltz into the dealership, aiming to buy some cars for his employees, but needing some guidance as to what sort of cars the kids are into these days, Becky happens to be working alone.
A semantic misunderstanding—"my husband always wanted that car"—opens a loophole through which Becky can see the glimmer of another life. There are two possible ways for her statement to be understood: a.) Her husband no longer wants the car or b.) Her husband is dead. Walter, widowed himself, gets the latter impression. With Becky's choice not to correct him, an off-ramp appears on the horizon, an exit into another world.
So begins Becky's second life with Walter. A promotion at her job gives her the means and the excuse to devote large chunks of time to her affair, then return to her family and resume the role of housewife.
Cunningham and Brooke make a funny pair: he oblivious, she worrisome. Cunningham is perfect as an ordinary mom pulled out of her comfort zone, unused to the guilt that accompanies her deception.
At first, it looks like Becky's hubby Joe, played by David Tune, is going to turn out to be that dopey-dad character who crops up a lot in commercials, little more than a prop at which teenagers and wives can whine "why can't I?" before he sheepishly gives in. But Joe has a few tricks of his own up his sleeve—and the same can be said of Tune, who is dryly funny and divine. One scene in particular, after Joe and Walter realize what they have in common, highlights both actors' comic abilities.
THE LONG AND WINDING ROAD: Becky's New Car plays until May 8 at the Pewter Plough Playhouse at 828 Main St. in Cambria. For tickets, call 927-3877 or visit pewterploughplayhouse.org.
There's a funny story behind the writing of Becky's New Car. Unfortunately, I'm not sure what it is. But get this: The play was originally commissioned by Seattleite Charles Staadecker as a rather unusual gift to his wife. What sort of marriage Charles and Benita Staadecker have, I can't say, but it must be interesting.
As the plot unwinds, supporting actors Josh Manzo (as Becky's melodramatic coworker, Steve), Christina Fountain (Walter's daughter Kensington), and Sharyn Young (Walter's once-rich-and-spoiled-but-now-broke-and-gold-digging neighbor Ginger) join in the intrigue. Blake Spiller is a goofy Chris Foster, Becky and Joe's son, who often worsens familial strife—hilariously—by offering analysis straight out of a psych textbook.
Sooner or later, Becky's double life begins to catch up with her, and she's no longer able to navigate the twisty road she's chosen. And then a new way out presents itself--another perfect, accidental deception she can simply choose not to correct. This time, however, the consequences could be dire, and her own mortality, not Joe's, falls into question.
Arts Editor Anna Weltner wants a new bike. Tell her what that really means at aweltner@newtimesslo.com.