A typical day at the office could be all kinds of awkward for one Grover Beach police officer who fought his termination at the hands of the chief, winning his job back with a recent ruling from a SLO County judge.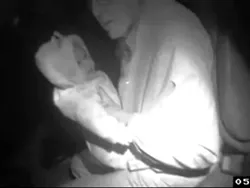 VIDEO IMAGE COURTESY OF GROVER BEACH POLICE DEPARTMENT
VINDICATED : Grover Beach police officer Santino "Sonny" Lopez, fired following a questionable July 2010 tasing incident, got his job back after a SLO County judge ruled that discrepancies between Lopez's official report and video evidence (pictured) were justifiable. Click here to see the full video or read New Times' prior reporting on the incident here.
Santino "Sonny" Lopez—a 15-year veteran of law enforcement and past president of the city's police officers' union—was originally fired from the department following an internal investigation into his handling of a case involving the alleged kidnapping of a six-month-old by an 82-year-old suspect.
On Feb. 2, 2010, Lopez responded to a call from a distraught mother, alleging that Peter Hewitt—with whom she was living at the time—had snatched her newborn baby and fled in his vehicle following an argument. Lopez and two other officers confronted Hewitt in his home garage, which was dark. Upon demand, Hewitt relinquished the infant to one of the officers. However, Lopez, fearful that Hewitt was resisting his fellow officer, deployed his department-issued X26 Taser at Hewitt without warning. The prongs didn't make it through Hewitt's clothing.
Hewitt was arrested and transported to county jail. No one was injured in the incident.
But Lopez's official report recalled things differently. He alleged Hewitt wasn't cooperative and was "using his arm muscles" to struggle with one of the other officers.
Lopez's taser, however, was equipped with a video camera that captured the episode. It showed what appears to be Hewitt complying with the officers' demands, and exiting the vehicle on his own.
For its part, the San Luis Obispo County District Attorney's Office filed felony charges of kidnapping, endangering a child, and resisting arrest against Hewitt. At his age, that could have essentially amounted to a life sentence. But four months later, those charges were dropped in exchange for a no contest plea to misdemeanor disturbing the peace, and he received a year of probation.
Lopez didn't get off so easily. Following the incident—and a July 2010 New Times cover story—Chief Jim Copsey put Lopez on leave, brought him back to patrol for six months, then terminated him, according to court records. He alleged that the officer violated several departmental policies: making misleading statements in an official report, violating operating procedures, engaging in "criminal, dishonest, or disgraceful conduct," and exceeding his powers by "unreasonable, unlawful, or excessive conduct," according to court records.
Lopez appealed the decision, participating in a three-day evidentiary hearing before a third-party arbitrator, Jim Gardiner, who's served as SLO City and interim-Grover Beach Chief of Police. Gardiner essentially acted as an administrative law judge, and found that the city didn't prove Lopez was being intentionally dishonest in his report.
Gardiner's opinion was only advisory, however, and City Manager Bob Perrault rejected his ruling, upholding Lopez's firing. Lopez then took his case to court.
It took nearly two years, but on Dec. 21, 2012, SLO Superior Court Judge Dodie Harmon ruled that Lopez "did not act with the restraint we would hope for from an officer with his level of experience" and characterized his report writing as "poor" and "negligent"—but didn't find that it was an intentional misrepresentation.
"If one watches the video and reads Officer Lopez's report, there may appear to be discrepancies," Harmon wrote in her ruling. "However, one must look to the testimony and reports of all witnesses to determine the significance of any such discrepancies."
Harmon added that the video did not capture the "human factors" involved in the incident.
"What witnesses see and hear during a stressful event may vary considerably from one another and certainly will vary from a recording watched frame by frame in the calm, non-threatening, non-stressful environment of an office," Harmon wrote.
"… Officers, like any witness, make mistakes; they may perceive something in the heat of the stressful encounter that later, upon calmer reflection, seems unreasonable. That, however, does not make it a false reporting nor does it make it a misrepresentation."
Finally, Harmon said that Copsey's allegation that Lopez's conduct was "criminal, dishonest, or disgraceful" was a reaction to New Times' "negative" reporting of the incident in question.
"The fact that an embarrassing story was written and published by the 'New Times' cannot fall on the shoulders of Officer Lopez," Harmon wrote.
The judge ultimately concluded that Lopez should be reinstated, but disciplined as the city deems appropriate.
Lopez's San Rafael-based attorney, Alison Berry Wilkinson, however, told New Times that the city fought tooth-and-nail against Lopez's reinstatement.
"I think that at the end justice was done. It was certainly a long road to get where we're at," Berry Wilkinson told New Times. "The judge got it right."
The attorney was assisted in Lopez's case by the Force Science Institute, an organization that works to defend law enforcement officers in excessive force cases. Scott Burhmaster, research specialist for the Institute, said the organization, as a matter of policy, doesn't comment on cases in which it participates.
Chief of Police Copsey confirmed to New Times that Lopez was back on "paid status" effective Feb. 1, but said he couldn't discuss his termination or reinstatement due to rules against discussing personnel matters. He did explain, however, that officers are granted an immediate appeal process following a termination in most cases.
Copsey also said that Lopez's complaint and Harmon's subsequent ruling represent only one side of the story. It should be noted that at the time of his firing, Lopez was serving as president of the Grover Beach police officers' union. In her ruling, Harmon wrote that while Lopez's disciplinary record is clean, there existed past instances when his "attitude" was criticized by supervisors.
His official firing also came as city officials and the officers' union was in heated contract negotiations.
According to Grover Beach Human Resources Manager Marnie Barrett, Lopez was officially rehired Feb. 1 with a gross annual salary of $69,936 not including benefits, a figure for which wasn't immediately available.
According to Berry Wilkinson, Lopez's struggle isn't over. She said that while he's technically back on the payroll, he remains on administrative leave due to department heads insisting on certain conditions to his employment before allowing him to return to patrol including a psychological examination, which she argues isn't merited due to Harmon's ruling. She filed for an April 3 hearing on the issue before Judge Charles Crandall in SLO County Superior Court.
Lopez couldn't be reached for comment for this article. ∆
Staff Writer Matt Fountain can be reached at mfountain@newtimesslo.com.