PHOTO BY STEVE E. MILLER
FERMENTED EDIBLES: Back Porch Bakery started out selling products literally on a porch, but now co-owner Dan Berkeland (prepping baguettes for the oven) makes many different types of bread for a variety of restaurants around the county.
Everybody has a dream, but people always find all of the excuses they need to keep them from getting started," said chef Dan Berkeland, founder and co-owner of Back Porch Bakery in SLO. He and his partner Bill Brocco own and operate a wholesale bread and pastry company that supplies many of South County's best restaurants with artisan breads, brioche hamburger buns, crisp croissants, and decadent, fruit-filled pastries. Although you can't buy their delicious goods at the bakery yet, they plan to open a retail shop in the not-too-distant future. But you can easily find their artisan baked goods at restaurants and stores in SLO and the Five Cities area (more on that to come).
When Berkeland told me the name of his baking business, he suggested it might sound silly. Not to me, I promptly replied. It's rather clever, really, since that's how he came to create his popular bakery. That's right: He sold bread from his back porch, and it was so good word quickly spread beyond the neighborhood where he lives with his wife Caroline and their three daughters. The idea of selling his breads got started during his second daughter's first birthday party. Another kid's father said to him, "You ought to sell this bread; it's good." It was enough to motivate him to start a Facebook page about it and bake focaccia to sell. He laughed, recalling: "The next day I called my friends and said, hey, none of you guys showed up to buy any. But after that, more and more people began coming to buy bread every day."
He began shooting photos of his friends with their freshly baked loaves and posting them on Facebook, which led to making many more new friends. One of those new friends was Avila Beach entrepreneur Michael Kidd, who wanted to buy bread and pastries for his La Fonda Hotel and Joe Momma's Coffee. The queue of customers kept growing, so Berkeland's next step was providing a bright blue and red flag on his porch and Facebook page. If the flag was up, it was worth parking to go inside and buy a loaf or several.
He quickly outgrew his home kitchen, but soon found a suitable business location in SLO and a new partner who loved baking. Bill Brocco had recently relocated to SLO from Pittsburg with his wife and children. The same age as Berkeland—both are 41—Brocco had tired of the big-city lifestyle.
"I wanted to live in a place that was family appropriate," explained Brocco, founder of an athletic clothing company that he sold to free him and his family to move on. "I had two kids and one coming. When I moved, I had no plan and no place to stay. But I had been thinking about going back until I met Dan. Our wives knew each other in a mommies group; that's where we met."
Brocco asked Berkeland for a recipe to make bread, and a great partnership began. The duo admitted to me that they constantly argue about life and baking concepts, but they were exhibiting their best behavior while I visited. I first met Berkeland when he was the chef at Sustenance (now defunct) in SLO. I was impressed by his passion for cooking, and the fact that he had lived in Switzerland and Italy where he learned to cook professionally. Throughout his professional cooking career, he's continued his work in the world of art.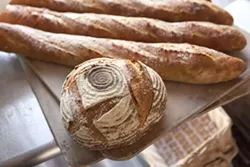 "People often call to see if they can come over and pick up our baked goods, as if we have bread lying around to sell," Berkeland explained. "That's not possible. We start making the croissants three days ahead, and they take 10 hours to proof. That's the beauty of the wholesale business; you only have to make what you know you're going to sell."
That said, he added: "It's a lifestyle thing; you've got to be willing to start at 4 a.m."
Berkeland and Brocco have done quite well considering the impressive line of customers for whom they provide their various breads, pizza dough, and pastries. While you can't purchase bread at the bakery yet, you can enjoy their decadent chocolate or almond croissants, freshly baked baguettes, and/or pastries at this growing list of great SLO County businesses: Bello Mondo Café, Coastal Peaks Coffee, Joe Momma's Coffee, La Fonda Hotel, Linnaea's Café, Lincoln Market, Luna Red, Novo, Nucci's Pizza, Ocean Grill, Robin's, Sal Paradise, Sidecar, Vintage 1255, and Two Cooks Catering.
"Baking at the house was a cult-like thing. I don't want this to be a special thing—I want it to be a daily thing because it's delicious," Berkeland pointed out. "And we want it to be a daily thing that's affordable."
I love discovering artisans like Berkeland and Brocco and writing about them so others can find their great products, too. At first I thought this story was about the Back Porch Bakery and their great breads and pastries; perhaps I'd add some recipes. But as I wrote the story, it occurred to me that that wasn't the point at all. It's about people who are so consumed by their passion they dared to make it a business, and it was successful far beyond their wildest dreams. Think about it—Facebook helped make that happen.
My story is similar: When my husband Dan and I relocated to SLO County nearly 18 years ago, I began my longtime dream of writing a column about food and wine, thanks to New Times founder and my mentor, Steve Moss. So now I ask my readers—what's your dream and what are you doing to make it come true?
Contact Cuisine columnist Kathy Marcks Hardesty at khardesty@newtimesslo.com.