PHOTO COURTESY OF BAKER & BRAIN
THEY'LL OVERTHROW THE EARTH: At Baker & Brain in Edna Valley, every delicious wine is handcrafted by (left to right) Matt Brain and Josh Baker.
Starting out in the wine industry in 1989, I learned the old adage (old even then) that if a wine is labeled organic don't expect much in quality. Any green wine was generally scoffed at, and it was often true of early attempts that resulted in rustic, funky tasting wines. Today, that prejudiced outlook couldn't be any further from the truth. Honestly, now I would tell you that if the grapes that made the wine you drink were not sustainably farmed, you're drinking inferior (very possibly bulk) wines. That's why it was exciting to discover a relatively new brand that was built on the philosophy of environmental consciousness: Baker & Brain.
During the recent Earth Day fest, followed soon after by a tasting with the co-owners, I was blown away by the quality and delicious characters in every one of their white and red wines. Not only that, the two families who co-own it are committed to making extraordinary premium wines and offering them at value prices. Owned and handcrafted by two talented winemakers, Josh Baker and Matt Brain, both artisans had several years of experience before they met. They became friends after Baker hired Brain as his assistant winemaker at Edna Valley Vineyards. "We found that we had very similar palates and we had so much passion for wine. We became friends, and the seeds were started," Matt Brain recalled about their meeting in 2008 that led to their business partnership.
"We were lucky enough to get advice from winemaker friends like Mike Sinor, Steve Dooley, Russell From, and McPrice Myers about starting our brand." Before committing to the partnership, the duo camped out in Yosemite to make sure their personalities were also well matched. "We had the best time there," Brain added. Some vintners warned them not to use their names for the brand, just in case things didn't work out. "We kicked around different names, but our names provide a neat imagery. We had the passion and we were committed. We're proud to have our names on the label."
This is truly a family affair when it comes to running their brand, from the winemaking to the bottling, webpage, public relations, bookkeeping, and wine club. Matt's wife and partner, Melanie Brain, helps run their brand, as does Josh's wife Katie Baker. I tasted through all the wines and discussed them with Baker and Melanie; it was fun getting to know these highly motivated vintners and their wines. "We are pinot-centric, it's our greatest love," Baker said. "But we also love cool climate Rhone varieties, they're pretty special."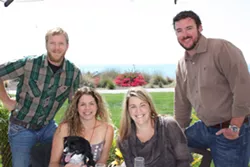 PHOTO COURTESY OF BAKER & BRAIN
BY THE DAWNING OF THE SUN: Baker & Brain is a family owned and operated boutique winery by Matt and Melanie Brain, and Katie and Josh Baker, respectively.
Baker and Brain are fraternity brothers, although they attended different schools. Yet it seems natural that they shared another commonality. They each wanted to create a brand that showcased California's small, highly-specialized growers farming winegrapes sustainably. When it comes to being environmentally responsible, it's not advertising hype for these two ardent families. They are downright moralistic about their beliefs, and their commitment is evident in every impressive sip of their fine wines.
I love this brave new wine world where winemakers follow their passion rather than chasing high scores from critics. Nonetheless, they're earning critical acclaim and now have vineyard owners asking Baker and Brain to buy their grapes in hope their vineyard designation appears on the label.
"We strive to find growers doing things right," Baker said.
SIP Certified
The Central Coast Vineyard Team created SIP-sustainable in practice—15 years ago. SIP certifies vineyards that have surpassed rigid regulations in farming. They teach wine growers and wine producers about making great wines, creating healthy vineyards, and respecting the well-being of their workers in every aspect. When you buy SIP wines you're supporting that community. Their constantly growing winery member list includes 34 wineries from Monterey to Santa Barbara. In SLO County there are 21: Ancient Peaks, Baileyana, Baker & Brain, Cass, Castoro, Chamisal, Claiborne & Churchill, D'Anbino, Edna Valley Vineyard, Halter Ranch, Niner, Opolo, Peachy Canyon, Pomar Junction, Robert Hall, Tangent, Terra Robles, Tolosa, Trader Joe's, Trenza, and Zocker. Learn more at sipcertified.org.
Keeping their day jobs
Like most boutique brands, Baker and Brain still maintain full-time jobs. Brain left Edna Valley to work full time at Cal Poly, as a lecturer on enology, cellar master, and winemaker for the campus winery (the teaching facility isn't bonded so they can't sell the wines) and for the Cal Poly Mustang Wines produced at Orcutt Road Cellars, which are sold locally. Seven months later, Baker left Edna Valley Vineyard as winemaker for custom winemaking at Phase 2 Cellars (located at Tolosa Winery).
Although they don't own a winery, yet, they're pleased with their space at Phase 2 Cellars. Melanie previously worked at Tolosa, which was part of the reason they chose it for their winemaking production.
"The winery is sustainably certified, solar, and all high tech so it's good here, all around," explained Melanie, who also handles social media and events for Baker & Brain. "With our wine club we're growing a family who understands what we're doing." And as a reward they throw fabulous wine club parties where Maegen Loring Catering creates awesome food pairings with their wines. Learn much more about this excellent brand at bakerandbrain.com where you can read their story, order wine, and join the wine club.
Brain provided good news about their future. They became so enamored with gruner veltliner (theirs is the finest California version I've tasted) they leased land on the southwestern side of Edna Valley to plant 2 acres for their brand. It's obvious that Baker & Brain is a boutique winery to watch, it will grow better. There's more demand for sales than they can meet now at 1,500 cases, but they're not going to change the quality in order to produce more quantity to sell. Baker concluded, "The thought is to always over deliver."
Contact Cuisine columnist Kathy Marcks Hardesty at khardesty@newtimesslo.com.