It's Friday night. I'm in downtown SLO. I've just eaten my weight in garlic fries. That means it must be time for one thing: It's time to hear some quality dick jokes.
To be honest, this is the general pattern for how I spend most of my Friday nights: gross gluttony followed by George Carlin-level vulgarity. Sure, most of the time, I do this by myself, watching stand-up on my scalding hot laptop, surrounded by the crumb-ridden contours of my bed and a vat of root beer.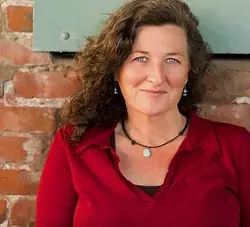 PHOTO BY ROBIN GODFREY
FUNNY GIRL: Maddy Sinclair has been a longtime staple of the SLO Little Theatre's monthly No Shame event, where participants perform original material.
But this past Friday, I was in luck. The SLO Little Theatre just happened to be debuting its new late-night comedy series, After Hours. Drinks were promised, laughs were ensured, and real live humans were expected to be there! I had to go! And go, I most certainly did.
I had been aware of the After Hours debut for some time before attending. On the Little Theatre's website, the series' premiere was advertised as a one-woman comedy show by the British-born humorist Maddy Sinclair. However, aside from the title, Why Am I Telling You This?, there was no telling what these tellings would be.
Why is she questioning why she is telling you this? Is it naughty? Is it personal? Is it just an elaborately staged criminal confession? Is Maddy Sinclair actually Banksy, and is this her coming out? I wasn't sure what to expect, but—spoiler alert!—Sinclair is not Banksy.
The show is set to begin at 9:30 p.m. And after a prolonged wheezing fit due to eating too many garlic fries, I make it to the doors at 9:25 p.m. Whew! Just in time!
I can already tell the atmosphere is a bit different from the Little Theatre norm. There's some serious boozing going on; the crowd has indeed brought the ruckus; and the air is relaxed, casual, and prime for this kind of informal, no-kids-allowed evening. The music is pumpin', the laughter's already begun, and right before Sinclair walks on, they bust out Salt-N-Pepa's "Push It." Oh yeah. To quote nobody's favorite Black Eyed Peas song, "Let's get it started!"
The stage features a signpost with words like "Authenticity," "Hope," "Love," and "Sex" written in bold black letters. Is this a to-do list? A running order from some kind of Amazon.com for emotions? I don't have time to answer for myself. Sinclair waltzes on stage, ready to rock.
Born to a Scottish father and Swiss mother, Sinclair has a voice that's immediately striking. This has nothing to do with my backward, all-Brits-speak-like-Dick-Van-Dyke-in-Mary-Poppins American way. Sinclair's voice isn't distinct because of its provenance, but, instead, because of its power. She's sarcastic, surly, and unafraid to skewer sexism with embarrassing tales from her own sordid past.
"I'm going to indulge my worst habits on stage," she states upfront. And thus, the gauntlet has been thrown.
It becomes clear, as Sinclair discusses the inanities of female body expectations, the carelessness of ex-boyfriends, and the grotesque realities of sex, that the This in her title includes just about everything, including the kitchen sink.
With relish and shameless guile, she relays her bawdy tales of relationships turned sour, awkward childhood memories, and physical discomfort.

TELL ME MORE: Maddy Sinclair's "Why Am I Telling You This?" will be playing at the SLO Little Theatre, as part of its After Hours series, through Oct. 26. Shows are on Friday and Saturday at 9:30 p.m., and on Sunday, at 7 p.m. For more info, visit slolittletheatre.org.
"Americans are weird about unplanned nudity," she begins a childhood reminiscence about her habit of playing naked with the neighborhood boys and their "winkles." Somehow, this story involves daisies, but I will not divulge how or where.
Like the majority of Sinclair's one-woman tour de force, she tells this story because 1) it's funny and 2) it does what good comedy is supposed to do: subvert societal norms and point out the absolute absurdity of constructs like shame or the "princess industry" for girls.
But Sinclair plays devil's advocate. This isn't a one-sided militant rant. It's much more along the lines of an irreverent and playful confessional.
She admits, "Men have been lied to as we have."
For instance, just like women, men don't age all that well either. In one inspired bit, Sinclair reenacts a certain drooping part of the male anatomy stirring breakfast in a mixing bowl. Sure, it's crass. But Sinclair's got balls and she's not afraid to show them—and, more importantly, use them—for ultimate shock effect.
Given the above material, it would be easy to dismiss Sinclair's subjects as hackneyed. Men versus women? Puh-lease. Heard it a million times. Embarrassing childhood? Go tell it to Barbara Walters. But you'd be mistaken for writing her off so quickly.
Over the course of more than an hour, it becomes clear that Sinclair's show isn't about men or women or mothers or fathers or even ball-battered breakfasts. It is, like all successful comedic acts, about herself, but in the best way possible. It's about being comfortable with one's self and one's flaws, and that is, like I hope the SLO Little Theatre's subsequent After Hours shows will be, powerfully refreshing.
Jessica Peña is going to be wary of breakfast for a little while longer because of this show. Send her alternative food items via jpena@newtimesslo.com.