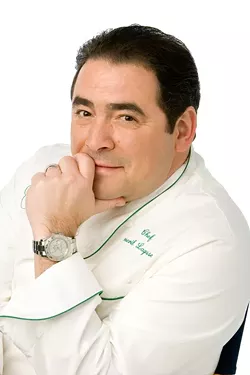 PHOTO BY STEVEN FREEMAN
THE MAN : Emeril Lagasse will prepare dinner at Hearst Castle and conduct a cooking demonstration at Dolphin Bay Resort.
W
hether you're a food lover or an aspiring chef, you've undoubtedly watched celebrity chef Emeril Lagasse on the television Food Network for many years, bought his cookbooks, and prepared his dishes. I have some exciting news to share with you: This summer, Emeril is coming to SLO County as the star chef of the Central Coast Wine Classic (CCWC). He will be accompanied by two other renowned New Orleans chefs, to prepare dinner at Hearst Castle; a meal I'm certain none of us will ever forget. Not only that, he's going to provide us with a live cooking show at Dolphin Bay Resort.
If you want to thrill the food lover in your life with the ultimate Valentine's Day gift, give him or her tickets to see Emeril. Available now at centralcoastwineclassic.org, tickets can be ordered for the wine dinners, symposia, and wine tastings that will take place July 8 through 11. With the brilliant attraction of some of New Orlean's best chefs, tickets will sell out fast. Fortunately, executive director and founder of the CCWC, Archie McLaren said the space for the Hearst Castle dinner will be expanded this year as will the area for the cooking demonstration to accommodate the many people eager to attend both events.
The CCWC has brought many stars of the wine and culinary world to us during the past 25 years, and it continues to rank among California's finest wine auctions. In fact, last year, which was a tough economic time for the culinary and wine world, the CCWC was the only high-level charity auction to register an increase of at least seven percent in auction proceeds; even the renowned Napa Valley Auction was down 50 percent! During the last six years, the CCWC Foundation provided $1, 370,025 in grants to 62 nonprofit organizations. This year, there are 16 nonprofit beneficiaries, including: Food Bank Coalition of SLO County; God's Haven for Children; Pacific Wildlife Care; and United Cerebral Palsy Work of Santa Barbara. The CCWC also benefits SLO County tourism— last year it brought in patrons from 30 states.
Nevertheless, this year's CCWC will be unforgettable with the elite of New Orleans culinary world converging in SLO County for this charity event. McLaren explained: "Emeril and his wife Alden Lagasse and their families are coming. The Brennan family is attending, too, to celebrate the Wine Classic's long relationship with New Orleans' chefs."
I've been fortunate to vacation twice in New Orleans with my husband Dan, where we enjoyed the Creole/Cajun cuisine at each of Emeril's restaurants: Emeril's, NOLA, and Delmonico. We have also dined in Emeril's restaurants in New Orleans, Las Vegas, and Miami. Yet we have never had the opportunity to see the chef in person. That thought motivated me to ask Archie how he managed to get the busy chef to come to the 2010 CCWC.
"I met Emeril around 13 or 14 years ago when I was in New Orleans with Jim Clendenen (the founder and "the mind behind Au Bon Climat"), McLaren said. "We decided to celebrate New Year's Eve at Emeril's and Jim introduced me to Emeril. Jim and Emeril are very close friends. Since then I've been in touch off and on supporting his charity endeavors through the Emeril Lagasse Foundation that aids underprivileged children. He has also donated to the CCWC from time to time." During the recent Emeril Lagasse Foundation charity auction in Las Vegas, one of Alden's relatives bid $90,000 to win tickets to the 2010 CCWC.
Although Emeril will certainly be the star of the big show, McLaren's intention was to focus on the restoration of the New Orleans culinary scene. The two premier chefs attending are: Susan Spicer of Bayona; and Tory McPhail of Commander's Palace, who was crowned the 2009 King of Louisiana Seafood. Chef Michael Hutchings of Santa Barbara will present the hors d'ouevres for the six-course meal. The wines poured with each course will be provided by the six wineries to be named as this year's honorees. Champagne Duetz will be pouring their outstanding bubbly at Hearst Castle, and will conduct Friday's Champagne seminar.
I also called Clendenen to ask how he befriended the chef 16 years ago. "Emeril was really into wine when he started his career. I was at a charity event at the Grove Isle Resort in Florida with several top chefs, including Jean Louis Palladin and Emeril. I volunteered to pair the wines for the dinner. Palladin was preparing foie gras with quince and wanted the typical sweet white wine to pair with it. I paired it with our Talley Pinot Noir Rosemary's Vineyard, and Palladin was aghast. When everyone said it the best pairing of the meal he told them: 'I thought of it first.' That evening Emeril and I really hit it off," Clendenen remembered.
When they returned to Miami South Beach, they went to breakfast at the popular News Café (which is still in business and always busy). "It was right after the '95 harvest, a year when Central Coast grape crops were ridiculously low, averaging one ton or less per acre. Emeril began the crusade while we ate even though I told him there wasn't enough fruit that year. After a few more espressos I finally acquiesced. One more espresso and he would have owned Au Bon Climat," Clendenen laughed.
Clendenen has been making house wines for Emeril's restaurants ever since. He also attends and supports the annual Emeril Lagasse Foundation event that takes place in Las Vegas and New Orleans. Naturally, when the cooking demonstration happens at Lido in Dolphin Bay Resort, Au Bon Climat wines will be paired with the three-course meal.
Besides the various winemakers' dinners and the grand tastings taking place, McLaren is enthusiastic about the seminars he's created for the 2010 CCWC: "Guests who attend the Riedel symposium will go home with a collection of glasses valued at $170. For the Pinot Noir symposium we'll have Pinots representing the finest appellations in California." Lastly, he plans to set up a percussion jam session as a surprise for Emeril who is also a drummer. No matter which part of this great wine festival and auction you attend, it will surely be an extraordinary experience.
You can reach New Times' Cuisine columnist at khardesty@newtimesslo.com