After a long day spent in the sun traversing the beautiful Carrizo Plain on April 2, I couldn't think of a better place to relax on Sunday night than at Bang the Drum Brewery, which was hosting its annual Puppy Love event to benefit Woods Humane Society.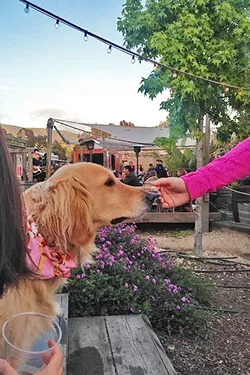 PHOTO BY PETER JOHNSON
OLD SOUL: While most dogs excitedly barked, played, and marked their territory at Puppy Love, this older golden retriever with a pink bandana moseyed quietly around the patio, smelling flowers and saying hi to the humans.
The concept: Bring your dogs and friends and enjoy Bang the Drum brews, bites from The Grilled Cheese Incident food truck, and live music. Plus, 15 percent of all the night's proceeds go to Woods. My girlfriend and I don't own any dogs yet, so we actively look for any excuse to hang out with them. Plus, we were really craving grilled cheese after our Carrizo Plain adventure.
Stepping into Bang the Drum, the fun and chaos of this epic doggy party immediately hit my senses. Dogs of all breeds and ages pace around the brewery patio playing, barking, and peeing. Before sitting down with our beer, Clare and I gunned it for the grilled cheese truck and ordered two sandwiches to share.
PHOTO BY PETER JOHNSON
THE INCIDENT: Puppy Love night at Bang the Drum Brewery wouldn't have been complete without the service of the Grilled Cheese Incident food truck.
As we chowed down on the food and I drank a Tahitian Knight imperial porter, with Tahitian vanilla beans aged in bourbon barrels, we met a few dogs: Freddie Mercury, a golden retriever puppy, and Doughboy, a pit bull.
Doughboy's owner adopted him at Woods and got his adoption fees waived since he's an Army veteran. We chat about what a great service they do and why the event was a great way for the community to give back. Meanwhile, the dogs were playing relentlessly, especially Freddie Mercury and a black lab pup, who were drawing laughs from the entire patio as they wrestled all over the ground. Before long the live music started and the sun dipped over the hills.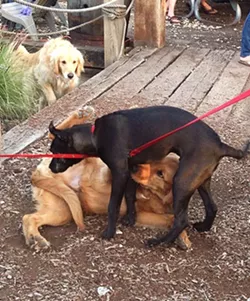 PHOTO BY PETER JOHNSON
PLAY!: These pups became best friends on the spot and played relentlessly at Bang the Drum Brewery's Puppy Love event.
While Puppy Love was definitely fun and hilarious, it was a little painful to see so many happy dog owners and not have a pup ourselves. Our curiosity made for some interesting conversations with owners about raising different types of dogs and for brainstorming about what breed we eventually want to adopt (for me, a German shepherd, for Clare, a pit bull). Good times, Puppy Love—hopefully we'll be back next year!
Staff Writer Peter Johnson is looking on Woods Humane Society's website for dogs to adopt at pjohnson@newtimesslo.com.
SPREAD THE LOVE: For more information about donating, volunteering, or adopting at Woods Humane Society, visit woodshumanesociety.org.