I've lost worse bets," says Bull's Tavern general manager Cody Hartwell, who looks adorable in pigtails and a cowgirl hat.
PHOTO BY GLEN STARKEY
DUDES LOOK LIKE LADIES … NOT REALLY : (Left to right) Zoe Baysinger, Cody Polakowski, Joss Mississippi, and Cody Hartwell strutted their stuff on April 7 at Frog and Peach, with tips going to autism research.
"Wait, I thought this was the transgender convention," I retort before ordering a Miller Lite.
Nope, it's payback time. For the past three years, Bull's and McCarthy's Irish Pub have been having a little contest to see who can sell the most shamrocks to raise money for the Muscular Dystrophy Association (MDS). This year, the bartenders of Frog and Peach wanted in on the bet. Whoever raised the smallest amount of money agreed to bartend at the winner's bar … in drag.
It was a fierce battle, but when it was all over at the end of March, Frog and Peach had raised $2,236, McCarthy's raised $1,999, and Bull's raised $1,503. That's $5,738!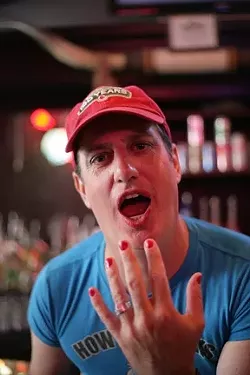 PHOTO BY GLEN STARKEY
BUFFALO BILL? : Bull's bartender Rich Reynolds discovered removing make-up is harder than he thought.
"It's so cool to see what they built this into," says Bill Hales of Ash Management, who runs all three bars. "We've even had some other establishments—Granada and Kreuzberg—say they want to join in next year. We want to open it up and make it bigger."
But this is more than a fundraiser for MDS. All the tips collected by the Bull's bartenders—$860 in total—are being donated to autism research. And Frog and Peach donated 10 percent of its sales, totaling another $200, to research. So here I am on Sunday, April 7, day drinking in Frog and tossing some cash into a tin pail.
John Polakowski, who's behind the bar with Cody, lifts up his skirt to reveal a bright pink G-string parked askew over his bike-shorts-clad junk. Some things you can't un-see. Cody's green T-shirt says, "Got Your Tickets?" And underneath that, "To the gun show," with a little arrow pointing to his left arm.
Then in walks Joss Mississippi, or so he says. I get the feeling this may be a pseudonym. He's with Zoe Baysinger, which also sounds like a phony name.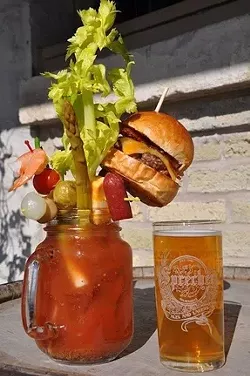 FILE PHOTO
GO BIG OR GO HOME! : On April 14, Sweet Springs Saloon in Los Osos will present its 30th annual Bloody Mary contest, and Glen Starkey will be there to share in the judging duties.
"You look good," Cody tells Zoe. "You look like an Italian aunt."
I notice Joss has a pack of Parliament cigarettes tucked into his bra. Gotta love the details!
In fact, Cody's got on some sweet fishnet stockings.
"Where'd you get your stockings?" I ask.
"My wife! The nude fishnets! Hard to come by, apparently."
"Where's my pal Rich Reynolds?" I ask.
GET BLOODY!: On Sunday, April 14, between 1 and 5 p.m., Sweet Springs Saloon in Los Osos is holding its 30th annual Bloody Mary contest, and Glen Starkey and five other Bloody Mary lovers will be judging to see who makes the best one in the county.
"He worked the early shift but he's back at Bull's right now," says Cody. "You should go check him out. Rodney Dangerfield never looked so good."
So I do go and see him, and wow, I guess he forgot the make-up remover. He's in men's clothing, but the lipstick, the rouge, the eye make-up, and the painted fingernails—all still intact.
"You look like Jame Gumb, you know? Buffalo Bill from Silence of the Lambs," I say.
Then he starts vamping for the camera. Ay carumba! I gotta get out of here.
Next Sunday should be less unsettling. I'm heading to Sweet Springs Saloon to judge their 30th annual Bloody Mary contest from 1 to 5 p.m. Come on out! I'm pretty sure no one will be in drag.
Glen Starkey takes a beating and keeps on bleating. Keep up with him via twitter at twitter.com/glenstarkey, friend him at facebook.com/glenstarkey or myspace.com/glenstarkey, or contact him at gstarkey@newtimesslo.com.