PHOTO BY KATHY MARCKS HARDESTY
FAMILY FAVORITE : Richard Cowell opened his fabulous deli little more than three years ago but locals consider it home.
I
first heard about the excellent food at Rancho Nipomo from winemaker Ardison Phillips of McKeon-Phillips winery. Sometime later I was reminded of it by winemaker Ariki "Rick" Hill of Labyrinth, who spoke highly of it. Then I read a glowing review by Teri Bayus in Grover Beach, and I thought, 'I've got to try this place.' Yet it still took me a while to get there and when I arrived on a Monday, sadly I discovered it's the only day Rancho Nipomo is closed.
I found it well worth the effort when I returned a month later. I was so pleased with the quality and bargain prices I could hardly wait to go back to try more. A week later I was back eagerly anticipating my order of barbecue pork ribs and I loved them. Once home I immediately phoned owner and chef Richard Cowell, who opened his fabulous deli three-and-a-half years ago, and told him I wish I had found his place sooner. Cowell laughed good-humoredly and said, "People tell me that all the time."
RANCHO NIPOMO BBQ & DELI: 108 Cuyama Lane, Nipomo 925-3500
On the the first visit I tried the dish for which they are renowned,
barbecue
pulled-pork sandwich, the petite version, which costs $6.95. Served on a freshly baked Mexican teleta bun, it was the size of a chain's large hamburger. But here the regular-size is gigantic compared to that of other delis and chains. Rancho Nipomo had me hooked with my first bite of that delicious, savory sandwich, overflowing with melt-in-your-mouth pork dressed in the housemade 16-spice barbecue sauce. I loved the fact there were no globs of fat in the pork, nor was it greasy. It's served with Cowell's fresh and crunchy coleslaw, which tastes even better on the sandwich. It's messy but you'll be licking every delicious drop off your fingers. I couldn't handle more than half of it and saved the rest for lunch the next day.
I was with Rick Hill and his wife, winemaker Lane Tanner, so we ordered extra side dishes to taste test. They shared a Labyrinth and a Lane Tanner Pinot Noir, both excellent, which made it a splendid meal. We split the carne asada (beef) taco and the chile verde (pork) taco, served street style on fresh corn tortillas, only $2.55 each. We all preferred the chile verde for its meltingly tender texture and flavor.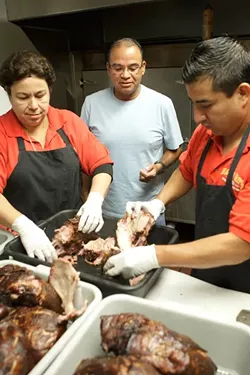 PHOTO BY KATHY MARCKS HARDESTY
PORK-TASTIC! : Cowell (center) and colleagues Norma Moreno and Ricardo Perez are ready to pull pork for their renowned sandwiches.
Later I learned from Cowell that he prepares the meats differently for each dish. He said that he doesn't mix the barbecue sauce with the shredded pork until it's served, and then he adds it as a condiment. "We make the pulled pork the way they do in the south, smoked and dressed with a barbecue sauce that's a little sweet, not vinegary. The pork is smoked from 8 p.m. to 8 a.m. every day, then pulled apart by hand," he explained. "For the chile verde we take pork shoulder, cut it into steaks, and char-broil it. Then we cube it and simmer it in the chile verde sauce until it's tender. At that point the sauce and meat emulsify to make a good ol' gravy."
On my second visit, I was alone for lunch. I prefer pork ribs, but I'm persnickety. Cowell's son Richard, the front man who greets customers, recommended trying them wet rather than dry. They were definitely unique: falling off the bone tender, with a sweet/tangy barbecue sauce that tastes of brown sugar and spice and creates a crispy sweet crust on the ribs.
"The ribs are smoked first and then we add the barbecue sauce and caramelize them on the grill," Cowell's son pointed out. "Everything we make comes from my dad's recipes, he loves to barbecue." Not only were the ribs delicious, they were plentiful. The half-slab plate provides six meaty St. Louis cut ribs, choice of salad (coleslaw, potato, or macaroni), their West Coast chili beans (seasoned with beef chorizo, tri-tip, onion and secret chili seasonings), and garlic-butter grilled teleta bread, $15.99; the full slab of ribs is $22.99. I barely put a dent in the half-slab, consuming two ribs with tastes of the sides; I brought most of it home.
PHOTO BY KATHY MARCKS HARDESTY
Before leaving I wanted something else to share with my hubby Dan. Cowell's son suggested the El Camino Real Special with choice of meat, so I chose the chile verde hoping it would be as delightful as my first taste of it in the taco. It was better. In fact, I preferred that luscious, braised pork, it's that exceptional. Served with chili beans, homemade salsas, homemade flour tortillas, and a medium fountain drink for only $12.95, it would satisfy a stevedore. The homemade guacamole was so good I slathered it all over my chile verde.
Cowell's paternal grandfather relocated from Yuma, Arizona, to Santa Maria in 1931. His mother grew up in San Luis Obispo, where she was the first Hispanic cheerleader at Mission Prep High School. Cowell said he and his wife Brenda were both born in Santa Maria.
In his efforts to make Rancho Nipomo a comfortable gathering place, he was diligent about choosing the perfect décor, from the wall colors and murals to the curios. He noted he serves Coca-Cola because it's nostalgic for Americans. And maps are kept on hand to aid the travelers who find him through Internet networks like Yelp.
PHOTO BY KATHY MARCKS HARDESTY
"We're not making money but the people make it worth it all. Life is short and we have the opportunity every day to make a difference," Cowell said earnestly. "I had a dream and my family, my workers, even my little granddaughter Savannah, all help to make it work."
He only started cooking professionally when he built Rancho Nipomo at the junction of Highways 101 and 166, but says he's always been a barbecue aficionado. He said he wanted to establish a communal gathering spot. "I call our place a California style deli, I grew up eating this food. It's not authentic Mexican so I call it California style. Because I like people and I'm a foodie, I wanted to create a place for foodies," Cowell chuckled. "I like to cook for people and have them come to the table and forget about things that trouble them. Religion, politics, the economy, it all falls to the side when everyone is talking about food." ∆
You can reach New Times' Cuisine columnist at khardesty@newtimesslo.com.