Elvis on velvet, the Supremes on the juke, and a spicy michelada on the lips make for more than simple nostalgia for Range owners Jeff and Lindsay Jackson. At Roslina in Santa Margarita, San Diego street flavors, cold Mexican lager, and a whole lot of irresistible bubbly queso come together to create the culinary hug that is Executive Chef Jeff Jackson's "barrio soul food."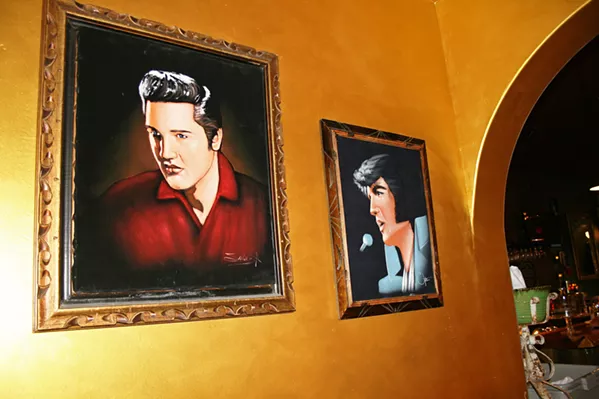 Photo By Hayley Thomas Cain
Rosalina in Santa Margarita.
By now, everyone from the Los Angeles Times food writer to your abuela has heard of The Range. If you live in SLO County, you've probably come to respect the tradition: long horns perched above the door, the high lonesome wails of classic country, the satisfaction of a Lone Star beer (in the can) or a glass of fancy Paso wine.
The once unassuming country joint with the truly upscale "honky-tonk French fusion" menu has been around for more than a decade now serving up steaks, lamb, and that addictive Dragon's Breath appetizer. Now, the Jacksons are offering a totally different—albeit equally authentic-feeling—experience just across the street.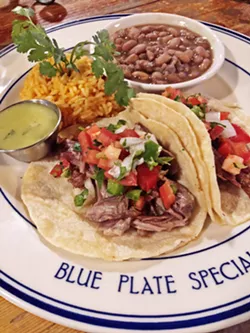 Photo By Hayley Thomas Cain
A CULINARY HUG Brought to you from the owners of The Range, Rosalina is Santa Margarita's new bar specializing in craft and Mexican beers, wines imported from Spain, Argentina, and Chile, and "barrio soul food" like tacos, quesadillas, tortilla soup, and savory sandwiches.
Inspired by Jeff's mom, Rosalina, the feel-good offerings hark back to the chef's upbringing in Springdale, a San Diego County border town where Mexican and American life truly blurred. Jeff's small family farm grew garlic, as well as raised rabbits for meat and worms for bait.
Rosalina's kitchen isn't far from the real Rosalina's kitchen. Think from-scratch salsas, vats of seasoned frijoles, the sharp smell of raw onion and cilantro, savory meats smoking with whole dried chiles and Mexican spices.
With chef Mickey Lopez in the kitchen, Rosalina is turning back the clock and the flavors of Jeff's childhood one plate at a time. Lopez came from Guerrero, Mexico, to the U.S. in 2002 and cut his teeth at Cambria restaurants Robin's and Linn's. That's where Lopez met chef Chris Kobayashi, former owner/chef at Artisan in Paso Robles, where Lopez also worked for 16 years.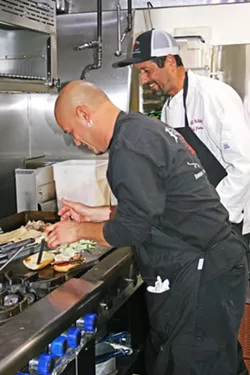 Photo By Hayley Thomas Cain
SOUL FOOD Rosalina Chef Mickey Lopez (foreground) and Executive Chef/owner Jeff Jackson play around with Mexican and American comfort flavors.
"We're waiting for Rosalina to come over and try the food," Lopez said with a laugh. "It's always good to see your mom come in, and she should be coming soon. The red hot sauce we make is actually Rosalina's mom's recipe, her grandmother's. I really like that that many of these recipes are part of the family."
The business quietly opened as a beer and wine bar in the summer of 2017, specializing in craft and Mexican cerveza; wines imported from Spain, Argentina, and Chile; and killer house-made chips and salsa (the green tomatillo flavor is just as good as Rosalina's red). Chef Lopez suggests his famous hummus for folks who are still working their way up the spice-o-meter.
However, there's more than chips to crunch. To the joy of many a Santa Margarita local, the kitchen recently expanded this fall to include more than a badass bowl of guac.
Photo By Hayley Thomas Cain
MAMACITA At Rosalina, micheladas are made with a sweet-sour hot sauce along the rim, adding the perfect lip-smacking, spicy kick.
Now, you can grab a refreshing shrimp salad, a big bowl of steamy tortilla soup, nachos with seared crusted yellowfin tuna, or a "bolillo" sandwich laden with citrus marinated pork loin, black forest ham, grilled pineapple, and chipotle aioli (Jeff's take on a Cuban). Go big with the Chupacabra, aka smoked pulled pork with ancho sauce and seasonal fruit salsa, or go Sloppy José style with Angus beef birria, a spicy stew popular in Jalisco, Mexico, known to really stick to your gills.
"If you look at Jeff's background with French food at The Range, it's a lot of sauces, a lot of braised meats and cooked-down stuff. That all really originates from the French countryside; it's what the peasants and farmers used to eat," said Rosalina General Manager Jono Kinkade. "It's like a tarte tatin, taking the not-so-perfect apples and cooking them down into something amazing. Now, that's considered 'gourmet.' Really, that philosophy is what makes great Mexican food. It's working at Rosalina, too."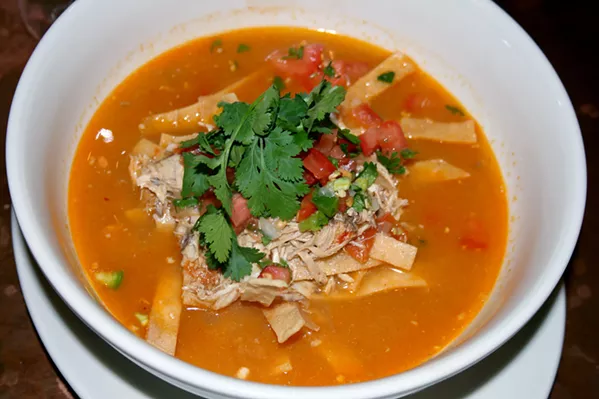 Photo By Hayley Thomas Cain
Rosalina in Santa Margarita.
The cozy hangout has all the vintage charm you'd expect from the owners of The Range (a great old-timey portrait of Rosalina, big 1960s hair and all, surveys the scene from high atop the beer taps; Americana and Mexicana ephemera are equally scattered throughout, and the tables are seated with old church pews).
You can order up a cold one and a "jar o' pickles" (house escabeche with jalapeños, cauliflower, carrots, and onion) and just chat with the locals, who have already claimed the joint as their own.
The prices are also pretty chill. A recent special: Two hefty pork confit tacos with rice, beans, and salsa was priced at $15 and produced leftovers for my husband.
Rosalina should be proud. Here, the quesadillas are a meal worth sharing with friends, and the sangria is made with the good cava. In 2019, expect new additions, like a Tijuana-style Revolucion Street Dog and ceviche.
Chef Lopez is particularly excited about rolling out more winter soups, which will provide a twist on American flavors like chicken noodle and minestrone, but with a major kick in the Wranglers.
Photo By Hayley Thomas Cain
Rosalina in Santa Margarita.
"A lot of places around here are taking the seeds out of their chiles. We're not going to do that," Lopez said, adding that there's a good mix of American comfort and authentic Mexican heat to go around.
Speaking of "comfort," Rosalina has its own version of The Range's beloved Dragon's Breath, and—not unlike the sizzle of fajitas—this appetizer tends to get everyone's eyes rolling in the direction of your plate.
This Tres Quesos Fonduta is basically heaven: broiled Mexican cheeses with blistered poblano chile and a mess of those crunchy-never-greasy house-made tortilla chips.
You will eat too much of it, but you will still need to make room for dessert (on the evening I visited, this was fragrant, boozy coconut rum cake with caramel sauce).
It's enough love to make you fall right off your glittery, vinyl-wrapped barstool. If you ask Jeff, that's kind of the point.
This is the food your mom would overfeed you if you only let her.
It is simple yet overflowing with the desire to drape your belly in a thick Mexican blanket of happiness.
It is a mother's love. Rosalina's, to be exact. Δ
Hayley Thomas Cain is feeling spicy. She can be reached at hthomas@newtimesslo.com.