Former state Assemblymember and former U.S. Rep. Andrea Seastrand stood in front of the San Luis Obispo County courthouse and summoned her best Arnold Schwarzenegger impression.
"I'll be back."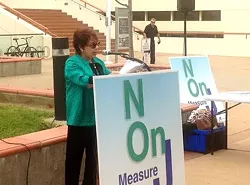 PHOTO BY CHRIS MCGUINNESS
JUST SAYING NO: Andrea Seastrand and members of the Central Coast Taxpayers association held a rally Sept. 12 to speak against a proposed transportation sales tax ballot measure.
Seastrand, president of the Central Coast Taxpayer's Association (CCTA), spoke to a group of about 30 people Sept. 12. Her organization is officially heading up the opposition to a proposed half-cent transportation sales tax measure, Measure J, that will be on SLO County's November ballot. Seastrand used the former California governor's most famous catchphrase to highlight one of her group's arguments against the measure: that politicians would return and ask for another tax increase in nine years after the measure sunsets.
"Taxpayers need to provide tough love by saying 'no' on J," Seastrand said.
As the election to determine whether the measure will become a reality nears, SLO County residents can expect to hear a lot more from the organizations trying to convince them to vote for or against it, and the small rally outside the courthouse was simply the first shot in a back-and-forth that will last until the polls close.
If passed, the measure would raise the sales tax in SLO County by adding a half-cent tax to every dollar of a purchased item, with some exemptions. The increase would raise an estimated $25 million per year, or $225 million over all nine years, which would be used for local transportation and transit-related projects, such as fixing potholes, relieving traffic congestion, and improving transit for groups like students, seniors, and veterans.
Normally, funding for transportation-related projects comes from the state. But years of political gridlock have kept that money from getting to counties like SLO, leaving such projects languishing or shelved. Passing Measure J means SLO County would join 20 other California counties by enacting a local "self-help" solution to the problem, according to Clint Pearce, president of Madonna Enterprises and a supporter of passing the measure.
"We all agree that Sacramento should fund our projects locally, but that's not happening," Pearce told New Times.
If the measure fails, Pearce said the county's roads and infrastructure would continue to deteriorate.
"It's going to crumble, because there's no funding for it," he said. "We want to see good roads. It's at the core of our quality of life."
But the CCTA and others who oppose the measure believe the blame remains squarely in on the shoulders of the Legislature and a "failed bureaucracy" that asks local taxpayers to pay more instead of streamlining spending and using funds and taxes already designated for transportation projects.
"The solution is not more taxes," Seastrand said. "It's putting rigorous state safeguards in place to ensure the money collected for transportation goes to fix our roads."
As the two camps make their arguments to county voters, other organizations have begun to line up behind them. The measure received support from the San Luis Obispo Council of Governments, Bike SLO County, the San Luis Obispo Downtown Association, and the San Luis Obispo Chamber of Commerce. The SLO County Coalition of Labor, Agriculture, and Business; the SLO County Cattlemen's Association Political Action Committee; and the county's Republican Party have joined the CCTA in opposition.