If you didn't buy your Live Oak festival pass, hate to camp, or can't get away for the whole weekend, it doesn't mean you can't enjoy the Live Oak Music Festival Friday through Sunday, June 17 to 19, because day passes are still available (visit liveoakfest.org).
The festival website has a complete listing of events, and frankly there's too many things to list, but here's the weekend's highlights: On Friday, June 17, Gypsy jazz act Café Musique plays from 4 to 5 p.m., bluegrass act Sierra Hull & Highway 111 plays from 5:30 to 6:30, Celtic act Molly's Revenge plays from 7 to 8 p.m., and reggae legends Toots and the Maytals headline the main stage from 9 to 10:30 p.m.
A full day of fun awaits on Saturday, June 18, when Juno Award-winning singer-songwriter Old Man Luedecke hits the stage from 10 to 11 a.m. Grammy Award-winning singer and guitarist Mollie O'Brien & Rich Moore perform from 11:20 a.m. to 12:20 p.m. Afro-samba-funk act SambaDa gets the party started with a set from 1 to 2:15. Then boogie-woogie hall-of-famer Carl Sonny Leyland plays from 5 to 6 p.m., followed by folk rockers The David Mayfield Parade. At 8:45 until 10:15, Tex-Mex super group The Texas Tornados headline.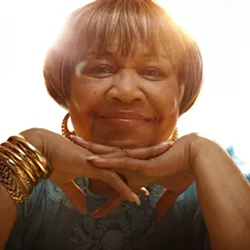 PHOTO COURTESY OF MAVIS STAPLES
THE GOSPEL ACCORDING TO MAVIS : Legendary gospel and R&B singer Mavis Staples closes out the Live Oak Music Festival (June 17 to 19) this year with a performance on June 19 at Camp Live Oak near Cachuma Lake.
On Sunday, June 19, folk rockers Sparrows Gate play from 10 to 11 a.m., followed by contemporary folk artists Evie Ladin & Evil Diane from 11:30 a.m. to 12:30 p.m. Afro-Cuban music is next up when Pellejo Seco plays from 1 to 2:15. Then the funk jazz of Will Bernard runs from 5 to 6, followed by Juno Award-winning folk act The Wailin' Jennys. Legendary gospel and R&B singer Mavis Staples closes the festival with a set from 8:45 to 10:15.
Naturally there are kid activities all day, food and drink available, tons of vendors, and a community dripping with positive vibes. Live Oak is a quick, 90-minute drive south of SLO Town, off State Route 154, near Cachuma Lake. Join the fun!
I'd tap that!
Even though school's out for summer, SLO Brew has a full line-up on tap this week, starting with Bangoshe on Thursday, June 16 (7:30 p.m.; 21-and-older; $8). Dionysius will open for this Afro-beat and funk act consisting of an array of talented local musicians.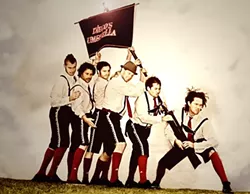 PHOTO COURTESY OF DIEGO'S UMBRELLA
JOIN THE REVOLUTION! : San Francisco's experimental flamenco rockers Diego's Umbrella play SLO Brew on June 17.
On Friday, June 17, check out the weird goodness of Diego's Umbrella with opening act Forrest Day (7:30 p.m.; 21-and-older; $7 presale or $9 at the door). Experimental flamenco rockers Diego's Umbrella describe their sound like this: "So, imagine dancing in a border town cantina with a cool ocean breeze blowing while singing along to an infectious Tarantino-like soundtrack that's reminiscent of Buena Vista Social Club, Gotan Project, Sublime, Gogol Bordello, and The Clash."
On Sunday, June 19, check out Afterall (7 p.m.; all ages; $6 presale or $8 at the door). The local pop punk act formed in 2007 and continues to grow its fan base.
Punk and surf rock legends The Queers play Monday, June 20 (8 p.m.; all ages; $10 presale or $12 at the door). They've been around since the early-'80s, and started out playing, as they say, "outrageously decadent, sex/drugs glam-punk with the fury of early punk-rock" on tracks like "We'd Have a Riot Doing Heroin." They've since sort of morphed into a Ramones-like pop punk act. Totally hilarious lyrics!
Join the fun during a summer solstice party on Tuesday, June 21, with reggae acts Resination and Thrive (7:30 p.m.; all ages; $8 presale or $10 at the door).
Come play!
PHOTO COURTESY OF MISNER & SMITH
TWO ON THE ROAD : Steve Key's Songwriters at Play showcases kick off on June 16 at The Porch with touring folk duo Misner & Smith.
Steve Key's Songwriters at Play showcases have a sweet line-up of headliners this week starting with a show on Thursday, June 16, at The Porch with harmonic duo Misner & Smith (6:30 p.m.; all ages; pass-the-hat). According to press materials, "Sam Misner and Megan Smith began their musical collaboration after working together as actors on a production of Woody Guthrie's American Song and immediately recognized a mutual love of Americana music."
On Sunday, June 19, the Sculpterra showcase features L.A.-based touring singer-songwriter Brad Colerick, whom Billboard magazine called "one of a baker's dozen of acts to watch in the folk community around the world" (1 p.m.; all ages; pass-the-hat).
PHOTO COURTESY OF HUNTER PAYE
THE GIFT : Songwriters at Play closes out the week on June 21 with the return of Hunter Paye at Kreuzberg.
The week wraps up with a final showcase on Tuesday, June 21, at Kreuzberg with Hunter Paye and Laura Jean Binkley. Said series co-promoter Bonnie Nelson, "Showcase audiences will remember Portland's Hunter Paye sharing a featured set with Alexa Woodward last year at the Steynberg Gallery. June 21 he returns to SLO, on tour with New Yorker Laura Jean Binkley. A South Dakota native, Laura Jean moved to the Big Apple in 2006; NYC has embraced her sometimes soft, but always powerful, folk-rock style. Recent comparisons of Laura Jean's sound are Norah Jones, Joni Mitchell, Jewel, and Ani DiFranco."
As usual, each showcase features several other singer-songwriters performing four-song sets.
Destination Steynberg!
The Steynberg Gallery has turned into one of better venues for intimate evenings of exceptional music. And now that they sell beer, wine, and delicious edibles, there's no reason not to check out their shows this week.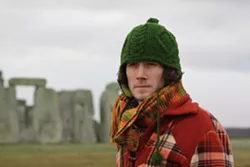 PHOTO COURTESY OF EPHRAIM SOMMERS
TROUBADOUR POET : Fresh from earning an MFA in poetry, former Siko front man Ephraim Sommers (pictured) plays a songwriters showcase at Steynberg Gallery on June 16 with Dan Curcio of Still Time and Gracie Wright of London, England.
On Thursday, June 16, start off your week with performances by two great local singer-songwriters that usually front bands, as well as another performer from across the pond. Still Time's Dan Curcio and Siko's Ephraim Sommers (He just completed his MFA in poetry! Woo hoo!) will play beginning at 8 p.m. with special guest Gracie Wright from London, England ($10; all ages).
After a nationwide tour with Still Time, Curcio's been living in a yurt in Cayucos and writing songs every day for a new solo album: "It's been incredible to immerse myself more in the Central Coast lifestyle after seeing the country, and the new songs I'm writing are coming from a very comfortable place that I can't wait to share with our friends and fans."
His set will be full of brand-new songs with Curcio on piano, guitar, banjo, and harmonica, as well as Still Time songs done acoustically with guitarist Nick Bilich.
Ephraim once fronted the SLO-based, funk-rock quartet Siko, which toured the United States in 2008. Now a solo artist and a published poet, he's toured internationally on his solo album Stones & Smoke, released in 2010.
Gracie Wright is currently touring internationally in support of her new EP, Seasons, released this May. Sultry and soulful, she's also a filmmaker who wrote and produced Gracie in America (available on YouTube), a documentary about making it big in the American music business. The BBC recently asked her to showcase the documentary at its widely acclaimed Norfolk Film Festival.
Steynberg's other events include Old Man Luedecke, the 2009 Juno Award winner from Chester, Nova Scotia (who's also playing the weekend's Live Oak Music Festival), on Friday, June 17, at 8 p.m. ($10). His fourth album, My Hands are on Fire and other Love Songs, was released earlier this year. If you like rootsy songwriting with poetic lyrics and the charming rhythm of the old-time banjo, look no further.
PHOTO BY GLEN STARKEY
HE'S GOT THE BEAT : De La Bahia percussionist Mike Raynor and the rest of the band bring sultry Latin salsa music to Steynberg Gallery on June 18.
Hot, hot, hot salsa act De La Bahia will bring its sultry Latin jazz to Steynberg on Saturday, June 18, from 7:30 to 10:30 p.m. for an evening of salsa dancing ($10 general admission; $5 for students). Dance instructors Javier Rangel and Sonia Ruiz will teach a beginning salsa dance lesson starting at 7 p.m., so don't be shy!
Music al fresco
It's summer, and that means tons of outdoor concerts all summer long. Here's a quick look at this week's choices.
A new series called the SLO Jazz Festival kicked off last week with the Darrel Voss Trio, and on Saturday, June 18, it continues with the Dylan Johnson Trio. These shows happen on the Court Street Terrace next to Pottery Barn and Sephora and run from noon to 3 p.m. "The SLO Jazz Festival is an organization dedicated to inspire, promote, and nurture the human spirit through jazz-related education, events, and music productions," founder Kevin Costigliolo said in press materials. This series of concerts is made up of teasers leading up to a big festival in September.
You should also check out country stars Monte Mills & The Lucky Horseshoe Band at the Sizzlin' Summer Concert Series & Farmers Market in the Ramona Garden Park in Grover Beach from 3 to 6 p.m. on Sunday, June 19.
More music …
PHOTO COURTESY OF DIANA JONES
LAID BARE : Amazing Nashville folk singer-songwriter Diana Jones plays Atascadero's Bru Coffeehouse on June. 17.
Remarkable Nashville singer-songwriter and visual artist Diana Jones is squeezing in a local stop on her current national tour that started in NYC, moved through Philadelphia and other East Coast locations, and is now in California, before heading back across the country to hit stops in West Virginia and Massachusetts. See her on Friday, June 17, at Bru Coffeehouse in Atascadero from 7 to 9 p.m. ($15 at the door). She's touring in support of her heart-wrenchingly beautiful third album, High Atmosphere. Jones' songs are gorgeous and arresting little folk gems. Highly recommended!
Sacramento reggae-funk-jam-rock act ZuhG returns to the area on Sunday, June 19, when they open for Still Time for an outdoor concert on the grass at The Cliffs that starts about noon. Bring a low-back beach chair and dig the vibes.
You can get your jazz fix on Sunday, June 19, when famed N.Y.C. jazz pianist Don Friedman is the next attraction at the Famous Jazz Artist Series at the Hamlet. Way back in the '60s, Friedman was named Downbeat magazine's "New Star of the Decade" and has since established an outstanding career with award-winning recordings and concerts.
A San Francisco trio led by saxophonist Mel Martin, with Robb Fisher on bass and Jeff Marrs on drums, will back him up, and series co-producers Charlie & Sandi Shoemake will also appear. There's a 4 p.m. show for $15, a 7:15 p.m. show for $12, or see both shows for $20. Call 927-0567 for reservations.

Keep up with Glen Starkey via twitter at twitter.com/glenstarkey, friend him at Myspace.com/glenstarkey, or contact him at gstarkey@newtimesslo.com.