Full festival camping passes for the 25th Annual Live Oak Music Festival set for Friday through Sunday, June 14 to 16, at Camp Live Oak off Hwy. 154 near Santa Barbara (liveoakfest.org) are sold out, but day passes are still available for all three days! It's easy to head down for a day trip ($55, plus parking for $10)—just a quick 80-minute drive from SLO Town, and every day features some great performers!
PHOTO BY PETER FIGEN
TEXAS TROUBADOUR : The super amazing singer-songwriter Robert Earl Keen headlines the Live Oak Music Festival on June 14. The festival continues to June 15 and 16 with an amazing line-up, all happening at Live Oak Camp off San Marcos pass.
On Friday, June 14, the fun kicks off with a jamming workshop from 2 to 3:30 p.m. with Phil Salazar & Charl Ann Gastineau on Stage Too. The Main Stage entertainment starts at 4 p.m. with great Bay Area all-female group Blame Sally, then Live Oak emcee Joe Craven and his trio perform at 5:30 p.m. At 7 p.m., one of the best live blues bands in the world, Rod Piazza & The Mighty Flyers, takes the Main Stage. Meanwhile, down on Stage Too, The Monroe plays from 8 to 10 p.m. At 9 p.m., back on the Main Stage, headliner Robert Earl Keen steps up. This amazing singer-songwriter is responsible for my favorite Christmas song of all time, "Merry Christmas From the Family": Mom got drunk and Dad got drunk at our Christmas party/ We were drinking champagne punch and homemade eggnog/ Little sister brought her new boyfriend/ He was a Mexican/ We didn't know what to think of him until he sang Feliz Navidad, Feliz Navidad. As usual, the evening ends with a dance on the Hot Licks Stage, this time featuring Blame Sally.
On Saturday, June 15, things get started early with folk singer Amber Cross playing at 8 a.m. on the Hot Licks Stage, followed by Girls and Boys at 9. Then at 10 a.m., Phil Salazar & The Kin Folk take the Main Stage followed by Tom Ball & Kenny Sultan at 11:20 a.m. At noon, Salazar and Gastineau will play host to another jamming workshop on Stage Too. Dead Winter Carpenters take the Main Stage at 1 p.m., and at 2:45, Blame Sally will play Stage Too. At 3 p.m. on the Hot Licks Stage, check out the Hot Licks Kids' Show with Hattie Craven featuring the Joe Craven Trio. Then Ball & Sultan play Stage Too at 3:35 p.m., and at 5 p.m., Rupa & The April Fishes play the Main Stage, followed by blues and folk great Ruthie Foster at 6:45. At 8 p.m., St. Vincent Folk plays Stage Too. Then at 8:45 p.m., get your Second Line New Orleans fix with Stooges Brass Band. Dead Winter Carpenters plays the 10:30 p.m. Hot Licks dance.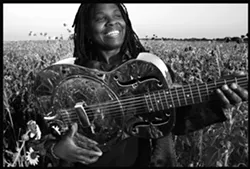 PHOTO COURTESY OF RUTHIE FOSTER
BLUES, BABY : Great folk and blues performer Ruthie Foster plays Live Oak on June 15.
The festival wraps up on Sunday, June 16, with another great line-up of performers, starting at 8 a.m. with the Emy Reynolds Band on the Hot Licks Stage followed by the Cache Valley Drifters at 9. Ranchers for Peace takes the Main Stage at 10 a.m., followed by Inga Swearingen at 11:30 a.m. At noon, Salazar and Gastineau head up another jamming workshop on Stage Too, and at 1 p.m., The Slide Brothers play the Main Stage. One of the highlights of the festival happens at 2:45 p.m. when the Live Oak kids strut their stuff during the Hot Licks Talent Show. La Santa Cecilia plays at 2:45 on Stage Too, followed by Inga Swearingen at 3:45. Then La Santa Cecilia plays the Main Stage at 5 p.m., followed by Maura O'Connell at 6:45. Then the festival closes with dobro king Jerry Douglas on the Main Stage at 8:45 p.m.
That's a heckuva lot of awesome music, but of course the festival is much more than music! You can tie-dye a T-shirt, build a birdhouse, learn to juggle, or join any number of other activities. You also don't need to worry about food as the food vendors serve up delicious fare. And if you're in the market for one-of-a-kind art or instruments, clothing, and more, there's a vendor for everything. And it's always a good idea to walk around camp and check out the decorations and impromptu camp jams.
Live Oak, here's to another 25 years! Cheers!
More music …
Alt-folk and world music duo Round Mountain plays a CD release concert on Thursday, June 13, at the Steynberg Gallery for their new album The Goat, which was mostly recorded at Frogville Studios in Santa Fe, N.M., and mixed and co-produced by duo members brothers Char and Robby Rothschild. The album's not officially out until July 2, but they'll have advance copies available for purchase at the show. "I feel we've become more relaxed about letting what's imperfect shine out," Robby said. "We've found a balance between our dreams and the actual grit of pursuing them," Char adds. According to press materials, "The new album centers around the image of a goat, which represents an older, simpler way of life, and aims to honor the animals that have provided the brothers with inspiration, stories, and instruments (the djembe, kora, and gaida all employ goat skin). The love and respect even continues at home, where Robby's family keeps Nigerian Dwarf milk goats." The show starts at 7:30 p.m. and costs $10.
The fantastic Tipsy Gypsies plays Luna Red's Thursday music series on Thursday, June 13, beginning at 10 p.m. If you like Django Reinhardt-style music sung by a Billie Holliday-type singer—and who doesn't?—check these cats out!
Hey graduates (or just students ready to get their summer on), SLO Brew will turn into GLO Brew on Thursday, June 13, when it holds a graduation party (10:30 p.m.; 21-and-older; $5) with live performances and DJs. Your admission includes free glow sticks, and there'll also be body painting, and 2-for-1 Red Bull Flavor Editions and vodka.
D'Anbino Tasting Room plays host to "Salsa, Sangria, and Tapas" on Friday, June 14, with $10 salsa dance lessons from 6:30 to 7:30 p.m., followed by dancing from 7:30 to 10:30 p.m. "Come join our family at our lively tasting room located in the historic train depot in downtown Paso Robles. Our location is set up for performances by accomplished musicians and groups on our stage. Browse the music memorabilia on the walls, see our unique 'piano bar,' enjoy appetizers with our Award Winning wines," said event organizers.
PHOTO COURTESY OF STOOGES BRASS BAND
SECOND LINE MADNESS : New Orleans act the Stooges Brass Band will bring Mardi Gras flair to Live Oak on June 15.
Michelle Alany plays Balkan and Israeli soul music featuring "haunting melodies and Gypsy improv," according to press materials. "Violinist Michelle Alany will present a concert sharing unique interpretations of traditional Sephardic, Balkan, Roma, and Mediterranean music, as well as original compositions. Blending elements from Eastern and Western traditions, her signature sound incorporates lively dances, driving rhythms, lyrical improvisation, and deep tone colors." Check it out on Friday, June 14, at 7:30 p.m. in the Oak Creek Commons Community Room in Paso Robles. Admission is free, but donations for the musicians will be gratefully accepted. Call 472-9036 for more info.
Head to the Sea Pines Beer Festival in Los Osos on Saturday, June 15, and hear Truth About Seafood play at 2 p.m.
The Cliffnotes, featuring Valerie Johnson and Al B Blue, are bringing their brand of blues, R&B, classic rock, and "flat out fun" to the Shell Café in Pismo Beach, on Saturday, June 15, at 7 p.m. Led by Cliff "Crawdaddy" Stepp, whose songs have been produced by B.B. King and recorded by Pure Prairie League, The Virginia Squires, and the San Francisco bluegrass band 49 Special, this promises to be a really big show!
Australian singer-songwriter David T. Carter has lived, written, and performed in the United States for the last 20 years, where he's developed a cult following for his particular brand of Americana music under the name Trailer Park Rangers. Influenced by vintage, American, and roots music such as country, jazz, blues, soul, swing, folk, ragtime, and lounge from the '50s and '60s, he'll perform instrumentals as well as vocal tunes when he plays Saturday, June 15, at Linnaea's Café at 8 p.m. If you're a fan of Elvis Costello, Mark Knoffler, Leonard Cohen, or Van Morrison, you'll want to check this guy out.
Incredible multi-instrumentalist Eric Brittain plays D'anbino on Saturday, June 15 (8 p.m.; $10 admission or $5 for Record Club members). Brittain has more than 40 years of musical experience in multiple genres and plays guitar, fiddle, mandolin, dobro, ukulele, and harmonica.
Bear Attack plays Sculpterra Winery on Sunday, June 16 (1p.m.; all ages; free). The indie acoustic act sounds like The Swell Season, The Weepies, and Radiohead, and they've developed a national following after having one of their songs featured in a critical scene of a season finale of Pretty Little Liars. Guest performers include David T. Carter and Duane Mark.
On Sunday, June 16, the Shival Experience plays the 10th Annual Sizzlin' Summer Concert Series and Farmers' Market show from 3 to 6 p.m. at the Ramona Garden Park. Mixing rock, reggae, and more, Shival will get your booty shaking.
Wild and woolly 3 Leg Torso returns to Steynberg Gallery on Tuesday, June 18, to deliver another evening of their astonishingly original gypsy chamber pop music. Their most recent CD, 2010's Animals & Cannibals, takes listeners on a magical romp through whimsical instrumentals with titles such as "The Life and Times and Good Deeds of St. Penguin," "Toothless Cannibal," "Driving Along with My Cow in My Volvo," and "Bus Stop to Oblivion." This Portland-based band is not to be missed! The show starts at 7:30 p.m. and costs $10.
Guitar great Rosie Flores plays SLO Brew on Wednesday, June 19 (doors at 7:30 p.m.; 21-and-older; $12 presale or $14 at the door), with Jade Jackson opening. Flores will bring her turquoise guitar for an evening of rockabilly, honky-tonk, and Western Swing. How awesome is Flores? Well, Austin, Texas, declared Aug. 31 Rosie Flores Day in 2006, which is pretty amazing. Some of her most famous songs are "I'm Walkin'" from 1986, "Crying Over You" from '87, and "Somebody Loses, Somebody Wins," and "He Cares" both from '88. She also recently nabbed a Peabody Award for her narration of the documentary Whole Lotta Shakin. As of late, she's been making forays into surf rock territory, so this ought to be quite a show.
Keep up with Glen Starkey via twitter at twitter.com/glenstarkey, friend him at facebook.com/glenstarkey or myspace.com/glenstarkey, or contact him at gstarkey@newtimesslo.com.