PHOTO BY STEVE E. MILLER
BOO! NINERS!: Though San Francisco 49ers fans vastly outnumbered Starkey, he still rooted for the Green Bay Packers.
It's Saturday, Jan. 4, and I'm walking into Smart & Final to pick up the ingredients for Swedish meatballs, American style. After a couple hours in the Crock-Pot, I'm bringing them to McCarthy's Irish Pub for a potluck during the Green Bay Packers and San Francisco 49ers wildcard playoff, and what football fan doesn't like balls of meat slow cooked in barbecue sauce and grape jelly (Shhh. The recipe is a secret!).
When I arrive at 2, my Packers are down by three points, but I feel confident despite the bar full of 49ers fans and all the experts' opinions on the game's final point spread.
"I've got four numbers and two words for you," I shout. "1967 ice bowl!"
Yeah, that's right! I'm talking about the NFL Championship between the Packers against the Dallas Cowboys on Dec. 31, 1967, on Lambeau Field in Green Bay when the temperature was minus 15 degrees Fahrenheit with an average wind chill of minus 36 degrees. Dallas players remember looking over at the band and seeing blood on their faces from where their metal mouthpieces ripped skin off (seven band members were transported to hospitals for hypothermia). The field itself turned into a skating rink, hard as concrete and slippery as a block of ice after the General Electric turf-heating system failed.
Everyone thought Dallas was going to win, but the tough Wisconsin players were used to the extreme conditions, and even though they were behind 14 to 17, they were two yards from the goal with 16 seconds on the clock. Bart Starr ran a quarterback sneak for a touchdown, Don Chandler kicked the extra point, and Green Bay came out on top, 21 to 17.
Well, here's San Francisco, favored to win but playing in single-digit weather in Green Bay. They say in the fourth quarter, as it gets dark, the wind chill could be minus 50 degrees! Go Packers!
PHOTO BY STEVE E. MILLER
PACKERS RULE!: McCarthy's regular Rosemary spent most of the game on the patio, where she didn't have to watch her team lose.
"It doesn't look that cold," I say to an acquaintance.
"Said the guy in a 70-degree bar," he replies. Then I see my pals Tim Golden and Peter Clark, who are hanging with David Hey.
"Hey Starkey, we saw the Packers and Steelers game two weeks ago on Lambeau field," says Tim. "My first time there."
"We brought some brats back," says David pointing to a pan on the end of the bar filled with bratwurst boiled in beer and onions.
Despite my concerns of how these highly perishable sausages were brought back from the land of my youth, I hightail it down the bar to get one before they're gone. What's this? No sauerkraut? No stone-ground mustard? How about some cheese curds? Come on, boys! I'm forced to use standard yellow mustard as I gobble up the brat with a prayer ("Please, Lord, don't let this long-traveled brat kill me!")
After another field goal by the Niners, Green Bay trails by six, and I'm getting a little worried, but then we intercept, drive down the field, and score! Yes!
Wait a minute … am I and that one guy at the end of the bar the only Packers fans in here? Sheesh!
Then I see my friend AJ.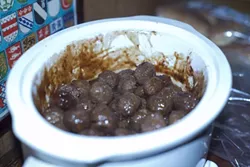 PHOTO BY STEVE E. MILLER
MMM … MEATBALLS!: Starkey made his special Swedish meatballs, a complicated recipe known to only a few.
"Did you make the Swedish meatballs? They're incredible!" he says.
"Yeah! Barbecue sauce and grape jelly."
"Really? That's the secret?"
"Yep."
Okay, I guess it's not that much of a secret.
Only moments later, the Niners return the favor and we're down again 13 to 7. I'm starting to feel like a Lions fan, speaking of which, here comes Chad Holcomb.
"What do they call you Packers fans?" he asks. "Cheese dicks?"
We score a field goal and now trail 13 to 10, but I'm not worried as I'm warmed by the thought of Bart Starr slipping over the goal line a few months before my sixth birthday. On Wisconsin!
"You don't even have to wear a cup when it's that cold," quips Chad.

WHEN'S THE NEXT FOOTBALL POTLUCK?: If you want to find out about the next football potluck at McCarthy's Irish Pub, join their group "McCarthy's Irish Pub Drinking Consultants" on Facebook: facebook.com/groups/1019mccarthys/.
"Yeah, your nuts are in your shoulders," I say.
"I guess the Green Bay fans are warming up around their fondue pots," adds Chad. "It's so cold Kaepernick didn't even shave his legs."
"How are the Lions doing?" my wife Anna asks Chad. I'm pretty sure she doesn't know they're already out of the running.
"Really? We gonna go there? What's your team, Anna? Any team Glen likes?" retorts Chad.
Even though the Packers score early in the fourth quarter to move ahead 17 to 13, the writing's on the wall. Kaepernick—bare-armed and unshaved legs and all—is too good for us today, and we lose 23 to 20.
Am I happy? Hell no! But at least I'm not a Lions fan. They're really bitter.
Glen Starkey takes a beating and keeps on bleating. Keep up with him via twitter at twitter.com/glenstarkey, friend him at facebook.com/glenstarkey or myspace.com/glenstarkey, or contact him at gstarkey@newtimesslo.com.